PEOPLE AND PLACES
Mason receives $100,000 from GO Virginia for COVID-19 antibody and diagnostic testing study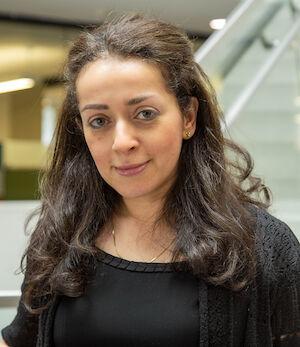 George Mason University's College of Health and Human Services and College of Science received a  $100,000 GO Virginia Economic Resilience and Recovery Grant to improve COVID-19 symptom monitoring, tracking and diagnostics, with the ultimate goal of helping Virginians with a safe return to work.
The pilot program focuses on understanding the physical and mental health impact of COVID-19 on the workforce, especially among essential front-line workers such as those in health care, first responder roles, education, and retail. Tailored stress management interventions and programs will be developed from the pilot program to enhance safe return to work for these populations.
The interdisciplinary project brings together epidemiologists, nurse researchers, health informatics specialists, and laboratory scientists to create a holistic return to work program that can be scaled up. It includes integration of symptom, exposure and behavioral data with regular testing following exposures.
Amira Roess, an epidemiologist and professor in the Department of Global and Community Health, is leading the project. Lance Liotta, professor in the School of Systems Biology and co-director and co-founder of Mason's Center for Applied Proteomics and Molecular Medicine (CAPMM), is leading a team that developed a novel saliva-based antibody test, which is easier to use than other tests and has the potential for higher sensitivity and specificity than previous formats.
The team of co-investigators includes Kathi Huddleston, Cheryl Oetjen, and Grace Lawrence from the School of Nursing, Janusz Wojtusiak from the Department of Health Administration and Policy, and Virginia Espina from CAPMM.
"With breakthroughs in screening, surveillance and testing, Mason faculty are leading efforts to fight COVID-19 in the region and around the country," said Aurali Dade, Mason's interim vice president for research, innovation and economic impact. "The research happening here helps lay the groundwork for the economic recovery of Northern Virginia and the potential for developing commercially available tests right here in the region."
Forty graduates from Mason's College of Health and Human Services' School of Nursing in Fairfax, Prince William, and surrounding counties will kick off the program, which will increase to 80 School of Nursing graduates.
Each participant will receive a kit consisting of nasal swabs, COVID-19 diagnostic tests, biweekly antibody tests, and a mobile phone app for contact tracing. They also will be asked to complete a daily two-minute COVID-19 symptom and exposure screening form. The methods used can be rapidly scaled and integrated into other workforce sectors.
A widely available, noninvasive antibody test coupled with enhanced diagnostic testing would have a significant impact on the region's ability to resume key operations, regional economic leaders said, and could also have longer-term benefits to the region and its growing life sciences and information technology sectors.
"This is an important effort to understand more about COVID-19 and its effects on the population, and I am delighted to see it moving forward," said Victor Hoskins, president and CEO of the Fairfax County Economic Development Authority.
Christina M. Winn, executive director of the Prince William County Department of Economic Development, agreed. "It's such an important step in building confidence in our community and preparing our region for safely getting back to work."
The GO VA Economic Resilience and Recovery Grant Program was created by the Virginia Department of Housing and Community Development (DHCD) Growth and Opportunity for Virginia Board. Mason matched the grant with $50,000 in funding. 
"In creating the Economic Resilience and Recovery program, the GO Virginia State Board pivoted resources to focus on near-term strategies to mitigate the economic impacts of the pandemic," said Sara Dunnigan, deputy director, GO Virginia and Economic Development at DHCD. "This collaborative project is a perfect example of an innovative regional solution that leverages unique assets in Northern Virginia."
Three schools to benefit from U.S. DoDEA grant to expand STEM programming 
Three Fairfax County public schools will benefit from a five-year $1.5 million grant from the U.S. Department of Defense Education Activity (DoDEA) to expand programming in STEM (science, technology, engineering, and math). Fort Belvoir Primary School, Fort Belvoir Elementary School, and Whitman Middle School will receive funding to support Project OWL (Outdoors While Learning).
Project OWL was developed to support military-connected students who face unique instructional and social-emotional challenges. The program includes: 
•    Outdoor learning spaces such as native plants and vegetable gardens.
•    Integrated classroom spaces designed to engage students in STEM using an interdisciplinary approach.
•    Environmental field trips such as those sponsored by the Chesapeake Bay Foundation. 
•    Enhanced recess activities that will encourage students to be inclusive while having fun.
•    Afterschool and summer STEM enrichment programs.
•    Family wellness activities with help and support from the community. 
The Committee on Science, Technology, Engineering and Math (STEM) Education of the National Science and Technology Council states that it is critical to national security to have students spark interest in critical and fast-growing careers in STEM.
DoDEA plans, directs, coordinates, and manages the education programs for eligible dependents of U.S. military personnel and civilian personnel of the Department of Defense. It has congressional authority to provide resources to public schools to support the continuity of education for military-connected students through a competitive grant program. 
Three Fairfax County parks are parent favorites
Three Fairfax County parks are among the region's favorites as chosen by readers of Washington Parent magazine this year.
Clemyjontri Park was a winner in the Fun & Activities/Playground category, and Riverbend Nature Center and Burke Lake Park were both finalists in the Fun & Activities/Nature Centers category. Burke Lake Park was also honored as a finalist in the Fun & Activities/State & Neighborhood Parks category. The honors are based on more than 11,000 votes in the magazine's 2020 Washington Parent Picks contest.
The colorful Clemyjontri Park in McLean features a unique playground where children of all abilities can play side-by-side. Children who use wheelchairs, walkers or braces, or who have sensory or developmental disabilities, can have a parallel playground experience of fun and exploration.
Riverbend Park is located along the Potomac River in Great Falls and offers a rare combination of geology, plant life, wildlife, isolation and beauty. It offers a nature center for educational programs, a visitor center with Native American exhibits, trails and water activities.
Burke Lake Park in Fairfax Station offers 888 acres of fun with a popular loop trail around the lake, boating, fishing, camping, mini-golf, and train and carousel rides. There's even a seasonal ice cream parlor for summertime treats. 
A complete listing of the contest winners is available in the October issue of Washington Parent magazine.
Herndon resident honored at annual Women of Color STEM Virtual Conference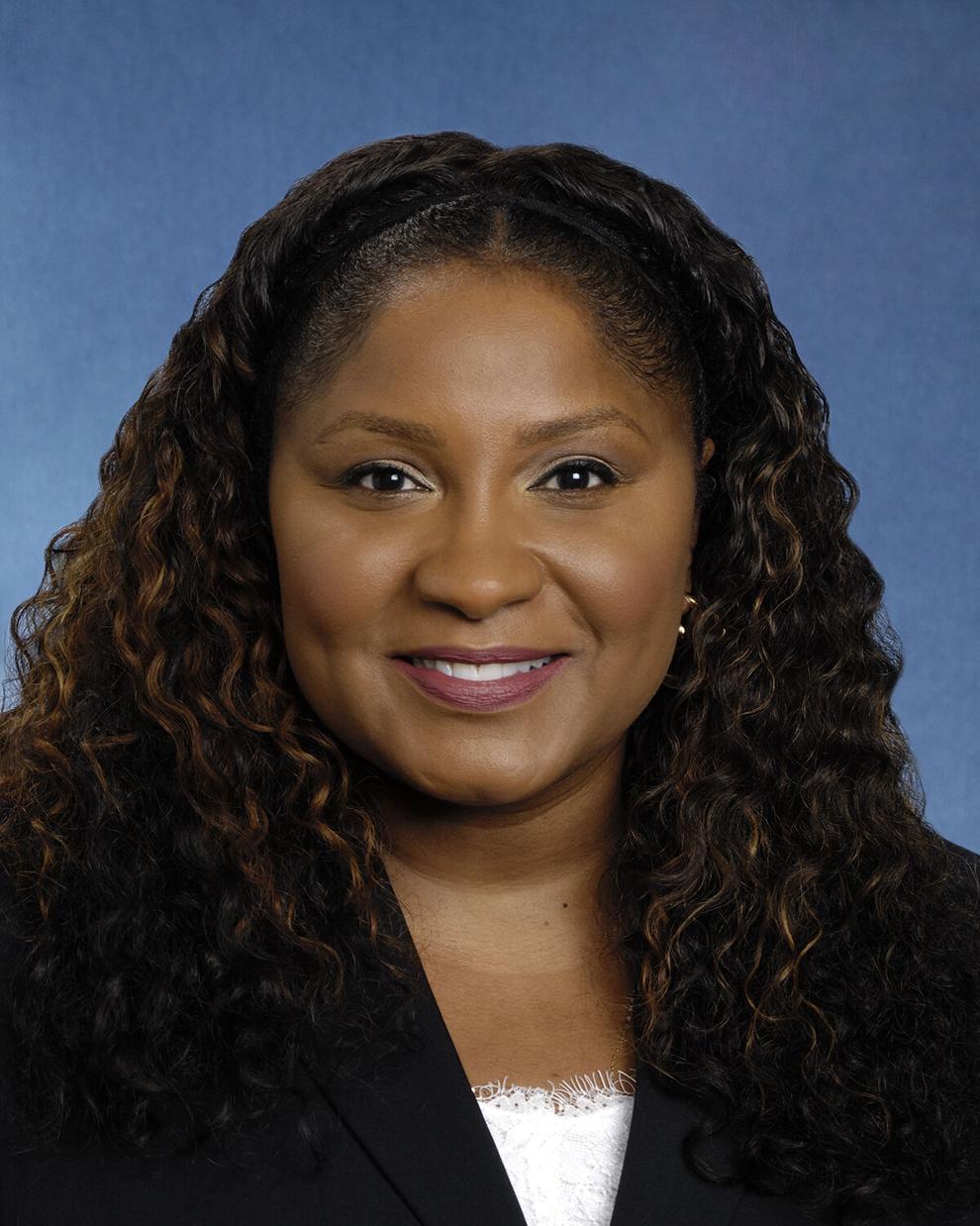 A local area resident was honored for her career in science, technology, engineering and math at the national Women of Color (WOC) STEM Virtual Conference October 8-10.
Ngina McLean, an employee of L3Harris Technologies, is among 40 women nationwide honored across 15 categories at the conference this year. McLean is a senior manager in engineering management at L3Harris' Herndon operation. 
"This award recognizes the value of diversity in perspective and innovation that women bring to STEM
careers and I'm thrilled to be included in that group of esteemed women," said McLean. "Although women make-up approximately 50 percent of the U.S. population, we make up less than 30 percent of the science and engineering workforce. Continuing to encourage women to pursue STEM education and careers is important simply because companies perform better when we have a seat at the table," McLean received the Technology All Star award, which honors those with 15 or more years' experience in their field.
County celebrates completion of Hayfield Road pipe conveyance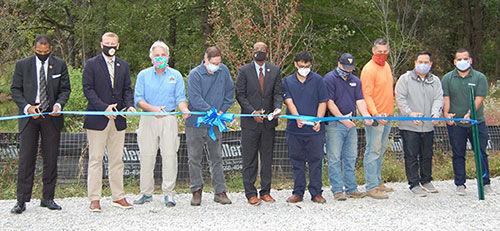 Fairfax County and the Hayfield Farm community celebrated the early completion of the Hayfield Road Pipe Conveyance project with a ribbon-cutting ceremony Oct. 1. 
The large-scale project, requiring installation of 3,600 linear feet of stormwater and 2,000 linear feet of sanitary sewer parallel pipes, was designed to control and prevent flooding in the community.
The Hayfield Farm community has experienced residential structure flooding over a long period of time and with increasing Board of Supervisors Chairman Jeffrey McKay spoke at the ribbon cutting.
Fairfax County Stormwater staff has met with the Lee District Supervisor's Office and the Hayfield Farm community to discuss modeling results, review pipe conveyance feasibility and to seek community feedback. In September 2014, the community provided a unanimous vote of all present at a Hayfield Citizens Association meeting to support the proposed project.
The project broke ground in September 2019. In addition to pipe installation, special care was taken to include design enhancements to protect the sensitive habitat in the adjoining Huntley Meadows Park. Due to the hard work of all those involved, the project was successfully completed several months ahead of its November 2020 deadline.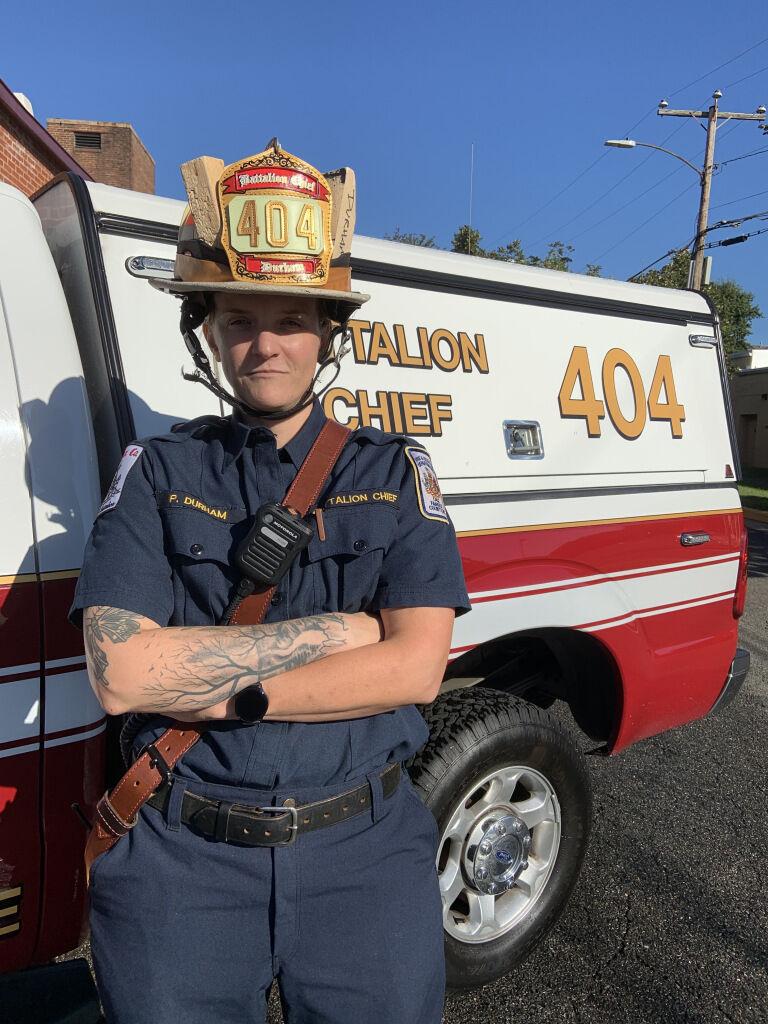 These days you can find Battalion Chief Philippa Durham leading the five stations in the Fourth Battalion as Battalion Chief 404 on B-shift. 
After serving nearly 15 years with the Fairfax County Fire and Rescue Department (FCFRD), Durham was promoted to battalion chief in August. She is the first female battalion chief assigned to the Fourth Battalion – one of the busiest in the county. The 4th Battalion encompasses five fire stations in the Annandale, Bailey's Crossroads, Jefferson, Seven Corners, and West Annandale areas of Fairfax County.
Very active in sports and outdoor adventures as a child, Durham did not grow up thinking of a career in the fire service. However, there was one childhood event that played a role in determining this potential career path. When she was 13, her father was tragically struck and killed by a car. She also recalls having a strong desire to help those in need or less fortunate at a young age.  Traits that would eventually lead her toward a fire service career.
After graduating from the University of Maryland with degrees in Biology and Secondary Education-Science, Durham became a teacher with Montgomery County (MD) Public Schools. After three years as a teacher BC Durham still had that strong desire to help others that was ingrained in her as a child. She was drawn to medicine but did not want to go back to school.  Several of her friends said she would like the Fire/EMS field due to being athletic, interested in the medical field, and truly helping others at one of their worst times in life.
She was hired by FCFRD in 2006 as a member of Recruit School 119. Durham's first promotion was to apparatus technician in 2011. She was one of the few females assigned to be a tower ladder driver and operator. After receiving a proficiency designation as a master technician, she rose to lieutenant (2013) and then Captain (2017), allowing her to serve in a variety of roles.
A competitive athlete in her youth, being a part of a team and promoting teamwork has been a pivotal philosophy in Durham's various leadership roles. The tragic event of losing her father in an accident instilled in her a strong determination to "be the best first responder in order to give people in that situation the greatest chance at survival." She also continually strives to seek the positive in situations and to be positive. During this journey, she makes it a point to mentor and prepare the next set of diverse, inclusive, and motivated leaders.
In her new role, Durham firmly believes in empowering subordinates to make decisions, take initiative, and to provide input to help everyone in the Fourth Battalion be successful. She has met with each station Captain and looks forward to "a lot of collaboration with the station officers".  Self-actualization is also an important philosophy for Durham as she firmly believes that the realization or fulfillment of one's talents and potential will only make the department and individual stronger.
Durham endeavors to be "a bad-ass female firefighter" who is known for being able to handle everything that comes her way. Her goal is to one day break a glass ceiling in Fairfax County and become the first female deputy chief of Operations in the history of the department. She believes it is important for other women to see themselves not just being limited to EMS field in the higher ranks, but to also be amongst the highest ranks inclusive of being a top-notch fire suppression officer.
Durham lives on the Eastern Shore of Maryland with her wife and daughter.  She enjoys building and being outdoors.  One relatively recent hobby she embraces is raising chickens.
If that was not enough to keep her busy, Durham is also pursuing a Master in Public Administration degree at the University of Delaware.
RCC's YouTube channel earns Virginia Parks and Recreation Society Award
Reston Community Center is pleased to announce its YouTube channel was awarded "Most Innovative Marketing Strategy" for 2019 (population 50,001 – 100,000) at the Virginia Parks and Recreation Society's (VRPS) 65th annual conference.
RCC's YouTube channel was implemented last year to bring more content to patrons and tell the story of RCC through video. The channel was initially populated with six videos, produced by award-winning video producer Rebekah Wingert and her production company, Storycatcher Productions, to mark the center's 40th Anniversary.
"These videos provided a quick and contemporary way to engage potential patrons by offering an entertaining look at RCC's past and present through video, photos and interviews with staff and RCC Board members," said RCC Executive Director Leila Gordon.
The five-minute films look at RCC's founding by involved community members; the way the local community theatre organization enjoys RCC's professional theatre; how RCC supports low-income and recent immigrant communities; how RCC impacted the assimilation of one family who emigrated from Peru 20 years ago; RCC's role in producing free, offsite community events such as concerts, art installations and children's activities; and all that happens – from free Community Coffee to professional performing arts productions – on a busy Saturday at RCC. 
While RCC's YouTube channel was awarded for its innovation in 2019, it has proven to be an invaluable tool as Reston, like the rest of the world, has weathered the COVID-19 pandemic in 2020. RCC has added a wide variety of free and accessible content to YouTube, including fitness classes with RCC instructors, popular local performers filmed at the CenterStage, step-by-step visual arts classes and engaging kids' crafts content.
RCC's entry was one of 97 applicants vying for 14 award categories at the annual VRPS statewide conference, which was held remotely this year. The awards honor excellence in areas of programming, personnel, marketing and more. The conference is a learning exchange and provides an opportunity for recreation and park professionals to discuss areas of common interest.