BBB opens new HQ, adds to senior leadership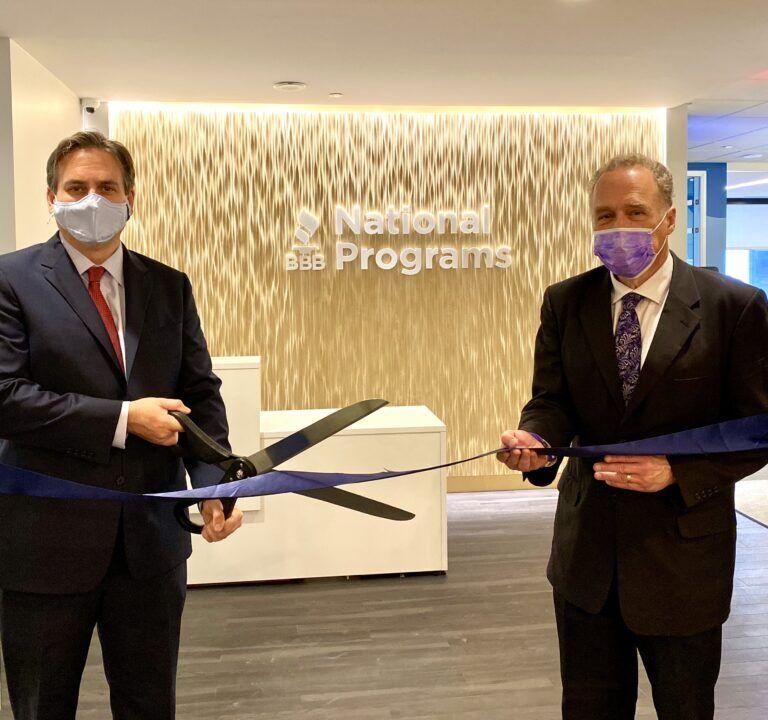 BBB National Programs opened a new headquarters in Tysons with a larger office footprint. 
BBB National Programs moved into more than 15,300 renovated square feet at 1676 International Drive, allowing for an expansion of operations for its growing portfolio of more than a dozen industry self-regulation and dispute-resolution programs. 
Some of BBB National's programs began in 1971, and the organization was established as an independent nonprofit entity in 2019 after the restructuring of the Council of Better Business Bureaus. Its programs help companies establish standards and best practices in advertising, privacy, customer warranty issues, children's and teen privacy and marketing and dispute resolution. 
"As an organization that is proud to partner with the largest corporations and major law firms, the Tysons area of Fairfax County in Northern Virginia is a great location to serve our stakeholders," said Eric D. Reicin, president and CEO of BBB National Programs.
In addition, earlier this month BBB National Programs announced new additions to the organization's senior leadership team that will deepen its bench in privacy, human resources, and truth-in-advertising. 
In the newly created role of Vice President, Privacy Initiatives-Operations, Andrea Shandell will report to Dona Fraser, senior vice president, Privacy Initiatives. In August, BBB National Programs expanded its privacy portfolio with Fraser's promotion and now welcomes Shandell to lead operations for the growing division. Prior to joining BBB National Programs, Shandell spent more than 25 years in privacy law at Gannett, most recently as associate general counsel and chief ethics and privacy officer, where she provided counsel, analysis, and training on data privacy, information security, compliance, ethics, consumer protection, and litigation and claims management. 
"I am thrilled to welcome two outstanding leaders to our senior team at BBB National Programs," said Reicin. "As our work expands to provide independent self-regulatory programs to industry sectors in the U.S., as well as to address privacy challenges for businesses across borders, it is critical that we add even greater strength to our team of professionals, both in the privacy realm and across the entirety of BBB National Programs." 
With a growing organization, Reicin appointed seasoned strategic human resources leader Amy J. Clark to the new position of chief human resources officer. Clark served most recently as vice president of talent management at Sallie Mae. During Clark's 15 years at Sallie Mae, she held several human resources leadership roles, and she brings to BBB National Programs both strategic and operational expertise in HR. Experienced in managing the people side of organizational change, Clark will join Fraser and Executive Vice President of Policy Mary Engle to lead the Diversity, Inclusion, and Belonging Committee.
Fairfax County awards $52.5 in COVID relief to businesses, nonprofits
Fairfax County officials announced Nov. 10 that Fairfax RISE grants totaling $52.5 million were awarded to more than 4,800 small businesses and nonprofits impacted the COVID-19 public health crisis. 
The grant funds were made available to assist with wages, employees' health insurance, rent, and other fixed operating costs to help small businesses remain in business. Federal data shows that 94 percent of Fairfax County business establishments have 50 or fewer employees, and that these companies employ more than 200,000 in Fairfax County. That is one-third of all the jobs in the county.
More than 72 percent of the organizations receiving grants identified as small companies owned by women, minorities and/or veterans—businesses that account for one-third of jobs in Fairfax County.  This exceeded the original goal to allocate at least one-third of funds to one of those historically disadvantaged groups.  The program was funded using federal CARES Act funds provided to the County and the grants do not need to be repaid.  
"Supporting our small businesses is a priority for Fairfax County – they are central to our economy and their success is critical for the livelihood of families. From providing grants to supporting operations with temporary zoning ordinance flexibility, we have worked hard to help these critical businesses survive," said Jeffrey C. McKay, chairman of the Fairfax County Board of Supervisors. "We recognize however the impacts of this pandemic aren't over and we will continue to look for solutions to help our community through this challenging time." 
The RISE program provided grants in every jurisdiction within Fairfax County, including the Towns of Vienna, Clifton, and Herndon. "It was important to us to support businesses across all areas of the county, and especially the many small companies owned by women, veterans and minorities, a group that is almost always hit harder by economic downturns," commented Supervisor John Foust, chairman of the Board's Economic Initiatives Committee.
The grants provided vital assistance to small businesses, say county officials, based on the reports many companies shared with them. One example is grant recipient SparkleClean, LLC. This Fairfax County based small business was able to keep all their employees on payroll and paid through some of the toughest times of the virus. "We are grateful to be supported through Fairfax County's RISE program. I am proud to have started my business in Fairfax County where we have thrived for the past 11 years," said Sarah Pelletier, Owner of SparkleClean, a woman-owned maid service serving residential homes in the South County area of Fairfax County. "With the RISE Grant, we are starting to win the fight to stay afloat amidst the COVID-19 pandemic. Grant funds gave us buying power for masks, nitrile gloves and hospital grade disinfectant to operate safely in residential homes. The RISE Grant was essential to maintaining our day to day operations. The RISE Grant played a crucial for us to retain 14 full time jobs, where our maids are all proudly paid living wages."
Small businesses power Fairfax County's economy and county officials believe the RISE grants were a valuable investment in future economic growth as the nation recovers from COVID-19 impacts.  The program and support for small businesses is another reason a recent Washington Business Journal survey found that that Fairfax County was the best jurisdiction to do business within the Washington D.C. Metro Region.
More information about the RISE grantees and their location can be found on the Fairfax County website, including detailed data through the RISE Dashboard. Additionally, businesses can visit the Fairfax County's COVID-19 business website for free resources such as guidance about reopening, improvements opportunities and accessing other grants. 
Weisburd named second-most influential criminologist of the decade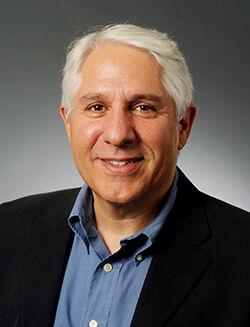 An academic website dedicated to measuring the impact of some of the world's top academic influencers has named George Mason University's David Weisburd as the second-most influential criminologist of the last decade.
Academic Influence cited Weisburd's "meaningful research into white-collar crime, as well as the micro-geography of crime," as well as his studies exploring crime hot spots in cities such as Baltimore, Seattle, Tel Aviv and Jersey City. Weisburd has advocated for more intentional distribution of police coverage in areas of criminal hot spots.  More recently, he has developed strong basic research for the National Institutes of Health that points to the potential use of social rather than police interventions to reduce crime at crime hot spots. This approach could help strengthen police-community partnerships and minimize unnecessary intrusions of state power.  In his new book, "Talking to Strangers", Malcolm Gladwell summarizes Weisburd's contributions, saying that "they capture something close to a fundamental truth about human behavior."
The honor is the latest in a long line for Weisburd, a Distinguished Professor and the executive director of the Center for Evidence-Based Crime Policy in Mason's Department of Criminology, Law and Society within the College of Humanities and Social Sciences.
"It's a real compliment to be on this list," he said of the latest recognition," said Weisburd. "I am glad to get this recognition for myself, and for the department and the university."
Weisburd was the recipient of the highest award in the field when he received the 2010 Stockholm Prize in Criminology. He's also been previously honored with the Sutherland Award (2014) for "outstanding contributions to the discipline of criminology" and the August Vollmer Award (2017) for contributions to the prevention of crime, among other accolades.
"He's a pioneer," said James J. Willis, chairman of the Department of Criminology, Law and Society. "He set a new paradigm in Criminology, Law and Society. I'm constantly thrilled to hear about the awards he receives because they are well-deserved. Weisburd's visibility inside and outside academia helps to get the message out regarding the growing influence of our department. It brings honor and recognition to us, the College, and to Mason."
Weisburd was joined on the list by a former student in the University of Queensland's Lorraine Mazerolle, who ranked No. 7.
"It's good that that not only I ended up on this list, but so did one of my students," Weisburd said.
The rankings of the 25 most influential criminologists were comprised of academics working in criminology whose ideas have significantly impacted the academic discipline of criminology and criminal justice from 2010-2020. 
Dewberry and GKY enter Small Business Administration mentor program
Dewberry, a privately held professional services firm, has announced that it has entered into a formal mentor/protégé relationship with GKY under the U.S. Small Business Administration's (SBA) Mentor/Protégé Program. 
As the mentor, Dewberry provides GKY with guidance on internal business management systems; assistance navigating federal contract bidding, acquisition, and performance processes; education about strategic planning and finding markets; advising on the federal government market; and business development. Under the agreement, GKY will learn necessary and valuable federal contracting best practices from Dewberry, who has been working in the federal market for more than 60 years. Some of Dewberry's federal clients include the Federal Emergency Management Agency, U.S. Geological Survey, National Oceanic and Atmospheric Administration, and the Department of Defense. 
"Small businesses strengthen our nation's economy and provide valuable opportunities to increase our workforce," said Dewberry Executive Vice President Phil Thiel. "By entering into SBA's Mentor/Protégé Program, we're excited to support GKY in their work toward securing contracts with the federal government."
"With similar competencies and core values, GKY and Dewberry are a perfect match for the SBA's Mentor/Protégé Program. Our partnership with Dewberry will provide significant opportunities for us to take our federal business to the next level," said GKY President Stuart Stein. "We have been working with Dewberry for decades and look forward to strengthening our federal portfolio with Dewberry in the next few years."
The program will run for a duration of three years and be complete in 2023.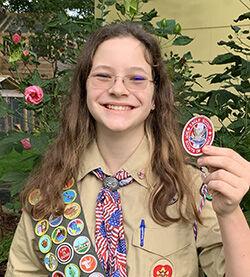 Thoreau Middle eighth grader Katie Hunter has become one of the first female Eagle Scouts in history, as well as the youngest.  
She completed the requirements in the minimum amount of time possible, 19 months.  
Hunter, who attended Marshall Road Elementary School in grades K-6, joined Scouting in February 2019 as one of the founders of Girls Troop 987.  She spent her early years watching her brothers —who both earned Eagle Scout rank—participate in Boy Scouts and wanted the same camping and outdoor opportunities. After joining the Girl Scouts, she realized she wanted a more rigorous scouting program. 
So in 2018, when the Boy Scouts of America changed its name to Scouting BSA and welcomed female scouts for the first time in their 100+ year history, she joined. After completing the requirements for the Eagle Rank in 19 months, successfully completing her Board of Review—an intensive interview with adult members of the troop—she leads the 2020 inaugural class of female Eagle Scouts. 
To reach the Eagle rank, a scout must earn at least 21 merit badges, serve in positions of leadership in the troop, and complete an extensive service project that the scout plans, organizes, leads, and manages. The Eagle Scout must also demonstrate scout spirit, an ideal attitude based upon the scout oath and law, service, and leadership. 
Hunter earned 26 merit badges, served as the senior patrol leader of Girls Troop 987 (the highest scout rank in a troop), and designed and led a service project at Bailey's Elementary School, where her mother teaches. With more than 285 total hours of effort from the community over three days of work, she led a team of 50 Scouts and adults to beautify the Bailey's campus by installing 36 planter boxes for the science department on the school grounds. Katie still has many years of scouting eligibility since scouts are eligible to continue in the program until they turn 18.  She plans to complete a trek at the Philmont Scout Ranch, Scouting BSA's premiere high adventure base.  Moreover, she hopes that her achievements inspire other girls to follow her example and that some of those girls will join her at Girls Troop 987. Ultimately, she hopes to become a teacher like her mom.
Fairfax County Fire and Rescue awarded $552,845 in federal grants
The Fairfax County Fire and Rescue Department (FCFRD) has been awarded federal grants totaling $552,845 through the Department of Homeland Security (DHS) FY 2020 Urban Areas Security Initiative (UASI) subgrant awards from the State Administrative Agency (SAA).
FCFRD was awarded $330,000 for the Incident Management Team to provide an all-hazards incident management team (IMT). The department will use these funds to deploy to significant, large-scale incidents or special events within the National Capital Region.
FCFRD was additionally awarded $222,845 for National Capital Region Radio Cache. These funds will be put towards the continued sustainment of this program through coordinated training efforts, updated equipment, and the introduction of new supported technologies are the key to keeping team personnel ready to perform incident communications gap analyses, propose solutions, and initiate those solutions flawlessly in times of need.
These funds are made available by DHS through the District of Columbia, which is serving as the State Administrative Agency. DHS provides financial assistance to address the unique planning, training, equipment, and exercise needs of high-threat, high-density urban areas to assist them in building an enhanced and sustainable capacity to prevent, respond to, and recover from acts of terrorism.