Fairfax County and Commonwealth award AFID Grant to local vertical farmer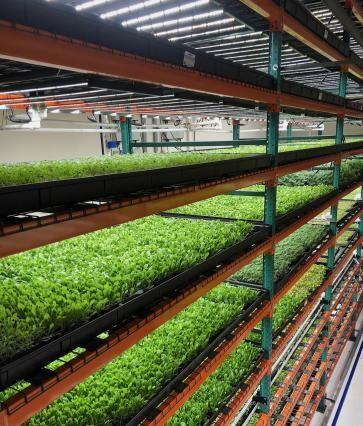 Governor Ralph Northam and Fairfax County announced May 24 that the agtech company, Beanstalk, received a $100,000 grant from the Governor's Agriculture and Forestry Industries Development Fund, and Fairfax County will contribute $100,000 as a local match to expand its innovative vertical farm company. Beanstalk will invest more than $2 million and create 29 new jobs as it moves its headquarters to a former data center in Herndon.
"I am pleased to support a project that brings together Virginia's oldest and largest industry, agriculture, with one of our newest and fastest growing sectors, technology," said Northam.  "Innovative entrepreneurs like Mike and Jack Ross are demonstrating how STEM fields can bring together exciting, new growing techniques cultivated from advancements in biology and technology.  
Beanstalk uses proprietary hydroponic technology and heirloom seeds to produce leafy greens, herbs and vegetables, which it currently sells to Harris Teeter and also sells via a storefront in its current location. In addition to growing crops in the new location, the new facility will house a larger storefront; a retail presence; space for research and development; and will offer spectators tours and a glimpse of the growing process through a large picture window into the farm. Their headquarters will also breathe new life into an empty space in the heart of Herndon. Beanstalk is also a member of the Made in Fairfax network, which connects local small production manufacturers to networking groups, marketing opportunities and potential customers.
"We are always looking for innovative investments to move our economy forward in Fairfax County. Beanstalk's new facility will not only bring new jobs to the community, but it also is a creative solution to using advancements in technology to increase access to fresh food options," said Fairfax County Board Chairman Jeffrey C. McKay.
For Fairfax County, investing in technology companies like Beanstalk reinforces the role of technology to address community needs, in this case the need for healthy foods. By making strategic investments in emerging industries the county can find and test solutions that can make a difference in the lives of county residents.  This also parallels the county's commitment to sustainability. As a local company Beanstalk supports the regional food chain with eco-friendly produce.  The firm produces its goods using 95 percent less water, 99 percent less food miles and lower CO2 emissions, when compared to processed foods. Finally, the county seeks to cultivate more agtech businesses as part of its strategic plan to grow and diversify the economy. Agriculture is a major employer and economic driver. The industry is responsible for 6,021 jobs in Fairfax County, and it produces $780 million in economic impact, according to a University of Virginia study.  And Fairfax County is a leader in tech, with 8,900 technology-focused enterprises and growing.  Agtech is the intersection of these two industries and a strategically poised to expand.  
"We are thrilled to support the expansion of Beanstalk, an innovative technology company committed to very high standards of sustainability. Beanstalk's expansion is an example of how ground-breaking companies are recognizing our very talented work force and the potential opportunities for productive collaboration," said Dranesville District Supervisor John W. Foust.
Beanstalk's founders are brothers Mike and Jack Ross who co-founded the company from their apartments in Charlottesville in 2017. Jack, a computer engineer from University of Virginia, and Mike, an aerospace engineer from Georgia Tech, used their engineering knowledge and skills to invent  hardware, software, and robotic technology that to grow pesticide-free heirloom produce year-round. 
While the brothers lived in Charlottesville, the local restauranters' emphasis on produce and healthy food changed their diets and brought to light the need for better produce. So, they set about building technology that would create farms that were sustainable, produced nutritious food, and made better use of water and land. In addition, as crops are grown closer to the consumer, Beanstalk allows for a shorter distribution chain which preserves the nutrients in food sold. After winning an entrepreneur competition at UVA, they went on to participate in with Y Combinator in Silicon Valley, the accelerator behind companies like Airbnb and Stripe, before returning to their mid-Atlantic roots in Lorton to expand Beanstalk. 
"The Town of Herndon is thrilled to welcome Jack and Mike Ross' Beanstalk Farms to our community," said Mayor Sheila Olem. "Theirs is exactly the kind of innovative, jobs-producing business we are looking to attract to our town's commercial sector, and we applaud their application of technology toward provision of healthy, locally-grown produce."
The move to Herndon is expected to be completed in the fall. Beanstalk is equipping the space with the growing towers, processing rooms, environmental controls, harvesting machines, and packaging systems necessary for production. In the meantime, they expect to launch their first food truck, operated by Chef Daniel Penningroth, that will serve their produce in healthy salads to people all over Fairfax County. 
As their business grows, they continue to keep engineering at the forefront and are building new robotics to grow more crops – which creates the question: Are they a technology company who grows food or farmers who creates technology? Regardless Jack and Mike Ross are setting a course for all of Fairfax to have healthy, nutritious food only a short walk away. 
Parsons names chief communications officer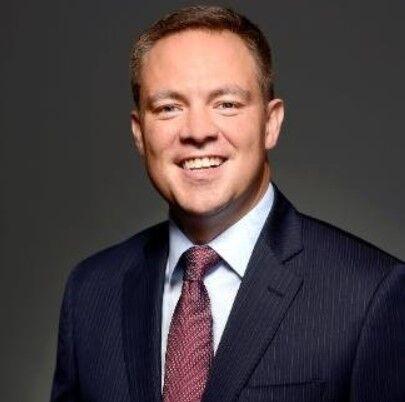 Parsons Corporation has named Jason Yaley as the company's new chief communications officer, effective May 17. 
Yaley joins Parsons from Advanced Concepts and Technologies International (ACT I), where he served as chief management officer. He will report to Carey Smith, Parsons' president and chief operating officer.
"Jason's experience as a public and private-sector communications leader with proven results in executing global corporate communications and employee engagement programs will continue elevating Parsons' brand awareness, and advance our role as an employer of choice," said Smith. "His leadership, strategic thinking, and mission-focused approach is invaluable as we continue the company's growth."
Throughout his career Yaley has led alliances, regulatory campaigns, brand awareness programs, and crisis communication efforts with government, nonprofit, and trade association stakeholders, and advised top public and private-sector leaders on executive positioning, strategic engagement, thought leadership, and organizational management.
"I'm thrilled to be joining Parsons," said Yaley. "Every day, over 15,000 Parsons' employees go to work in 30 countries with one goal: delivering a better world. Together with the award-winning Parsons Communications team, I look forward to highlighting all that our incredible workforce does to deliver innovative solutions in defense, intelligence, and critical infrastructure, and to make the world safer, healthier, and more connected."
Prior to ACT I, Yaley served as vice president of membership and strategic development and assistant vice president of communications with the Aerospace Industries Association, where he led communication programming and supply chain initiatives on behalf of the United States aerospace and defense industry. He previously served as a career civilian inside the Department of Defense, most recently as the special assistant to the Air Force chief of staff, and on the staffs of the vice chairman of the Joint Chiefs of Staff, Headquarters Air Force, and Air Combat Command.
Yaley holds a master of public administration and certificate of advanced study in security studies, both from The Maxwell School of Citizenship and Public Affairs at Syracuse University, along with bachelors degrees in international relations and political science from Syracuse.
New park maintenance facility opens at Pimmit Run Stream Valley Park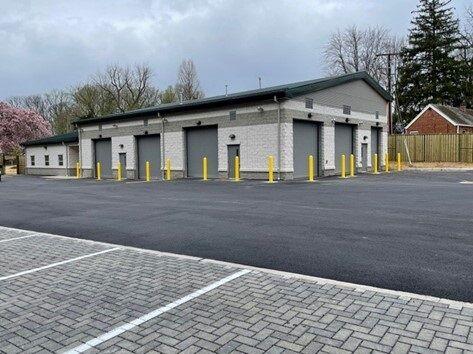 The Fairfax County Park Authority has opened a new Area 1 Maintenance Facility at Pimmit Run Stream Valley Park to better meet current and future maintenance needs.
The project involved the demolition of three aging maintenance buildings, the relocation of two storage sheds on site, and construction of a new one-story 7,500-square-foot maintenance building. The old facilities needed to be replaced because of such issues as leaking roofs, building flooding and cramped rooms. A more efficient use of the buildings and site also had to be found to accommodate plans to consolidate work and staff members from the Area 1 and Oak Marr maintenance shops. Under the plan, staff at the Area 1 Maintenance Facility will increase from 11 merit and two seasonal employees to 20 merit and up to four seasonal employees.
This $4.6 million project was financed through the voter-approved 2016 Park Bond. The work also included construction of an underground stormwater maintenance facility, relocation of an existing above-ground fuel tank on site, and the resurfacing and expansion of the parking lot to accommodate 26 vehicles, nine trailers and five trucks. In addition, the security fence was replaced, the driveway to existing community buildings was resurfaced, and plants were added to create a vegetative buffer.
CTSI announces leadership changes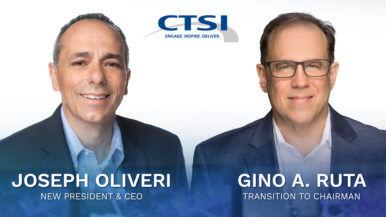 Corbett Technology Solutions, Inc. (CTSI) announced the addition of Joe Oliveri, who will assume the role of president and CEO. Gino Ruta, formerly CEO, will transition to chairman, where he will shift his focus to acquisitions and accelerate growth that began during his productive tenure.
Oliveri joins CTSI from Johnson Controls, where he served as vice president and general manager of Global Ducted Systems. Prior to that role, he ran other divisions including the company's Global Fire Detection and Security BU's.
"I'm excited to join this organization and continue accelerating CTSI's growth across the United States," said Oliveri. "With my history of strategic acquisitions and aggressive growth, my priority at CTSI is to engineer further expansion of our security and life safety solution portfolios, while expanding our reach in audiovisual, collaboration, healthcare and education technology solutions and services. CTSI is unique in that alongside unmatched expertise, we offer innovative and robust subscription and managed services – you're getting the entire package from one partner committed to excellence, and that's a culture I'm proud to lead."
"Joe is the perfect choice to continue the work we've done in aggressively growing CTSI's footprint in a number of industries across the U.S.," said Ruta. "He brings incredible experience to the table, specifically in overseeing integration and expansion of the meaningful acquisitions CTSI is poised to continue as we expand our industry-leading integration and subscription services business."
Wind Point Partners acquired CTSI in June 2020 in partnership with Ruta and CTSI management. Since the acquisition, investments in CTSI's growth have continued in order to expand the company's breadth of service offerings and geographic reach through organic growth initiatives and acquisitions.
 "Our partnership with the CTSI team has been very productive and we are thrilled to add to the talented leadership team with Joe joining as CEO," said Nathan Brown, managing director at Wind Point Partners. "Joe has a terrific track record and is a great fit to help CTSI expand its offerings and geographic reach. Gino's involvement as board chair will play an important role in our shared vision for growth and continuing to provide customers with the highest quality technology and service levels."
County libraries resume normal services, introduce new hours June 5
Fairfax County Public Library (FCPL) will resume normal services and introduce new hours June 5.
Patrons will once again be able to visit FCPL branches without time or capacity limits to enjoy the full range of library services and resources.
Under the new expanded hours, regional branches will be open 10 a.m. to 9 p.m. Monday through Wednesday, and 10 a.m. to 6 p.m. Thursday through Sunday. Community branches will be open 10 a.m. to 9 p.m. Monday and Tuesday, and 10 a.m. to 6 p.m. Wednesday through Saturday. Community branches will not be open on Sundays.
Curbside services will remain available to patrons on days branches are open from 10 a.m. to 4 p.m. Learn more about curbside service at the library.
Public PCs will be available for use at pre-pandemic levels: 30-minute sessions, with unlimited sessions per card per day.
In-person library programming, hosted indoors or outdoors, may resume as of June 5. FCPL will continue to offer robust virtual programming for all ages, which can be found on the FCPL online calendar, YouTube channel and Facebook page. Learn about the top 10 ways to access FCPL resources at home by visiting https://bit.ly/3oJIC3w.
Available meeting rooms will reopen for public bookings beginning June 5.
FCPL's standard circulation procedures will resume or remain in place. This includes: returned materials will not be quarantined, items will be due after their normal circulation period, fines will be assessed for materials returned late, and holds will expire if not picked up before the pick-up date.
Ask Your Library chat support via the website and text messaging will continue to be available 10 a.m. to 5 p.m. Monday through Friday.
Due to capacity restraints, branches cannot yet accept donations.
Plexiglass shields at customer service desks will remain in place at this time.
FCPL continues to follow Virginia Department of Health (VDH) and local Health Department guidance on mask wearing and social distancing. All visitors are welcome to continue to wear masks, if they choose, and caregivers are expected to ensure that their children ages 5 through 12 follow current masking guidance.
South County breaks ground on new police station, animal shelter

A groundbreaking ceremony was held May 22 for the new South County Police Station and Animal Shelter.
The new facility, located on Lorton Road between Workhouse and Hooes roads, includes approximately 34,000 square feet for the police station and an additional 23,000 square feet for the animal shelter. It also includes 20,000 feet of outdoor space for the animal shelter, a fuel island to support fleet vehicles and associated parking. Voters approved funding for the facility in November 2015.
"While it is ironic that we are building a police station on former prison grounds, the transformation of this property from the Lorton Prison to the vibrant Lorton community of today began 20 years ago with the land purchase from the federal government," said Mount Vernon Supervisor Dan Storck. "Since then, and over my 17 years representing the Mount Vernon District, we have repurposed this land for a new high school, middle school, elementary school, new turf field complex, Lorton Community Center & Library, the Workhouse Arts Center and Lucy Burns Museum, Laurel Hill Park Central Green, Liberty development, equestrian center, bike and walking trails, Gerry Connolly Cross Country Trail, Laurel Hill Golf Course, Lorton Road realignment, along with the closure of the CDD landfill, new Lorton fire station, Occoquan Park revitalization and the Turning Point Suffragist Memorial in the surrounding area."
The additional police station will allow the department to organize smaller patrol areas and decrease response times throughout the county. The site will also be home to the county's second animal shelter, which will be much more convenient for residents who wish to adopt, foster, volunteer or participate in shelter programs. Previously animals in the South County area had to be transported to the shelter in Fairfax. The new shelter will be much more convenient for residents and animal control officers. Occupancy is scheduled for spring of 2023.
SAIC transitions to elite partner status in ServiceNow
Science Applications International Corp. announcedMay 20 the company has achieved the designation of ServiceNow Elite Partner. 
This designation from ServiceNow acknowledges SAIC's accomplishments regarding the breadth of its IT delivery support services.
SAIC provides its federal government, state/local, and commercial customers with more than five ServiceNow products to improve their IT, employee experience, and customer service workflows across multiple geographies.
SAIC's managed services integrates the best practices and principles obtained through decades of the company's history as a leading government service provider. SAIC's managed services deliver reliable, integrated IT through a variety of methods to commercial, state and local, and federal government customers.
"Elite Partner status further strengthens our ability to accelerate digital transformation for our customers," said Heath Starr, SAIC vice president of Service Delivery Innovation. "A critical component to our managed services strategy, which is directly related to earning this prestigious recognition by ServiceNow, is our ability to go beyond service management to include customer service management, IT business management, IT operations management, and performance analytics."
SAIC's transition to Elite Public Sector Partner recognizes achievements in the ServiceNow partner assessment methodology, which identifies the activities, accomplishments, and commitments that demonstrate SAIC's level of ServiceNow investment and go-to-market maturity.  
"As our customers expect IT services aligned to business outcomes, our Elite partner status supports continued development of our managed services delivery," said Fred Silva, SAIC Digital Service Delivery lead. "Customers already expect automation and a level of optimization. Our framework goes beyond that and marries delivery capabilities developed by SAIC with the knowledge and expertise acquired through our past performance, optimizing value to our customers, including our Department of Defense work involving enterprise digital transformation in the U.S. Army and U.S. Air Force."