Inova and UVA School of Medicine open new campus
After four years of extensive planning, Inova Health System and the University of Virginia School of Medicine opened the UVA Inova Campus last week, welcoming its first class of 36 UVA medical students. An additional 36 students will join the campus next year to complete a full complement of students for two years of clinical training. 
"Inova has a long tradition of providing outstanding medical student education in the Northern Virginia region and we look forward to this exciting new partnership with UVA," said Steve J. Motew, MD, chief, Clinical Enterprise, Inova. "The University of Virginia School of Medicine brings a dynamic and innovative curriculum in medical education, and more than 500 Inova clinical educators will be engaged and receive faculty appointments."
The medical students will do most of their training at the Inova Fairfax Medical Campus but will have the opportunity to work across the health system at other Inova hospitals and outpatient facilities.  The students will also have the chance to learn and conduct research alongside Inova's nationally recognized team of researchers.
For the past 15 years, Inova has partnered with Virginia Commonwealth University and will graduate its final class of fourth year students this spring.
Craig Cheifetz, MD, will lead the new program as regional dean for Inova and UVA, in partnership with Alicia Freedy, MD, assistant dean for curriculum; Greg Trimble, MD, assistant dean for student affairs; and, Natalie McKnight, MD, assistant dean for faculty affairs.  Cheifetz has more than 20 years of experience in medical education and as a regional dean and he has been recognized by the American Association of Medical Colleges for his distinguished work with regional medical campus education.
"UVA's new innovative curriculum, combined with Inova's dedicated practicing clinician educators, will bring many incredible young physicians into the practice of medicine" said Cheifetz. "Our team is excited about the seamless and collaborative work we have been able to achieve with UVA, thanks to the vision and support of Inova's executive leadership."
Avantus names new member to board of directors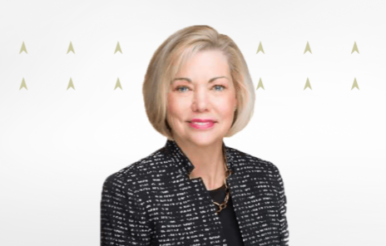 McLean-based Avantus Federal announced last week the appointment of Lynn Dugle to its Board of Directors. She joins Gen. Kevin McLaughlin, USAF, Ret. and Intelligence Community veteran Sue Gordon as outside directors.
"This is a great day for Avantus as we continue to evolve and grow our company. Lynn's discipline and experience around transformational growth, anchored in customer driven outcomes and talent development, make this a perfect match at a pivotal time for us," said Andy Maner, Avantus' Chief Executive Officer.
From her decades serving the Federal Government in a variety of technical and leadership positions, Dugle brings a wealth of vision, strategy and experience to Avantus at a key moment in the company's evolution. Her career is a living example of Avantus' Integrated Talent Management (ITM) thesis. Lynn's experience is the culmination of a stellar record of client mission service and success through program and division leadership at Raytheon serving as corporate vice president, division president and vice president in deeply technical mission services. She later transitioned to the Board of Directors at TASC and Engility post acquisition. This culminated in her tenure as Chairman and CEO at Engility prior to the acquisition by SAIC in 2019. In that role, Dugle was instrumental in setting corporate vision, executing M&A and accelerating talent leadership. Her career began in technical positions at Texas Instruments after graduating from Purdue University (B.S.) and The University of Texas at Austin (MBA).
"We are thrilled to welcome Lynn to our board," said Lee Garber, NewSpring Holdings partner. "As the company has experienced exponential organic and inorganic growth, it is important we expand our board to include revered industry executives like Lynn who have led through multiple market evolutions – and have the depth of technical and integrated solutions skills that fuse with domain and mission expertise to ultimately provide the strategic insight for outsized outcomes."
"I am excited to be joining Avantus at this important moment in their journey," said Dugle. "I am always thrilled to work directly with leaders and contributors throughout the organization. Andy and team are so committed to talent development, diversity and inclusion and mission/capability advances to provide stoic client delivery and I am eager to participate in enhancing their vision and accomplishments for the future."
Dewberry associate named Rising Star by Geospatial World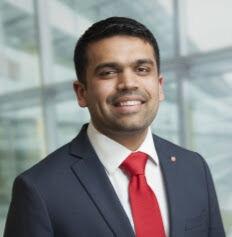 Dewberry, a privately held professional services firm, has announced that Sid Pandey has been named one of this year's 50 Rising Stars by Geospatial World, an initiative by Geospatial Media and Communications to highlight young professionals who are passionate about the value of geospatial technology to society.
Pandey is a senior associate and senior geospatial technology manager in Dewberry's geospatial and technology services group based in Fairfax, and has been in the industry for more than six years. He has worked on a variety of geospatial projects for both federal and state/local clients, including the National Oceanic and Atmospheric Administration and the Federal Emergency Management Agency.
"I am so humbled to be named one of the top 50 rising stars," said Pandey. "I'm grateful for the opportunity to work in an industry I am so passionate about and to be able to share that with emerging professionals in the various organizations I am a part of."
He was recently appointed to the Urban and Regional Information Systems Association (URISA) 2021-2023 cohort of the Vanguard Cabinet. Pandey earned his master's degree in geographic information systems from the University of Maryland (2019) and his bachelor's degree in geography from the Pennsylvania State University (2014). He is a member of the Esri Mid Atlantic User Group, the Maryland State Geographic Information Committee, and URISA.
Park Board approves matching grants for trail & field improvements, new bike trail
The Fairfax County Park Authority Board has approved three Mastenbrook Volunteer Matching Fund Grants to be used for trail and field improvements and construction of a pump track. The grants were approved at the Park Board meeting Feb. 24.
Mid Atlantic Off-Road Enthusiasts (MORE) will receive a grant for $16,200 to help fund a trail restoration project at Wakefield Park. MORE plans to restore and rehabilitate numerous sections of trail in the northern end of the park that have deteriorated over time. The $32,400 project is scheduled to be completed by the fall 2021.
The Board approved a grant of $11,312.50 for the Pioneer Baseball League (PBL) for renovations and enhancements to fields #1 and #4 at Clermont Park. The League proposed complete infield renovations to address unsafe infield conditions and improve drainage by installing topsoil, spreading infield mix, regrading, and adding sod as needed. With the grant and matching funds from PBL, the $22,625 project is slated for completion by fall 2021.
In addition, the Board granted $16,910.22 to the Trails for Youth Organization (TYO) to construct a bike pump track perimeter trail at Brookfield Park. In 2014, the Brookfield Park Master Plan was updated to allow for the inclusion of a "neighborhood-scale bike track" in the open play area. TYO worked with the community to complete the installation of the current bike pump track and has a proven record of maintaining the pump track and surrounding areas of the park. To meet the need for more bicycling opportunities for families, TYO proposed a perimeter bicycle trail to complement the existing pump track and playground. This $33,820.44 project is also expected to be completed by fall 2021.
Since 2002, the Mastenbrook Grant Program has awarded approximately $1.8 million in grants for more than 190 projects valued at more than $12.5 million. Grants ranging from a few hundred dollars to the maximum $20,000 have funded such projects as trail improvements, construction of gazebos and shelters, and athletic field improvements.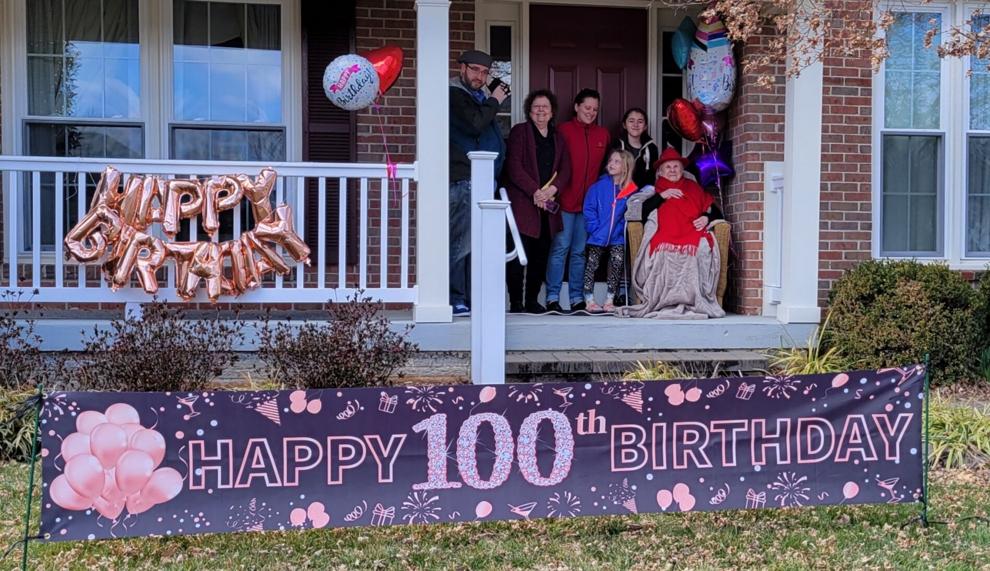 Libraries set to re-open for express services
Fairfax County Public Library (FCPL) will re-open for interior express services March 22.
Customers will be able to visit FCPL branches for up to 30 minutes, on Monday and Tuesday 10 a.m. to 8 p.m. and Wednesday through Saturday 10 a.m. to 6 p.m. Learn more about express services at https://bit.ly/3rFv4qg.
Curbside pickup of materials on hold will remain available to customers Monday through Saturday 10 a.m. to 4 p.m.
Capacity limits will be in place: up to 30 members of the public at a time may be in community branches and up to 60 may be in regional branches.
Library programming will remain virtual and meeting rooms will remain closed at this time.
Ask Your Library via the website and text messaging will continue to be available 10 a.m. to 5:45 p.m. Monday through Friday.
Please do not visit a branch if you have COVID-19 symptoms, have been exposed to someone who tested positive or are awaiting COVID-19 test results.
Robust virtual programming for all ages, which can be found on the FCPL YouTube channel and Facebook page, will continue to be offered. Learn about the top 10 ways to access FCPL resources at home by visiting https://bit.ly/3kWY8HB.
Pohick Stream Valley Park Trail construction work to start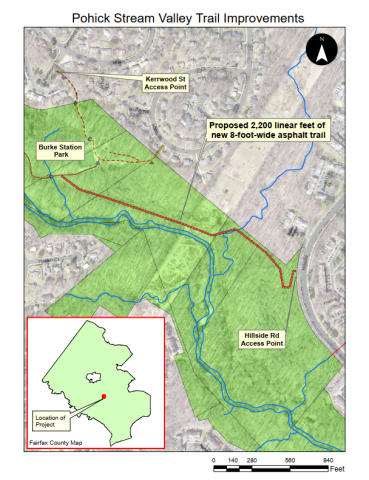 The Fairfax County Park Authority will soon begin construction on the next segment of the Pohick Stream Valley Trail between Burke Station Park and Hillside Road.
The contractor, AP Construction in Annandale, Virginia, was scheduled to mobilize on site on or around March 8, weather permitting. Contingent on the weather, this project will continue throughout the year with completion anticipated by the end of 2021. Approximately 2,200 linear feet of 8-foot-wide asphalt trail and one fiberglass bridge will be constructed. The project will connect the existing trail network within Burke Station Park to Hillside Road near Old Keene Mill Road. This connection will provide increased access to recreational facilities and the Virginia Railway Express Rolling Road station. It will serve both pedestrians and cyclists and create approximately 2 miles of fully accessible continuous stream valley trail from Burke Lake Road to Hillside Road for persons of all abilities.
Access points will be from the park entrance to Burke Station Park at Kerrwood Street, and from the sidewalk on Hillside Road. In addition, construction equipment will be present in Burke Station Park during construction. As a safety precaution, portions of the existing trail and park may be occasionally closed to users during the project.