Alexandria police chief announces retirement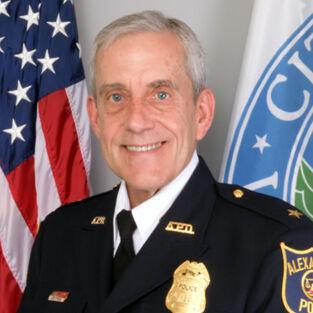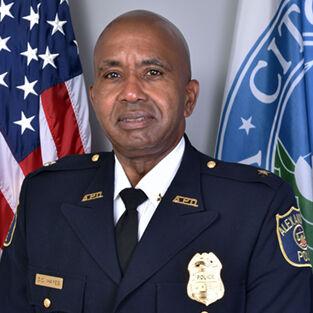 Alexandria Police Department Chief Michael L. Brown has announced that he will retire effective June 25. 
City Manager Mark B. Jinks appointed Assistant Chief Don Hayes as acting police chief upon Brown's retirement.
"This has been a difficult decision for me because I am so proud of the many commendable efforts within the Alexandria Police Department at this time," said Brown. "I am making this decision based upon several changing family priorities. It is very important for me to give these priorities the attention they are due."
"I want to thank Chief Brown for his many initiatives in addressing 21st-century policing opportunities in the Alexandria Police Department," said Jinks. "Continuous improvement is a value of our city government and Chief Brown embraced that value wholeheartedly, to the benefit of Alexandria residents and businesses. He provided solid leadership through challenging times for policing and worked to build trust in the community."
Brown's career includes 45 years of public service in law enforcement, safety oversight, and public policy. Brown joined the Alexandria Police Department at the start of 2017 and helped to implement best practices through neighborhood protection, community policing, traffic safety, and strategic planning. Accomplishments during Brown's tenure include APD's significant progress in building relationships with Alexandria residents and neighborhood groups; commitment to implementation of the city's Vision Zero Action Plan through education and modernized equipment; and the creation of the department's Peer Support and Resiliency Program to enhance employee well-being.  
"Chief Hayes' 40 years of experience leading various aspects of the Alexandria Police Department and long-standing connection to the community make him the right choice for this acting police chief role," said Jinks.
Hayes joined the Alexandria Police Department in 1981 and achieved the rank of sergeant in 1996, overseeing the community-oriented policing and internal investigations sections. In 1999, Hayes was promoted to lieutenant and led the special operations, information services, and public services divisions. He was promoted to captain in 2013 and served as patrol commander, in addition to heading the parking enforcement, traffic, special events, and community relations divisions. He was promoted to assistant chief in 2019 and has since used his diverse experience to oversee all parts of the police department.
An Alexandria resident for nearly 30 years, Hayes is an active member of an array of organizations serving the community through youth empowerment, diversion, and offender's aid programs, while also serving as lead pastor of Oakland Baptist Church. He holds a master's degree in organizational leadership from Johns Hopkins University, a master's degree in divinity from Liberty University Baptist Theological Seminary, and a bachelor's degree in business administration from Bowie State University. Hayes, a graduate of the FBI National Academy, has earned numerous certifications, and is an active member of the National Organization of Black Law Enforcement Executives; the International Association of Chiefs of Police; and the FBI National Academy Associates.
Sheriff awards college scholarships to criminal justice majors
Fairfax County Sheriff Stacey Kincaid recently awarded Virginia Sheriff's Institute (VSI) scholarships to area criminal justice majors.
"I am inspired by their diverse interests and enthusiastic commitment to public service," said Sheriff Stacey Kincaid. "I also commend them on their strong work ethic and academic achievements."
The 2021 VSI scholarship recipients for Fairfax County are: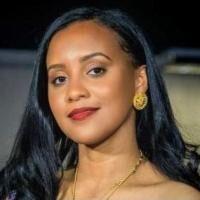 Selam Dubale is a third-year student at George Mason University pursuing a Bachelor of Science in Criminology, Law and Society after earning an Associate degree in Criminal Justice from Northern Virginia Community College. Dubale is a first-generation college student and is proficient in Amharic, a language of Ethiopia. She is active in her church choir, plays soccer for the Ethiopian Sports Federation of North America and has worked part-time in customer service. She is a member of the Tau Sigma National Honor Society and has been on the Dean's List for two semesters. Dubale is interested in a career in criminal justice because of a tragic incident in which her 16-year-old-brother was involved in Ethiopia. She wants to root out corruption in the criminal justice system.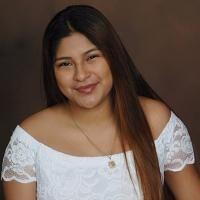 Blanca Frederick Sigaran is a third year student at George Mason University, double majoring in Criminology and Psychology with a concentration in Criminal Justice and Forensic Psychology. She is proficient in Spanish. Pre-COVID, Sigaran volunteered at the Artemis House domestic violence shelter and yearly at Arlington Cemetery during Christmas time. As part of her criminal justice class, she was able to explore the Fairfax County Adult Detention Center and the Coffeewood Correctional Center. She also completed a Teen Police Academy. While attending college, she works as a full-time nanny. After graduating she would like to become a special victim's detective or serve as an advocate for victims, specifically women and children who have been abused.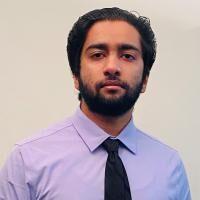 Hamza Arshad is a senior at George Mason University majoring in Criminology, Law and Society with a concentration in Homeland Security and Justice. He is minoring in Information Technology with a focus on digital forensics. He was able to transfer 27 credits from high school, which will allow him to graduate a semester early. He has been on the Dean's List every semester. Arshad grew up in Pakistan where criminal justice is not an established field, but he has found that in the U.S., criminal justice is a very fulfilling and honorable profession. He is involved in several extracurricular activities including Lambda Alpha Epsilon, a criminal justice fraternity, and Future Business Leaders of America. He has volunteered or interned on several political campaigns and works in customer service for Micro Center.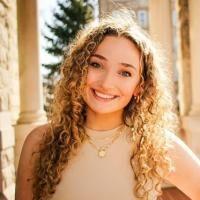 Savannah Mason is a sophomore at James Madison University majoring in Justice Studies with a concentration in Crime and Criminology. She is minoring in Spanish and Criminal Justice. She is involved in many organizations, including Phi Mu Greek Sorority, where she is the Sisterhood Development Chair. She also is a member of the Student Government Association and the Justice Studies Society. She volunteers at a local Harrisonburg shelter, writes letters to Virginia health care workers and also works as a childcare provider. She intends to pursue a career in criminal justice because she loves helping people and wants to make a hands-on difference in the community.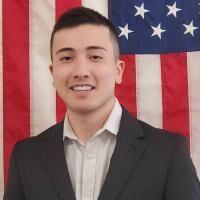 Daniel T. Nephew is a sophomore at George Mason University, majoring in Criminology, Law and Society with a concentration in Homeland Security and a minor in Intelligence Analysis and Forensic Psychology. He is an Army ROTC Cadet and a member of the Color Guard/Drill Team, where he has earned numerous awards and recognition. He works for the GMU Police Department as a physical security officer. His interest in criminal justice stems from his high school years living abroad in Brazil, where he observed shortcomings in its law enforcement and justice system. His time there heightened his passion for a career in criminal justice. He also learned to speak Portuguese and Spanish fluently. Nephew's career goal is to become an FBI agent.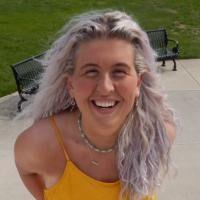 Samantha Messina is a second year student at George Mason University, studying Criminology with a concentration in Homeland Security and a minor in Intelligence Analysis. She has maintained a 4.0 GPA. She is a Pathways Program Intern for the U.S. Department of Justice – Office of the Inspector General where she assembles and identifies data for use in the management and direction of programs. Her dream is to become a criminal investigator or intelligence analyst for a state or federal agency. Immediately after college, she would like to work for either the Department of Homeland Security or Justice.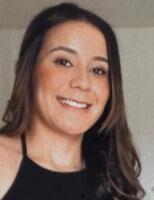 Dannyela Rivera Jiron is a junior at George Mason University, majoring in Criminology, Law and Society with a minor in Forensic Psychology. She earned an Associate degree in Criminology and Criminal Justice from Northern Virginia Community College. She currently works as a paralegal for an area law firm and is fluent in Spanish. She has volunteered as a Domestic Violence Liaison with the Washington Metropolitan Police Department and participated in the 10-week Fairfax County Community Police Academy. With her church, she has participated in mission trips to Columbia where they distribute food, clothing, hygiene items and toys to families in need. She intends to pursue a career as a police officer so she can help people and keep our community safe.
The VSI scholarship program provides an opportunity for young people across Virginia to pursue an education in criminal justice. The scholarship is limited to students attending Virginia colleges and universities. The annual application period generally runs from January through April. Scholarships are available only to students who reside in jurisdictions where sheriffs participate in fundraising efforts. Applicants must include a personal essay and a letter of recommendation from their county sheriff.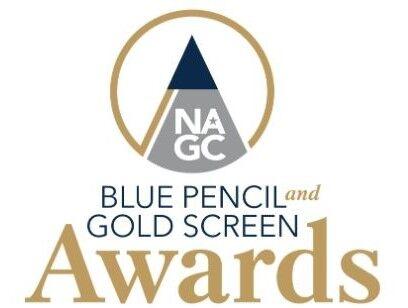 Park Authority wins NAGC awards for communications
The Fairfax County Park Authority has captured seven honors in the 2021 National Association of Government Communicators (NAGC) Blue Pencil and Gold Screen Awards for excellence in a variety of government communications.
The agency's park bond education campaign tied for first place honors in the Grassroots Marketing Campaign category. Despite the constraints of the pandemic, voters were able to learn the facts behind the approaching referendum. Through news releases, social media posts, website materials, a countywide mailer and two dozen virtual meetings, the Park Authority provided vital information to the public about the Park Bond referendum that won overwhelming voter approval on the November 2020 ballot.
When COVID-19 forced closures of park facilities and program cancellations, the Park Authority developed a Virtual Exploration Center that was honored with a second place award in the Website category. The online library of free resources provided an equitable way for the community to re-main engaged through games, videos, worksheets and other resources in the areas of health/fitness, culture/history and science/exploration.
NASCOW, a fundraising event sponsored by the Friends of Frying Pan Farm Park, won second place kudos in the Special Event or Conference category. The event allowed folks to sponsor a contender in the park's NASCOW cow race to help raise money to purchase feed for the farm animals.
Four additional Park Authority nominees won an Award of Excellence.
The Fairfax County Park Foundation's monthly newsletter was honored in the E-newsletter category. The Foundation is the fundraising arm for the Park Authority, and its newsletter is used to encourage fundraising by recognizing and thanking donors, informing supporters about programs and fundraising successes, and promoting Park Authority projects and programs.
Parktakes Magazine was honored once again in the Magazine category. Nearly 200,000 residents of Fairfax County subscribe to this magazine that is designed to help generate revenue for the Park Authority by promoting fee-based classes, camps, programs, facilities and events.
A social media campaign that provided information about the phased reopening of the Park Authority's Farmers Markets was honored in the non-paid Social Media Campaign category. Posts about Markets Reopening Guidelines provided important information about changes in the markets' operations due to COVID-19.
"Samplings from Sully's Hearth" was a winner in the Special Purpose Publication category. The cookbook was designed to educate readers about Sully's rich history and honor those who had cooked in the kitchen at Sully Historic Site over the past 50 years. 
FCPS students recognized in National Cyber Scholar Competition
Five Fairfax County Public Schools students have earned the title of "National Cyber Scholar" after winning a rigorous 48-hour competition designed to evaluate aptitude in combating cyber threats and showcase the best of what Commonwealth of Virginia schools have to offer. An additional student was named as a finalist. 
Darin Mao from Thomas Jefferson High School for Science and Technology (TJHSST), was named a Scholar with Honors.
Aryan Chinnala, Anish Gorentala, Aarush Sivanesan, and Lauren Delwiche, also students at TJHSST, were named Scholars. 
Gideon Morrow of South Lakes High School in Reston was named a finalist.
The National Cyber Scholars each won a $2,500 scholarship and an invitation to participate in the Cyber Foundations Academy, a multi-week training and certification course.
The Virginia Information Technologies Agency (VITA) and the Virginia Department of Education (VDOE) partnered to promote the Commonwealth's participation in CyberStart America—an innovative, online cybersecurity talent search and competition sponsored by the National Cyber Scholarship Foundation (NCSF) and SANS Institute. 
"I congratulate Virginia's new National Cyber Scholars for their achievement in this rigorous scholarship competition and for their interest in the increasingly vital field of cybersecurity as a career path," said James Lane, Virginia's superintendent of Public Instruction. "The Commonwealth kick-started interest in this growing field in 2016 by funding 32 cybersecurity summer camps. Since then, the number of cybersecurity courses for students in our career and technical education programs has expanded, as have opportunities for both students and teachers to earn in-demand, industry-recognized credentials in cybersecurity."
The NCSF calculated that more than 30,000 high school students across the country sought to qualify for this year's competition, and just 5,000 advanced to the first round. Of those students, only 600 nationwide and 21 in Virginia performed well enough to earn the title "National Cyber Scholars."