Reston named best place to work from home
Reston has been named tops in the country in Money magazine's "10 Best Places to Live if You Work from Home" survey. 
The results, published in January, rated localities on cost of living, safety and the quality of education in each area. Also considered were the number of residents who worked from home pre-pandemic and spaces that "prioritized a good at-home setup," with room for each at-home worker; access to necessities like daycare and pharmacies; and sufficient internet access. 
Hunter Mill District Supervisor Walter Alcorn said he was delighted by the designation, sharing the announcement at the Jan. 26 Board of Supervisors meeting. 
"The foundation of Reston put in place almost 60 years ago by the visionary Robert E. Simon, Jr. remains in place today," Alcorn said. "It is a great place to live work and play. And, of course to work from home. I am very happy that we're seeing that recognition at a national level." 
The article also cites Reston for its 55 miles of paved pedestrian trails and pathways and many parks, golf courses, lakes and green spaces nearby for residents. Reston's ample retail and dining options were also noted, with Reston described as being "practically designed with the remote employee in mind." 
Youth advocate receives 2020 Adoption Excellence Award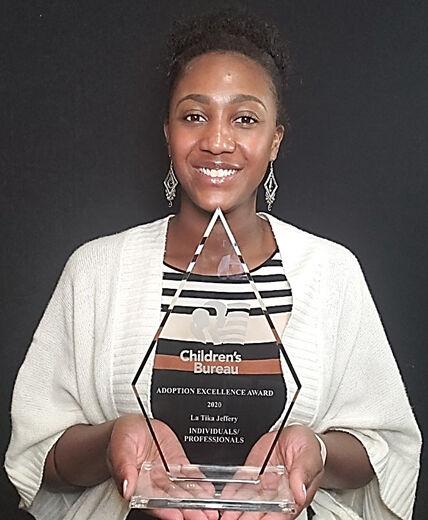 Fairfax County Youth Advocate La Tika Jeffery was recognized as a 2020 Adoption Excellence Award Honoree at the Children's Bureau's online celebration of National Adoption Month in November. 
Jeffery has continued to directly impact youth in foster care through mentorship. She also supports the child welfare system through her advocacy, public speaking, and participation on various national and international committees and panels.
Jeffery was in foster care as a teenager, and was adopted at age 21. She is a member of the AdoptUSKids speakers bureau, and she uses this platform to share her experiences as a youth in foster care to advocate for the interests of current youth in care, and to encourage adoption as a permanency solution for youth. She has been involved in a variety of media interviews, conferences, panels, webinars, and Facebook Live events.
She shares her story with great courage and vulnerability in a way that impacts each of her audiences. 
"Having worked with La Tika a little bit myself, I don't think she says 'no' to anybody when you ask her to help you with something," said Lynn Johnson, assistant secretary of the Administration for Children and Families. "She's always saying 'yes,' and I thank her for that."
As a Fairfax County youth advocate, Jeffery works to improve the foster care experience for current and future generations of youth in foster care through cultivating and increasing their opportunities to achieve permanency. 
South County coach selected 2020 National Coach of the Year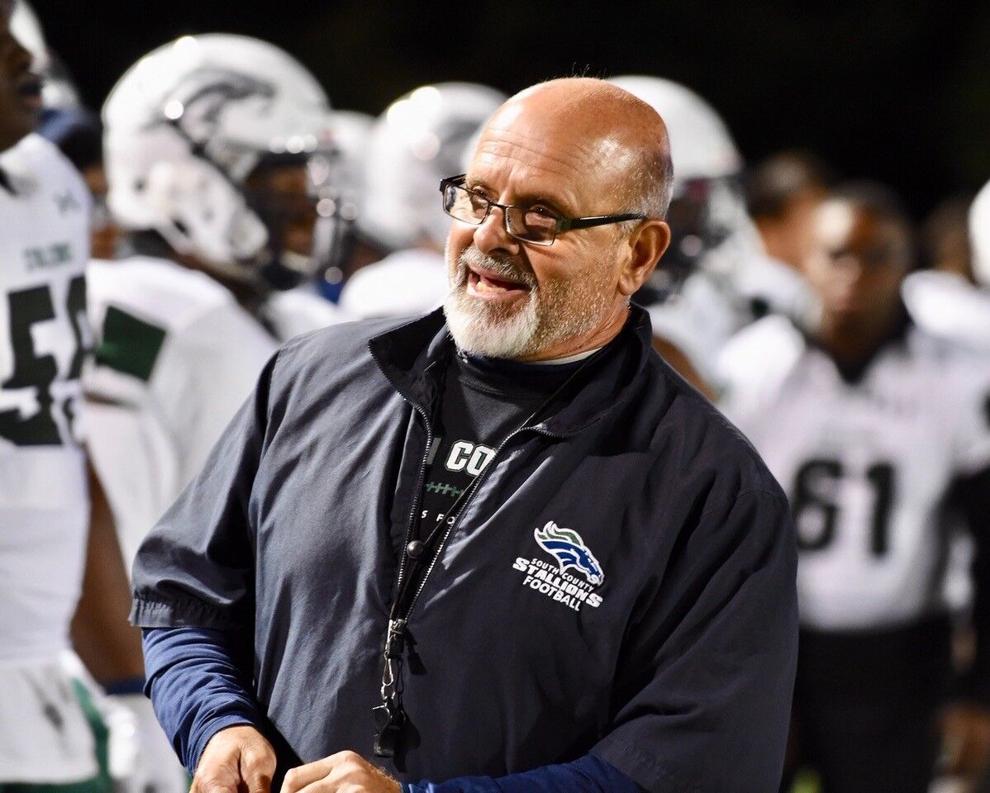 South County High School football coach Gerry Pannoni has been selected by the Coaches Association of the National Federation of State High School Associations (NFHS) as the national football coach of the year.  
Pannoni is one of 23 high school coaches from across the country to be recognized in boys sports and girls sports. 
Pannoni earned national coach of the year honors after guiding South County to an undefeated 15-0 record and the 2019 Class 6 state championship with a 14-13 win over Oscar Smith High School in the finals.  He also led his first South County team to a 11-4 record and a state runner-up finish in 2011. Entering his tenth season at South County, Pannoni has led the Stallions to an overall 84-31 record, a winning percentage of 74 percent.
Winners of NFHS awards must be active coaches during the year for which they receive their award. This year's awards recognize coaches for the 2019-20 school year.
55 FCPS students named as candidates in U.S. Presidential Scholars Program
Fifty-five seniors in Fairfax County Public Schools (FCPS) are among a group of more than 4,500 candidates in the 2021 U.S. Presidential Scholars Program. 
The candidates were selected from nearly 3.6 million students expected to graduate from U.S. high schools in 2021. 
The following students were nominated from Fairfax County:
Rachel S. Chae and Robert T. Schroder of Centreville High School; Maxwell J. Miracle, John T. Child and  Tryn Dunne of Falls Church HS; Rishav Shreeram of Marshall HS; James M. Laun of Robinson SecondarySchool; Stephen K. Draughn, Tianyi Wu, Stephanie Zhang, Joshua W. Jones and Otto R. Janke of Langley HS; Jungmin Kang of McLean HS; Carole Yin of Oakton HS; Robert N. Long of South Lakes HS; Minjoo Song, Anais D. Beauvais, Gideon D. Fenster, Ankit Khandelwal, Anthony J. Wong,  Emma N. Barnes, Patrick C. Gilles, Sean X. Nguyen, Andy He, Sophia J. Evanisko, Zachary Kwon, Arjun Aggarwal, Anuraag Kaashyap, Vance E. Kreider, Erin L. Li, Rohan Mishra, Shan Lateef, Justin J. Choi, Tammy Y. Ding, Aaliya Hussain, Austin J. Shi, Alexander L. Talamonti, Kevin Y. Zhang, David W. Xiang,  Kaleena R. Roeva, Helena E. Liu, Olivia Y. Ma, Jason Wang, Julia A. Kao, Kamal Amirneni, Emily M. Song, Zoe A. Lu, Daniel Zeng, Atinsai K. Kolli, Sahiti Rachakonda, Alex Y. Zhang, and Rubaiya R. Emran of TJHSST; Margaret B. Berberian, Nathaniel G. Close and Alexandra D. Cooper of Woodson HS;and Eun Gi Choe of Westfield HS.
South Lakes HS art teacher named 2021 Southeastern Region Secondary Art Educator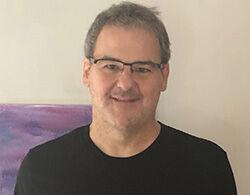 Matt Ravenstahl, who teaches art at South Lakes High School, has been named the 2021 Southeastern Region Secondary Art Educator by the National Art Education Association (NAEA). Ravenstahl will receive his award at the virtual 2021 NAEA conference in the spring.
Ravenstahl, who serves as Fine Arts Department chair at South Lakes, has taught at the school since 1994.  He teaches Visual Arts and Theory of Knowledge as part of the school's International Baccalaureate diploma and middle years program and has taught beginning and advanced painting and drawing at the FCPS Summer Institute for the Arts since 2009.
In nominating him for the award, five art department colleagues said this about Ravenstahl, "Dr. Ravenstahl is passionate about teaching because he is the quintessential lifelong learner. He achieved his MFA and 10 years later, his doctorate, all while teaching full time. The theories that he explored in his dissertation have directly and positively impacted his approach to student learning…Whether it's finding ways special education students can innovate, or by incorporating visual art into Theory of Knowledge (an academic philosophy class), the results are often surprising and always positive."
Art resource teacher Susan Silva adds, "He personifies the artist teacher researcher…The perfect combination of passion, energy, and rebellion all to benefit the students. His reach starts at South Lakes High School and easily stretches throughout the county and beyond…His students come out of his class with an ability to think deeply and use their analytical skills to problem solve. He challenges the students to be the artists and thinkers they are meant to be." 
"Matt is so approachable that students feel a deep comfort in his class and therefore feel empowered and safe to take risks with their artwork," says South Lakes High Systems of Support advisor Christine Kelley. "In addition to being a skilled art teacher, Matt Ravenstahl excels at creating a safe classroom for all students. His ability to connect with students transcends art. Matt pays attention to his students. He knows each one so well that he can detect when a student is not doing well. Students often feel comfortable sharing information with him and then Matt is adept at finding the resources in our school that are available to the student. He follows up to make sure his students' needs have been addressed. Matt is more than a teacher of art, he is a teacher of students."
Ravenstahl has also taught at the college level and works with the International Baccalaureate Organization as well as serving on the FCPS Advanced Academics Board, designing and providing training for teachers. Ravenstahl has also been a frequent presenter on art education at national and international art education conferences.
In 2019, he was named Virginia Art Educator of the Year by the Virginia Art Education Association and in 2018, was recognized as the Secondary Educator of the Year by the Fairfax County Special Education Parent Teacher Association. He was also recognized in 2002 by the International Sculpture Center as Outstanding K-12 Sculpture Teacher.
Ravenstahl graduated from Indiana University of Pennsylvania with a bachelor of fine arts in sculpture and bachelor of science in art education. He earned a master's degree in fine arts from the University of Maryland and a doctorate in education from the University of Durham (United Kingdom).
Metropolitan School of the Arts' announces Martin Luther King, Jr. Day project winners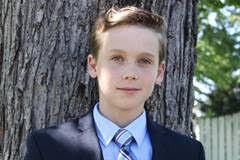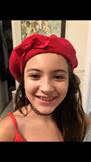 Metropolitan School of the Arts (MSA) announced Aviara Padgett (grade 4) and Jackson Dominski
(grade 6), both of Alexandria, as its inaugural winners of its Metropolitan Anti-Bias Committee's (MABAC) Martin Luther King, Jr. Community Service Project Activity. 
The project was open to all MSA students to submit and enter a raffle for a $100 gift card. The winning projects included Dominski's creative music, and Padgett won for her poem, "We are All Humans". Go to www.metropolitanarts.org for more information.
The Metropolitan Anti-Bias Committee (MABAC) is a newly formed group of MSA parents, faculty and alumni who are dedicated to developing and implementing strategies to foster a culture of diversity, understanding, equity, anti-bias and inclusion across the MSA community. The committee is made up MSA parents, board members and faculty, to include: Betsy Applebee, MSA board member; Matt Bassett, MSA Academy theatre department chair; Ashley Broadway-Mack, MSA parent; Jon Hamilton, MSA faculty; Roger C. Jeffrey, MSA Academy dance department director and MABAC co-chair; Roxanne King, MSA alumnus and faculty; Shavaughn Priestly-Smith, MSA parent; Arjuna Rivera, MSA parent; Phara Rodrigue, MSA parent and MABAC co-chair; as well as, Rae Vann, MSA parent and MABAC co-chair. 
The MABAC mission is to intentionally foster diversity, understanding, equity, anti-bias, and inclusion in every action and area of MSA in order to provide an environment of excellence in which each student, faculty, staff, family, and community member is able to nurture self and group identities while cultivating empathy and respect for differences; promote critical thinking skills about bias; and foster courage to stand up against discrimination.
MSA also sponsored a professional development opportunity for faculty and staff led by Theresa Ruth Howard, a former member of Dance Theater of Harlem, founder of Memoirs of Blacks in Ballet (MoBBallet), and diversity strategist and consultant to discuss racial equity in ballet. 
"Our MLK service projects and our commitment to anti-bias education was truly a call to action to do more, and we're so proud of the MSA community for uniting to support this effort," said Sara Hart, co-executive director of Metropolitan School of the Arts in Alexandria.