Fairfax Water GM retires; new executive team introduced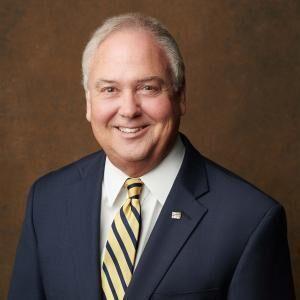 Steven T. Edgemon has announced his retirement from Fairfax Water after 18 years of service at Fairfax Water and 40 years in the drinking water industry.  His retirement will be effective June 30, 2021.  
Edgemon has served as general manager since 2019 after 15 years as deputy general manager. Before joining Fairfax Water, he was vice president and general manager of Virginia American Water Company, based in Alexandria. Edgemon leaves behind a legacy of excellent financial leadership and successful acquisition of the Vulcan Quarry as a future water supply for our customers. 
"We are so grateful for the dedication and experience Mr. Edgemon has brought to Fairfax Water," said Phil Allin, chairman of the Fairfax Water Board. "We will miss his leadership and guidance and wish him a very happy retirement."
Jamie Bain Hedges will become the general manager July 1, and John W. Kingsbury III will become deputy general manager.  They have a combined experience of almost 70 years in the drinking water industry.  
"Many water utilities today cannot compete with that level of experience," said Allin. "Ms. Hedges and Mr. Kingsbury have the knowledge and talent needed to build on the current success of Fairfax Water." 
Hedges currently serves as the deputy general manager and has been with Fairfax Water for more than 31 years.  Prior to her appointment to deputy general manager in 2019, she served director of the Planning and Engineering Division and manager of Planning.  She has a Bachelor of Science degree in Civil Engineering and a Master of Business Administration degree, both from Virginia Tech. Hedges is a licensed professional engineer and a member of the American Water Works Association.
Kingsbury joined Fairfax Water in 2000 after serving 15 years with American Water. Prior to his appointment to director of Transmission and Distribution in 2005, he was manager of Mechanical and Distribution Maintenance.  He has a Bachelor of Science degree in Chemistry from Marshall University and a Master's degree in Environmental Sciences and Engineering from Virginia Tech.  He is a licensed Waterworks Operator, licensed professional engineer, and a member of the American Water Works Association, where he has served on committees at the local and national levels.
FCPD welcomes new incident support services director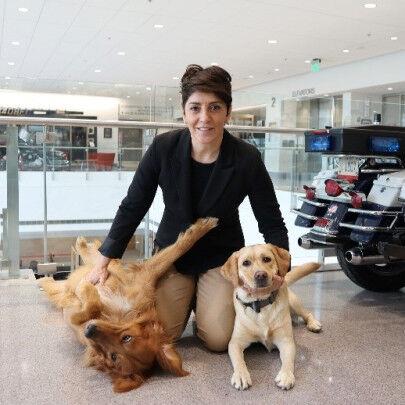 Interim Police Chief David M. Rohrer of the Fairfax County Police Department is pleased to announce, the hiring of Cindy I. Guerra as director of the Incident Support Services Bureau, following a national search.  Ms. Guerra has formal training in police psychology and extensive experience in police operations, communications and officer wellness and support.
Guerra served most recently as a decorated police lieutenant during her 27-year tenure with the Chicago Police Department (CPD). After joining CPD in 1994, she rose through the ranks to the position of commanding officer of the Police Superintendent's Office of Communications and News Affairs. In this role, she was responsible for implementing all aspects of internal, external and executive communications, legislative affairs and community engagement strategies for the nation's second largest police department. She placed specific emphasis on creating and managing a dedicated internal communication function on behalf of the police superintendent to support officer wellness, morale and welfare. In addition, she worked closely with the community policing office on hiring campaigns, diversity training and community involvement. Guerra also collaborated messaging with the Latino community, in her role as a sergeant for the Office of Communications.
Guerra also served as the police superintendent's representative for coordinating officer wellness and family support initiatives within the Department and among external stakeholders. Her work there was credited with the development of their "You Are Not Alone" campaign which coordinated chaplain, peer support, clinical and public affairs resources into a comprehensive effort to combat a rise in Chicago police officer suicides. These efforts resulted in national recognition by the University of Chicago Crime Lab, NYPD and the National Alliance on Mental Illness.
Guerra earned numerous department awards and recognition throughout her distinguished professional career. She began her employment with FCPD April 12.  
Three elected to Reston Association Board

Reston Association members elected the following candidates to three-year terms on the Board of Directors. The winners were announced during the 2021 Annual Members meeting April 13 on Zoom.
AT-LARGE
Sarah Selvaraj-D'Souza
AT-LARGE
Timothy J. Dowling
SOUTH LAKES DISTRICT
Jennifer Jushchuk
The new board selected its officers at its first meeting on April 14. The officers include:
President: Caren Anton
Vice president: John Mooney
Secretary: Aaron Webb
Treasurer: Robert Petrine
The month-long election was held in March. Eligible association property owners and renters voted by mail or electronically. The voting process was conducted independently by Intelliscan Inc.
The nine-member RA board is responsible to the membership for seeing that the overall organizational goals of the association are accomplished. In general, the volunteer board's responsibilities include setting policy – finance and budget, personnel and compensation policies – and overseeing planning and program strategies. The CEO is an exofficio member of the elected board.
Fairfax County-based Cyber and IT consulting firm to expand
SecureTech360, LLC, a small woman-, minority-, and service-disabled veteran-owned cybersecurity and information technology consulting firm, will invest $155,000 to expand in Fairfax County. The company will grow its presence in the healthcare IT and cybersecurity field to provide secure, scalable, and equitable healthcare solutions and products. The project will create 10 new jobs and enable the company to provide clients with patient-centric IP enabled healthcare, pharmaceutical, and ancillary services, powered by green technologies and cybersecurity. 
"The recent growth of SecureTech360 is the perfect illustration of how businesses of all sizes can thrive in our Commonwealth," said Governor Ralph Northam. "Access to healthcare and medical records has never been more important, and SecureTech360 is at the forefront of streamlining these services to help address present and future needs. We take pride in having this company as one of our partners, and we look forward to its continued success in Fairfax County."`
Founded in 2010, SecureTech360, LLC has doubled in size as a small business since its inception. The company focuses on modernizing technology, cybersecurity, and transforming the digital experience for its customers. Most clients are in the first responder community, and the company provides product offerings to help them navigate into secure cloud technology and scale operations for the future. In 2020, SecureTech360 was awarded the Governor's Volunteerism and Community Service Award, recognizing the company's staff for dedicating more than 300 hours to volunteering and raising funds for various causes in the community. The company was also honored as the 2019 Women's Veteran's Business Enterprise of the Year by the National Veteran-Owned Business Association.
"Virginia's leading position in the technology sector makes it an ideal home for innovative startups," said Secretary of Commerce and Trade Brian Ball. "SecureTech360's expansion in Fairfax County is a testament to the region's entrepreneurial spirit and top tech talent. We are very excited to support this SWaM-certified business providing great value to the healthcare industry."
"Motivated by a desire to increase diverse representation in the healthcare IT and cybersecurity space, SecureTech360 is excited about the opportunity to create jobs in Virginia for underserved populations," said Quiana Gainey, principal CEO of SecureTech360. "SecureTech360 will continue to build a bridge between individuals from marginalized communities and provide access to opportunities in the healthcare IT and cybersecurity industry through innovation and training. Our hope is to educate and empower disenfranchised individuals who have systematically been left out of industry while transforming our surrounding local economies."
The Virginia Economic Development Partnership worked with Fairfax County to secure the project and will support SecureTech360's job creation through the Virginia Jobs Investment Program (VJIP), which provides consultative services and funding to companies creating new jobs in order to support employee recruitment and training activities. As a business incentive supporting economic development, VJIP reduces the human resource costs of new and expanding companies. VJIP is state-funded, demonstrating Virginia's commitment to enhancing job opportunities for citizens.
"We are always pleased to help woman-, minority-, and veteran-owned businesses grow their presence in Fairfax County and Northern Virginia," said President and CEO of the Fairfax County Economic Development Authority Victor Hoskins. "Working with SecureTech360 is particularly gratifying because it is creating opportunities in IT sectors for diverse populations."
"As someone with a professional background in healthcare and who has worked for access to records and information that can be used to improve patient outcomes and health status, I am pleased that SecureTech360 is expanding its work and number of employees in healthcare IT in the 39th district," said Senator George Barker.
"Virginia companies continue to show resilience while navigating the COVID-19 pandemic, and I applaud SecureTech360 for recognizing a need across multiple industries to provide greater ease of access to medical records through its platform for consumers in the Commonwealth," said Delegate Vivian Watts. "I am proud to represent this woman-owned small business, and look forward to SecureTech360's continued success."
Assistance League provides hugs pillows to elementary children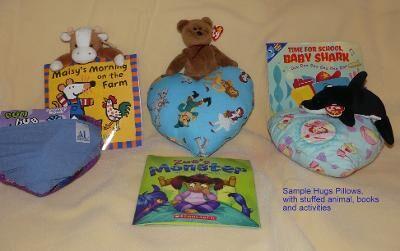 When members of Assistance League of Northern Virginia gathered last month to assemble 300 Hugs
Pillow packages, they anticipated the pillows would please the children who received them.  
The heart-shaped pillows, in vibrant patterns are filled with items that any child would love. But
the volunteers could not imagine the real-life situations in which those pillows might be used, nor how
precious they could be to the recipients. 
Counselor Eliza Gallagher, from Loch Lomond Elementary School received some of the pillows assembled by Assistance League sent the following description of the comfort provided for one family:   
"Yesterday morning we welcomed more students back into the building for the 10th time this year," she wrote. "Three of those students are from a family whose mother has filed for homelessness recently for the second time. They were SO excited to be back in school and literally had a little hop in their steps as they walked through the front doors. The mother came into the office about an hour after school started to pick her kids up because she had to go to work and didn't have any way of getting them at the end of the day."
Arrangements were worked out to have the children wait with the counselor after school so they didn't
have to leave early. After school the wait was longer than expected and the children got anxious, especially the youngest. The counselor found a wonderful way to put the Hugs pillows to use.
"Luckily, thanks to you all I was able to offer them a 'coping skills' bag that the Assistance League had
generously packed and given us," wrote Gallagher. "I was able to give them options between a Frozen bag, Alice in Wonderland, Flowers, and Blue Jean pillows and let them pick which animal they wanted as well. Immediately the youngest chose Frozen theme and pulled out all the content until her parent finally arrived. It was a gift to me to be able to provide them something while they waited that they could take home and call their own. A little after 10 p.m. last night I got a message from mom, that I wanted to pass along to you just to say thank you once again. Thank you for supporting our school, students, and me always. I am SO grateful!!"
Stories like these make Assistance League volunteers proud to be members of such a dedicated
organization and to know their support is so appreciated, but the members are also very humbled to
learn the critical situations that many parents face.
If you would like to learn more about the organization or to become a member, visit the website alnv.org.