Virginia Tech names two to Innovation Campus leadership roles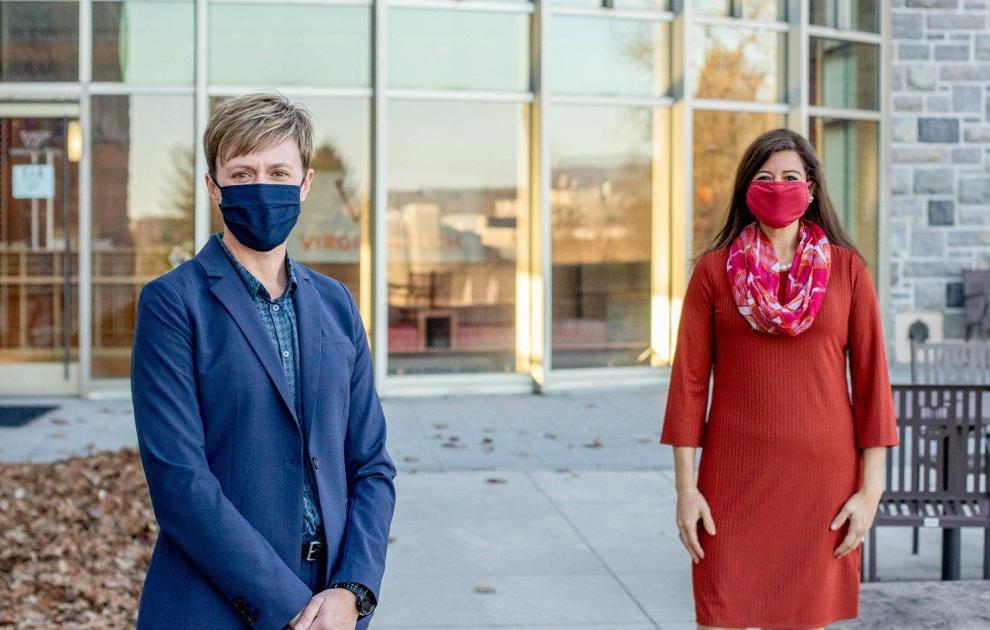 Two Virginia Tech leaders have taken new roles with the university's Innovation Campus now taking shape in Alexandria.
Robin Jones has been named assistant vice president for Innovation Campus student services. She formerly was assistant provost for planning and resource management at Virginia Tech, and she held leadership positions within the Division of Student Affairs.
In her new role, Jones will continue her previous work to collaborate with campus partners to expand and manage services available to Virginia Tech students who are enrolled in the university's graduate programs in the greater Washington, D.C., metro area. She will focus primarily on supporting students who fall within the framework of the state's Tech Talent Investment Program. These students include Virginia Tech and other partner university accelerated master's students, corporate cohorts, military and veterans, and Virginia residents enrolled full and part time.
The Tech Talent Investment Program is a centerpiece of Virginia's proposal to draw Amazon's second headquarters to Arlington. Through this program, Virginia is investing in computer science and related academic programs with a goal of increasing the availability of talented professionals to fill technology jobs in the commonwealth.
Last year, Jones led the launch of the Greater Washington, D.C., Area Hokie One Stop, a virtual suite of services for Virginia Tech graduate students in Northern Virginia. The website is an online version of a future in-person location in Northern Virginia that will feature the same variety of services. Hokie One Stop eventually will be based at the Innovation Campus once it opens in 2024.
Dannette Gomez Beane has been named assistant vice provost for enrollment management for strategic initiatives. Previously, Beane served as director of operations in the Office of Undergraduate Admissions at Virginia Tech.
She will focus on graduate enrollment and degree goals for the Tech Talent Investment Program, which includes the Innovation Campus. Beane's track record in helping Virginia Tech set and meet enrollment targets puts her in a position to help achieve the program's goals.
The Innovation Campus offers graduate degree programs in computer science and computer engineering, with a primary mission of fueling the Tech Talent Investment Program. The campus' new master of engineering in computer science program launched last fall.
Both Jones and Beane bring valuable experience that is key to the success of the Innovation Campus now and going forward, said Ken Smith, chief operating officer for the campus.
"Robin and Dannette's established connection to a broad network of colleagues across the many Virginia Tech offices that serve students has allowed them to hit the ground running and their collaborative work is already benefiting applicants, current students, and the faculty that serve them," Smith said.
FCPS students win grand prize awards at Regional Science and Engineering Fair
The 66th annual Fairfax County Regional Science and Engineering Fair virtually showcased over 200 high school science projects via recorded videos. Over 290 students presented their research projects in a wide variety of science and engineering fields. Projects were judged by over 300 professionals and 50 professional organizations and businesses. 
The Grand Prize and first place winners are eligible to compete in the Virginia State Science and Engineering Fair to be held virtually in April.  
Grand Prize winners are:
Animal Sciences, Shan Lateef, Thomas Jefferson High School for Science and Technology (TJHSST), What's All the Buzz? Drosophila melanogaster as a Unique Model for Addiction Disorders after Traumatic Brain Injury (TBI).
Biochemistry: Sagar Gupta and Sumanth Ratna, TJHSST, Protein Secondary Structure Assignment (SSA) by Clustering Amino Acid Residues in the Space of Topological Descriptors; and Gitali Bhanot and Sana Friedman, Oakton High School, Managing Hyperlipidemia: Algae as Lipase Inhibitors.
Chemistry: Kaien Yang of TJHSST, New Methods for Computing the Configurational Entropy of Deeply Supercooled Liquids with the Potential Energy Landscape; and Kiara Fenn of Fairfax High School, The Effect of the Mass of Sodium Bicarbonate on Endothermic Reactions.
Physics and Astronomy, Aditi Chandrashekar and Vance Kreider of TJHSST, Modeling Coronal Faraday Rotation of Radiation from Extragalactic Radio Sources.
Systems Software: Pravalika Putalapattu of TJHSST, DORC: Dynamic Operating Room Companion for Gallbladder Removal Surgery Workflow Verification.
Translational Medical Sciences: Thomas Chia of Chantilly High School, A-EYE: Utilizing Multistage Neural Networks and Landmark Localization for Fundus Image Disease Detection; and Ron Nachum of TJHSST, PANDwriting: An Accessible Parkinson's and Alzheimer's Novel Diagnostic Framework Using Vision-Based Handwriting Kinematic Analysis and Machine Learning.
Complete results from the 2021 Regional Science and Engineering Fair, including a complete list of winners, are available online on the FCPS Science Fair website at https://bit.ly/31t7dPe.
Organization awards are also available online at https://bit.ly/3cuAHCI.
The 2021 science fair was made possible by hundreds of students, teachers, and community members who dedicated their time and energy.
CGI Federal names new president
CGI announced the appointment of Stephanie Mango to president of CGI Federal with transition activities effective immediately. 
In this role, she will lead CGI Federal's 7,000 professionals, partnering with more than 85 government agencies to provide solutions for defense, civilian, healthcare and intelligence missions.  
"I am honored to take the helm of such a remarkable organization that provides mission-critical services to help agencies enhance citizen engagement, accelerate digital transformation, protect America's assets, modernize operations and empower the Federal workforce of the future," said Mango. "I've seen firsthand how the contributions of our members have shaped the success of our clients, our business and our communities, and I am excited about the road ahead of us." 
Mango's career at CGI Federal spans 25 years, most recently as the senior vice-president and leader of the  Security, Assistance, Justice and Health (SAJE) Business Unit, where she led a large, diverse client portfolio and oversaw the company's mergers with Sunflower Systems and TeraThink Corporation.
Outgoing CGI Federal President Tim Hurlebaus fully endorsed Mango's appointment as he transitions to a new role as president of CGI's U.S. Commercial and State Government operations, replacing Dave Henderson, who will now serve as president of CGI's Global IP Solutions. 
"I have watched Stephanie excel as a leader, as she inspired our team to achieve significant growth and positive outcomes for our clients," said Hurlebaus. "Stephanie's new leadership role positions CGI Federal for continued growth and success."   
"Stephanie is recognized for fostering a collaborative, productive team that balances the needs of our clients, members and shareholders," added George Schindler, CEO of CGI. "Her consultative style and proven ability to bring the best of CGI globally to her clients has resulted in tremendous success over the past five years. I'm proud to welcome Stephanie as a valuable member of CGI's Executive Committee." 
Mango is also a recognized thought leader in the government market and an advocate for diversity, equity and inclusion. She serves as Vice Chair for the American Council for Technology, as a member of Industry Advisory Council's executive committee and is a founding member of Chief Washington DC, a network that connects and supports women leaders. Last month, Mango was named a finalist in the WeQual Awards for Leadership Excellence, where she was recognized for amplifying her voice on behalf of female corporate leaders.
Virginia Master Naturalists name volunteer of the year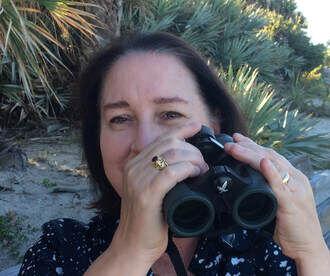 During the pandemic, the restorative value of walking along dirt paths became especially clear to Fairfax Master Naturalist Robin Duska, who was recently recognized by the Virginia Master Naturalist state board as 2020 Volunteer of the Year for her outstanding contributions to natural resource education, conservation, citizen science, and stewardship.
The VMN award announcement identified Duska's leadership in promoting the creation and conservation of wildlife habitat and in educating the community about the importance of natural, native habitat.  
When serving as co-director of the Audubon at Home (AAH) program of the Audubon Society of Northern Virginia (ASNV), Duska often went out birding–and eBirding–along the 55 miles of trails near her Reston home.  She found it possible to manage more than 500 hours of volunteer service in 2020 across a variety of activities.  
"When I retired five years ago, I decided to structure my volunteering to make some kind of contribution on national, regional, and local levels," she said. "During the pandemic, when weekly public bird walks are not being conducted, it has still been possible to help out authorities at Great Falls National Park by walking the dirt paths and providing a weekly update on the park's birds. Sadly the pandemic precluded my other usual national-focused volunteering in the National Museum of Natural History's Bird Division and Q?rius Learning Center. But on the bright side, that left more time for regional and local service, much of which can be done outside, in writing, or via Zoom." 
On the regional front, out on those dirt paths again in the absence of public bird walks, Robin and FMN Kris Lansing report weekly to park authorities on the bird life at Fairfax County's Riverbend Park. Also, Zoom became a resource early on:  In March, having recruited experts from Pennsylvania Audubon to hold a jointly sponsored RA-ASNV program in Reston, Robin realized that the pandemic would preclude travel from Pennsylvania to Virginia. So, she restructured the program into a webinar—a continuing educational resource about bird-window collisions. In summer, she also facilitated Audubon at Home discussions with parties in Fauquier and Rappahannock Counties to expand AAH operations there–and the pandemic did not prevent drafting and coordinating the requisite documents to clinch the new AAH partnerships. 
Other activities included volunteering in her own neighborhood, educating others on planting Virginia native plants and working on a presentation for landscaping committees. She also identified a need for a non-technical handout on pesticides geared to readers in HOAs and on their boards.
Students earn recognition in 2021 Scholastic Art and Writing Awards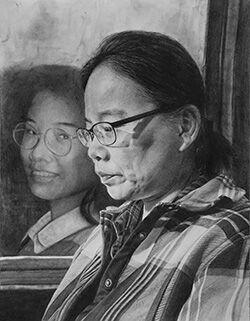 Original works of art and writing by students from Fairfax County Public Schools (FCPS) earned 27 national medals in the Scholastic Art and Writing Awards program.
 In addition to Gold Medals and Silver Medals, Lyat Melese of Thomas Jefferson High School for Science and Technology (TJHSST) received the American Voices Medal in writing, Arin Kang of McLean High School received the Best in Grade Award for grade 10, Alison Wan of TJHSST received the Best in Grade Award for Grade 11, and Ellen Pan of McLean High School was recognized with the One Earth Award. 
The Scholastic Art and Writing Awards, presented by the Alliance for Young Artists and Writers, is the largest, longest-running recognition program of its kind in the United States. Established in 1923, the awards have recognized students who have become some of our nation's most celebrated artists and writers, including Richard Avedon, Robert Indiana, Steven King, and Andy Warhol. Visual arts categories include architecture, art portfolio, ceramics and glass, comic art, design, digital art, drawing, editorial cartoon, fashion, film and animation, jewelry, mixed media, painting, photography, printmaking, sculpture, and video game design. Writing categories include critical essay, dramatic script, flash fiction, journalism, humor, novel writing, personal essay and memoir, poetry, science fiction and fantasy, short story, and writing portfolio. More than 300,000 students participate in the program across the country.  
Eleven Gold Medalists and 15 Silver Medalists from our region will be celebrated in a virtual award ceremony in June. More information and a complete list of national award winners is available at https://bit.ly/3ryIhAr.