Winners announced in annual student poetry contest
Nine student poets have been named winners in the 2021 Fairfax Parks Student Poetry Contest. 
More than 120 students in grades K-8 entered the contest presented by the Fairfax County Park Authority and the Fairfax County Park Foundation. The annual contest coincides with National Poetry Month in April. 
This year's theme also celebrates 70 Years of Excellence in Fairfax County Parks. Students were asked to write how local parks have made Fairfax County a greener, cleaner, healthier place to live, work and play.
The winners in each grade category of the poetry contest are:
Grades K-3
James P., a third-grade student at Kent Gardens Elementary School
Leonardo Rodriguez, a third-grade student at Laurel Ridge Elementary School
Zahra Quraishi of Ashburn, a first-grade homeschool student
Grades 4-5
Alisha Baptista, a fourth-grade student at Bull Run Elementary School
Lydia Gibbons, a fifth-grade student at Cherry Run Elementary School
DoWon Lee, a fourth-grade student at Oakton Elementary School
Grades 6-8
Katelyn Hubbard, a sixth-grade student at Mosby Woods Elementary School
Seonghui Ju, a sixth-grade student at Haycock Elementary School
Sumayah Qazzaz of Falls Church, a seventh-grade homeschool student
The nine student winners will participate in a virtual poetry reading to be shared on the Park Authority's website and social media platforms on Earth Day, April 22. Follow the Park Authority on social media or visit the Poetry Contest website at https://bit.ly/2Ql6TQ9 to see the virtual showcase.
In celebration of the Park Authority's 70th anniversary, winners will also receive a $70 Park Authority gift card, courtesy of the Fairfax County Park Foundation.
Park Authority amusements and facilities to reopen for spring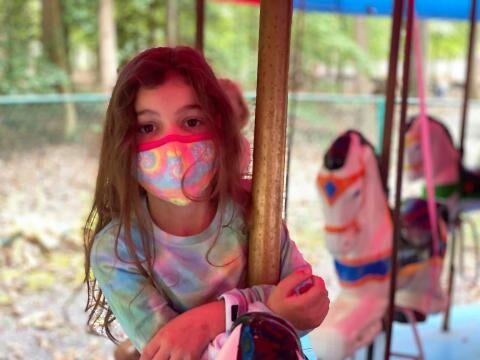 Spring is in the air, and that means it's time to reopen Park Authority amusements and facilities that have been closed for the winter. Welcome the warm weather by taking a spin on a carousel, going for a train or wagon ride, launching a boat, playing a round of mini golf or practicing your swing at the batting cages.
Amusements at many Park Authority facilities have begun opening for the season. Please check our website for site-specific hours and details; hours will continue to expand as we approach summer:
Batting Cages – Located at Braddock Park.
Boating/Marinas – Includes Lake Accotink, Burke Lake, Lake Fairfax and Riverbend Park.
Carousels – Located at Burke Lake, Clemyjontri, Frying Pan Farm, Lake Accotink, Lake Fairfax and Lee District Family Recreation Area.
Mini Golf – Includes facilities at Burke Lake, Jefferson Falls, Lake Accotink and Oak Marr.
Train – Includes Burke Lake Park Miniature Train and Clemyjontri's Trackless Train.
Wagon Rides – Includes regular rides at Frying Pan Farm Park and programmed rides at other locations.
COVID-19 safety procedures remain in place at all park venues. Amusements will run at reduced capacity, equipment and rides will be cleaned between uses, sanitation breaks will be implemented, and social distancing is required in queues and while participating in park activities. Certain seats or areas may be blocked off to facilitate social distancing. Masks are required for visitors age 2 and up, and customers are encouraged to carry wipes and hand sanitizer.
Due to reduced capacity, tickets are limited. Visitors are encouraged to purchase tickets in advance to reserve your spot and reduce physical contact. You can buy an unlimited number of tickets for your favorite activities for the same day or different days. Drop-in tickets will still be available on site if activities do not sell out online. The Park Authority encourages visitors to check the status online or book online before arriving. For ticketing and more information, visit the Popular Activities Page at https://bit.ly/3uJG87c. Please note that Braddock Park batting cage tokens must be purchased in person.
For more information, contact the Park Authority at 703-324-8700.
High school students invited to virtual career fair
Fairfax County Public Schools high school students are invited to participate in the 2021 Virtual Career Exploration Fair, scheduled to take place from April 19 through April 30. 
This completely virtual event will include synchronous (live) and asynchronous (recorded) sessions and workshops.
Students will be able to learn about work-based learning opportunities; attend industry panel discussions; take part in mock interviews; attend resumé workshops; and learn about postsecondary education, training, and apprenticeship opportunities.
For more information visit https://bit.ly/3mFY0Ni.
Mason's annual staff honors include new Patriot Pathbreakers Award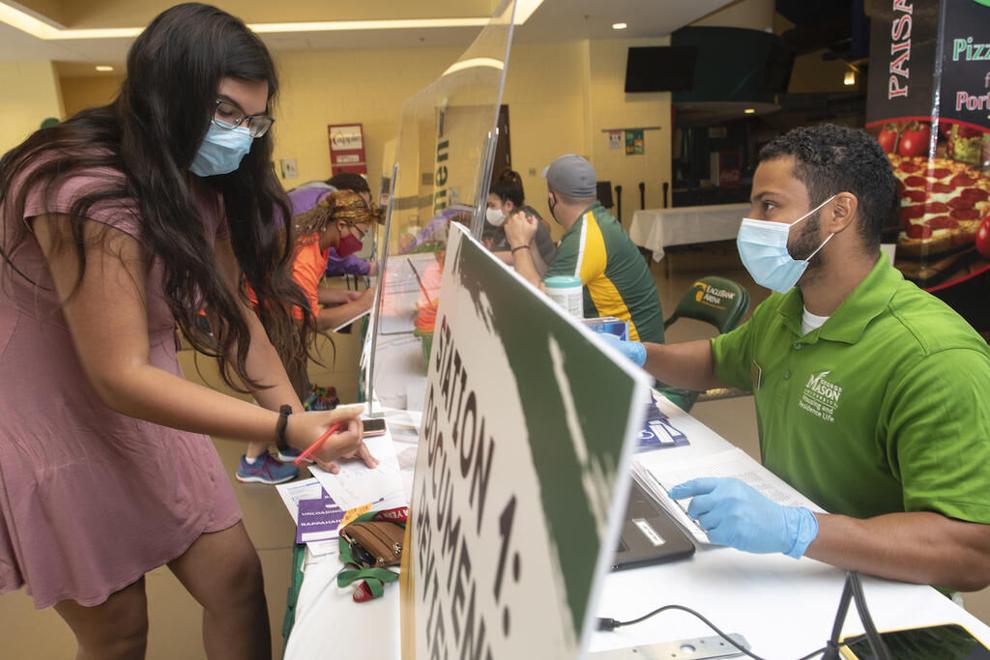 For the first time, George Mason University is recognizing specific teams of employees for their innovative work. The newly created Patriot Pathbreakers Award was presented at an awards ceremony April 13, to three staff teams for their work over the past year. 
The teams being honored are the Office of Admissions Relationship Management Team, the Housing and Residence Life and Student Health Services Team, and the University Life Emergency Funding Team. A full list of the award winners can be found at https://bit.ly/2QoZ2kA.
"The Patriot Pathbreakers Award acknowledges and applauds the innovative and collaborative efforts of a Mason team, recognizing those efforts have helped us find solutions to larger organizational problems, overcome challenges and support the Mason value of thriving together," said Shernita Rochelle Parker assistant vice president, Human Resources strategy and talent management.
"The Patriot Pathbreakers Award, established by Human Resources (HR) and Payroll and the Staff Senate, seeks to honor high-performing teams that embody the Mason value of 'We Thrive Together,'" said Lauren Reuscher, chair of the Staff Senate.
"High-performing teams are active pathbreakers, using the individual talents of team members to overcome obstacles and make progress toward their goals," said Reuscher.
Reuscher said that the way the Mason community responded to the challenges of the past year inspired a group of Staff Senators and HR and Payroll staff to recognize the work accomplished by Mason's most innovative teams.
The Office of Admissions' Relationship Management Team is being honored for quickly pivoting from a primarily in-person service to an online presence to meet institutional enrollment goals.
"This team's innovation helped them thrive despite the quick changes required in college recruitment," said Reuscher. "By encouraging team members to bring their unique perspectives to the table, they find creative solutions."
The staff in Student Health Services and Housing and Residence Life is being honored for establishing a collaborative approach to keep the residential student community safe during the coronavirus pandemic, said Reuscher.
"These two groups worked together to educate students about COVID-19, carry out testing, and ensure proper quarantine or isolation for affected residential students," said Reuscher. "Their collaboration put our community's health and safety at the forefront."
The third group receiving the Patriot Pathbreakers Award, the University Life Emergency Funding Team, quickly mobilized to distribute state, federal and donor funding through one centralized application for all Mason students, said Reuscher.
"Staff from different units in University Life dedicated their energy and talent to creating a new, effective process," said Reuscher. "The majority of them volunteered to join this team, ready to go above and beyond to help our students during a challenging time."
Reston-based Caliburn International announces intention to split
Caliburn International, LLC, a leading provider of professional services and specialized technology solutions for the U.S. government and commercial clients worldwide, announced April 7 that it intends to separate into two independent companies. 
The decision was made after an extensive strategic review by the Board of Directors, senior management, and their advisors, who concluded that, given the diverse nature of the company's capabilities, missions, and customers, it is in the best interest of its constituents to separate into two companies.
The two new companies are:
Acuity International, which will be comprised of the company's (i) Engineering & Technology, (ii) Advanced Medical, and (iii) Global Mission business units and,
Valiance Humanitarian ("Valiance"), which will continue the company's humanitarian efforts, primarily to the U.S. Department of Health and Human Services' Office of Refugee
Robert Stalick, who currently serves as president of Caliburn's Engineering and Technology business unit, has been named the Chief Executive Officer of Acuity International. Melissa Aguilar, M.S.S.W., LMSW, LCCA, has been named Chief Executive Officer of Valiance Humanitarian. Jim Van Dusen, currently Chief Executive Officer of Caliburn, will continue to serve on the Board of Directors of Acuity International and remain a senior advisor to both companies.
"Caliburn has reached a pivotal moment in its evolution and growth, and this decision to split the company into two separate entities will allow each company to have the strategic focus to better satisfy its respective customers' missions," said Thomas J. Campbell, chairman of the board of directors. "This separation is a natural progression given the different capabilities required to support our customers who rely on our expertise in Engineering and Technology, Advanced Medical and Global Missions and our customers focused on Humanitarian Assistance. This will position Acuity International to continue to grow by investing in complementary capabilities, particularly those with a technology focus such as cybersecurity and artificial intelligence. Similarly, Valiance will be able to expand its ability to support humanitarian efforts."
"Our three business practices will continue to provide high-value, technology-centered and innovative solutions to both our domestic and international customers, said Stalick. "We have invested a significant amount of R&D resources over the past couple of years in new technology and plan to go to market with two new software products – "CostPro" and "MLINK" – in the second quarter. We have an excellent team and a diversified set of capabilities. I am honored to be able to lead the company as we continue our growth and evolution."
Ambassador William Todd, former Deputy Under Secretary of State for Management, has joined Acuity International as Chief Revenue Officer. David Williams, formerly vice president/General Manager of the Healthcare Provider practice of Conduent, has been named as President, Advanced Medical. Acuity International is actively recruiting a president for its Engineering & Technology business unit.
Two of Caliburn's current senior management will assume new roles within Acuity International. C.D. Moore, who has served as chief operations officer since 2019, has been named president of Global Mission Services, overseeing efforts that include base operations, logistics, security services, munitions, and specialized engineering projects. Frank Pandolfe, who served as executive vice president for Corporate Development since 2019, will become president, International Operations and will be headquartered in the United Arab Emirates.
Stalick will also retain his role as president and CEO of Owl Cyber Defense ("Owl"). Owl is a leading provider of highly differentiated cybersecurity solutions utilized by the U.S. Department of Defense, U.S. Intelligence Community and critical infrastructure, both domestically and internationally. Separately, Owl has been collaborating with Acuity International on the introduction of Owl's suite of cyber products and solutions to Acuity International's customer base. Both companies are owned by affiliates of DC Capital Partners.
"Our humanitarian work is extremely important, and we look forward to continuing to support our current clients at the U.S. Department of Health and Human Services' (HHS) Office of Refugee Resettlement (ORR)," said Aguilar. "We are particularly dedicated to ORR's compassionate and vital mission to protect unaccompanied minors and support the needs of their families, as well as expand our capabilities to serve new clients with similar requirements. Valiance Humanitarian will focus all its attention on humanitarian efforts and find additional ways to support our customers in this critical mission."
Jessica Martinez has been named chief operating officer and executive director of HHS Programs for Valiance Humanitarian. Francisco Quezada has been named director of Operations and Facilities. The company is actively recruiting a chief financial officer.
Both Acuity International and Valiance Humanitarian will soon be announcing the members of their respective Board of Directors as well as additional personnel appointments and promotions.
The separation of Caliburn into the two companies is expected to be completed by September 30, subject to receipt of necessary regulatory approvals.