Some people simply care, and care a lot. They turn their caring spirit into a business and set the standards high for their industry. This is how I see Brandon and Shayda Power, who started their award-winning pet care business, Healthy Hound Playground (HHP), in Sterling, 2013.
The Powers met in a corporate recruiting. Looking for something new and exciting, Brandon started researching business ideas. Two options appealed to him: home health care for adults, or something with dogs.
"I had dogs growing up my whole life, but I didn't really know too much about dog daycare or boarding," said Power. "So, I just did a ton of research and visited all the area facilities and I just thought there was an opportunity to do this and do it a little bit better with, we take the dogs outside to go to the bathroom; a lot of the places in the area don't. So, I just thought there were a lot of areas to be able to improve the business model and decided that we could do it."
"Party Inside, Potty Outside"
If you visit their website, healthyhoundplayground.com, the first thing you will notice is their philosophy, "Party Inside, Potty Outside," written in all caps.
"That's a huge differentiator for us. Like I was saying, we take the dogs outside for four scheduled potty breaks throughout the day. So, if they're with us, say they're boarding with us for a week, every morning they're going out first thing. Then they go to the bathroom. So, we take them on leashed walks outside. We have green space that surrounds the whole building. So, they get to go out and do their business outside and then we do cage-free daycare inside. So for 12 hours a day, they're running around, playing, sleeping. They can do whatever they want, but they're not stashed in a kennel.
Plenty of room to mix and match
HHP has four different playrooms that are anywhere from a 1,000 square feet to 2,000 square feet, which allows them to mix and match the dogs. For example, the small dogs, below 30 pounds, are all together; the less playful, more senior dogs are put away from the puppies.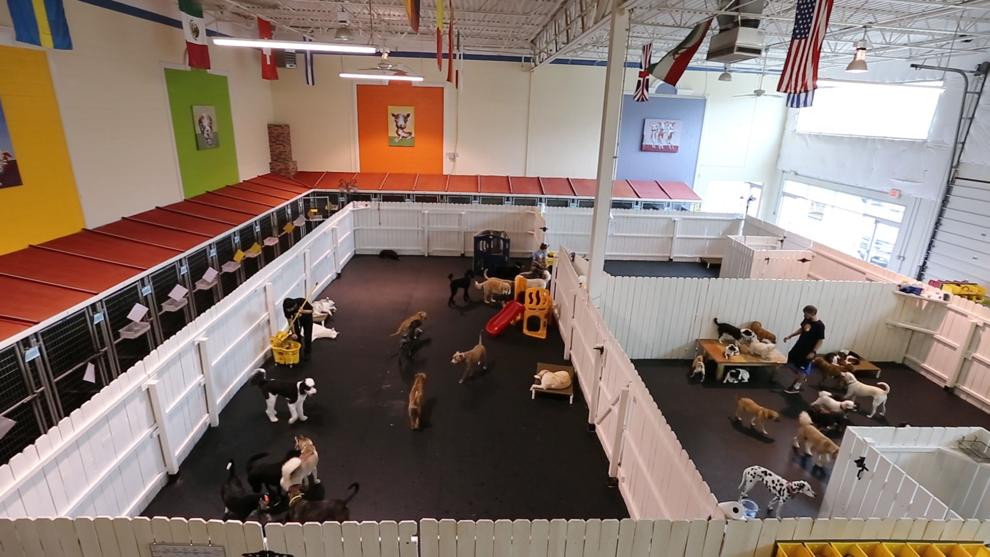 Walk often, walk before bedtime
For dogs who are boarding with HHP, they give them a walk before bedtime and they use deluxe kennels. "That is another differentiator; they're very nice, glass door, very high end, comfortable kennels," said Power. "We put canine cots, but we have elevated cots that they can sleep on. They can bring their own gear if they want to sleep in their own bed from home. It's stressful if you know mom and dad are gone. They're left in a strange place. So, we try to make that as comfortable as possible for them."
"It is just the location"
You might be wondering, "Why can HHP offer outdoor potty breaks while other daycares can't?"
"A lot of it is just the location. Because a lot of these businesses are not, like, in a warehouse like we are. We're in a warehouse flex space. If there isn't space around the building, they don't really have an option. One of our criteria for picking this location was the access and proximity to the green space where we could just walk out the door and there's a nice little path. It's all grass and they can kind of walk around and do their business. So, it's a little bit more difficult to do this … Some places, even if they did have the access, they don't want to do it.
You have to have more staff and time is money when you're in a service industry, but we just, we think it's worth it and we don't charge any more for it. It's just part of how we take care of the dogs. For me, it's important."
To choose the right location for a dog daycare, "zoning is a challenge," shares Power. "A lot of buildings aren't zoned to have dogs. They're considered livestock, so they're not welcomed in all locations," explains Power. "This location allowed the use [of the building as a dog daycare] and we had a landlord that was good with us having dogs there. So, the location kind of chose us. In a lot of places, either the tenants next door didn't want it because everybody worries about, 'Oh, it's going to be the dogs barking all the time,' which, when they're excited, they're barking. But it's not that bad. It's actually, it's shocking. I gave a tour one day to a vet that we partnered with and we were walking by one of the daycare rooms and she's like, 'Oh, so this...Where all the dogs? This room must be empty.' And I'm like, 'Watch.'
So, we went upstairs, we have a mezzanine that overlooks the daycare room and she looks down there and there's like 50 dogs in there and they're all just playing and wagging tails and quiet. She's like, 'That is amazing.' She's like, 'I've never seen that at another dog daycare where there's that many dogs, and they're all not just barking their heads off.' So, that was a nice compliment."
HHP is booked for Thanksgiving, but they are accepting reservations for Christmas. You can learn more by visiting their website: healthyhoundplayground.com.