Some seniors in Fairfax County Public Schools missed their last first day of high school. A coach on their sports team caught COVID and the health department sent everyone home to wait while they started contact tracing. Elementary students experienced two days of school and then went on a pause as an entire class. Once contact tracing is completed, identified contacts will be home for 14 full days from their last exposure. Across Fairfax these over-cautious quarantines are depriving many healthy kids of classroom time. We are worried about a third disrupted year of school. Current second graders have never had a full educational year. 2019-2020 was cut short and hours were reduced in 2020-2021. How much of this year will quarantines disrupt?
It has become abundantly clear that students did not learn as much during school closures as they usually do. This disproportionately impacted students who were already disadvantaged. The Virginia Department of Education recently released school quality reports for 2021-2022. Overall 15 percent fewer Fairfax County students passed Mathematics SOL tests. The change jumped drastically for English language learners and economically disadvantaged students. Only 19 percent of English language learners passed a math SOL in Fairfax County in 2021.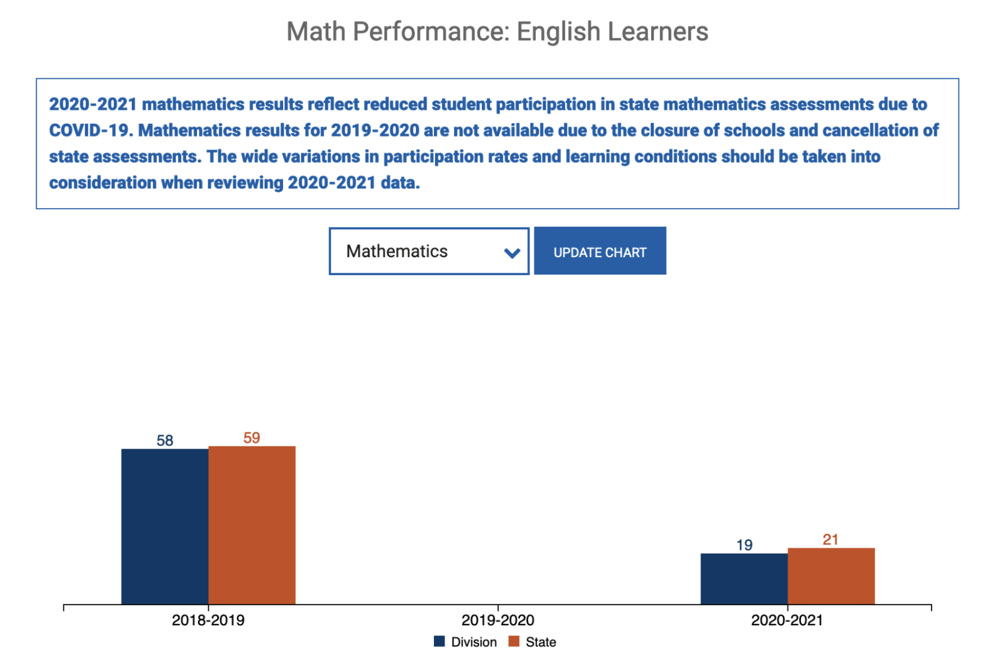 Repeated quarantines of healthy children will be worse than remote schooling. Not only will students not be able to accelerate through unfinished learning into new content, but they will fall behind even more. Many of the plans for quarantine learning are even worse than synchronized virtual learning: e.g., slides posted online and packets of worksheets picked up from school so that students will teach themselves. The most disadvantaged will again be harmed most. 
Local school districts and health departments have created these processes in order to stop COVID spread in schools. But the best of intentions has created an unexpected behemoth. The quarantine process is so complex that parents are left confused and unsure how to navigate their children out of quarantine.  To remedy this, the Fairfax County Parents' Association created this flowchart: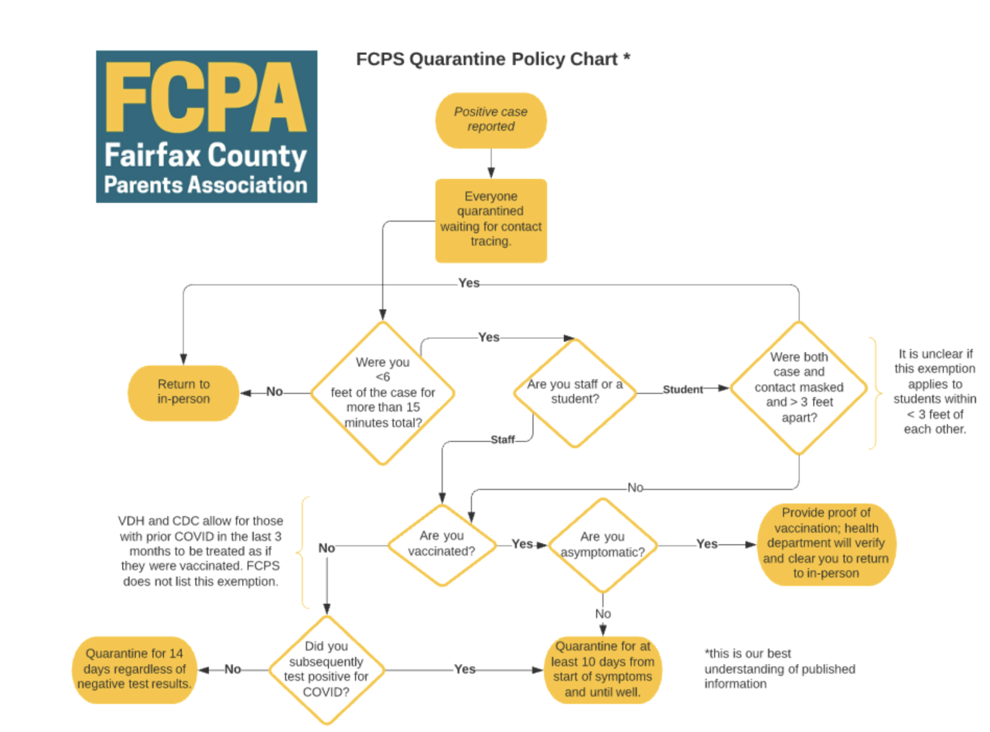 Importantly, we note that students sent home to quarantine will not always be able to stay home with a caregiver. When all adults need to work, the quarantined children may have a patchwork of childcare situations leading to increased community spread. As the world learned last year, keeping kids in controlled environments reduces COVID spread. We need to use ways to keep kids in school as much as possible, and safely.
In Utah, Massachusetts, the San Francisco Bay, and other places, an innovative solution out of this quandary has been found. When a positive case is reported, contacts are offered the option of rapid testing and symptom monitoring instead of quarantine. Healthy kids, which are the vast majority of so-called "close contacts", can continue in-person learning while the rapid tests help prevent any further spread. 
A study in the United Kingdom showed that in-school COVID spread was similar in schools quarantining contacts and in those using this "test-to-stay method." The benefit resulting from the latter approach - the number of in-person instructional days salvaged -- was immense. For example 13 high schools in Utah piloted test and stay and saved approximately 109,752 in-person instruction student-days, according to the CDC. 
DMV-area public school children have experienced so much disruption and atypical learning since March of 2020. They are going to school wearing masks, submitting to screening tests, and so much more in the name of public health. For the children's sake we need to stop unnecessary quarantines. Healthy children should always have access to school. Test-to-stay is one way to get us there safely.
Fairfax County Parents Association