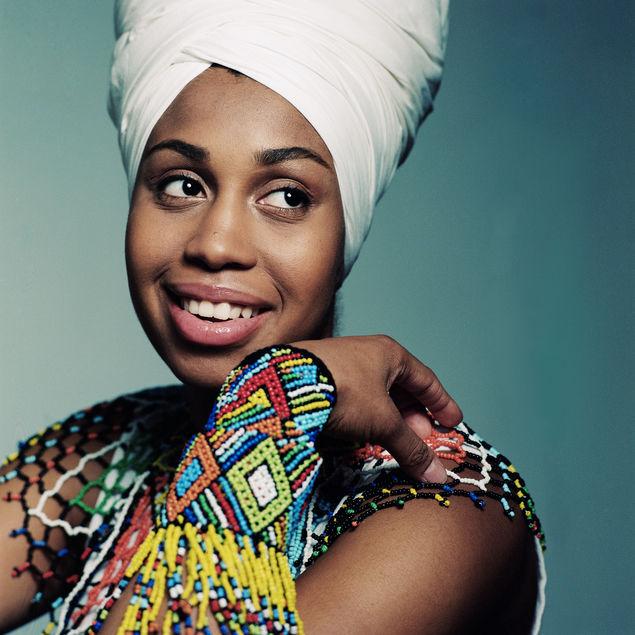 "Jazzmeia Horn has a name that speaks for itself, capturing her very essence. With vocal confidence far beyond her years, the young singer arrives with her debut recording on Concord's Prestige label, 'A Social Call' and is a reflection on the times," announces Reston Community Center where Horn is playing its CenterStage on March 30.
We like your distinctive outfit and your head wrap. When did you decide to have this look and what does it mean to you?
HORN: When I moved to New York City, I didn't know a lot about African culture and anthropology because the books that I was given in high school and junior high school did not have any beautiful and positive facts about African people and the way that they dressed. However when I moved to New York City, I began to learn more about the African diaspora through West African dance in Harlem, the West African community in New York city, the West African market in Harlem, and through participating in African ceremonies and holidays. My expression for my culture evolved from that.
"My name is Jazzmeia Horn and that is not a mistake," says Horn. "God does not make mistakes." Could you please share the story behind your last name?
HORN: It was my grandfather's last name. Horn is our family name.
When and how did you discover your talent?
HORN: I grew up in a church where my grandfather was the pastor, my mother sang in choir, my father played the drums, and my grandmother, who named me, played the organ. Gospel music was something that everyone in the family participated in. To me, it was second nature.
"A sincere sense of purpose was instilled in Horn from an early age." Also, "A Social Call" album is a call for social responsibility. Could you please explain?
HORN: All of the songs on "A Social Call" have a double meaning, which is why I chose them. They were all composed and recorded before I was born, but the reality behind the social injustice that existed before I was born became a part of my reality the day that I was born. Songs like "Tight" don't necessarily mean a man; it could mean hold onto a positive state of mind.