NOVA Veterans Association rises to meet its mission as veterans' needs expand exponentially due to the vulnerable and most susceptible population of Veterans supported, this includes the elderly, sick, disabled and the underserved. President and CEO Angela H. McConnell states, "veterans struggle to access and receive services now more than ever and we have increased our Support Services through the goodwill of our volunteers who've stepped up and helped." NOVA Veterans is the bridge that allows access to numerous services and resources (some Veteran specific but not all) available but not accessible by our stressed, overwhelmed, fragile but always proud Veterans. 
Specifically, NOVA Veteran's services include filling out applications, listening and determining comprehensive needs, searching for and finding the appropriate services, advocating, and coordinating and confirming services are received. The Veterans' needs are extraordinary and the services and resources available hard to understand and even harder to access and receive. Specific services we're helping with include but are not limited to:
Grocery and Food Deliver
Caring for Yourself at Home and Preventing Infection (in-home caregiving services/family members/friends)
Doctor and other Healthcare Appointments
Avoiding Scams and Predators
Continuing to Receive Medications (Home Delivery)
Mortgage Deferment
Retirement and Financial Advising / Legal Aid
Transportation
Relieving High Stress and Severe Loneliness/Isolationism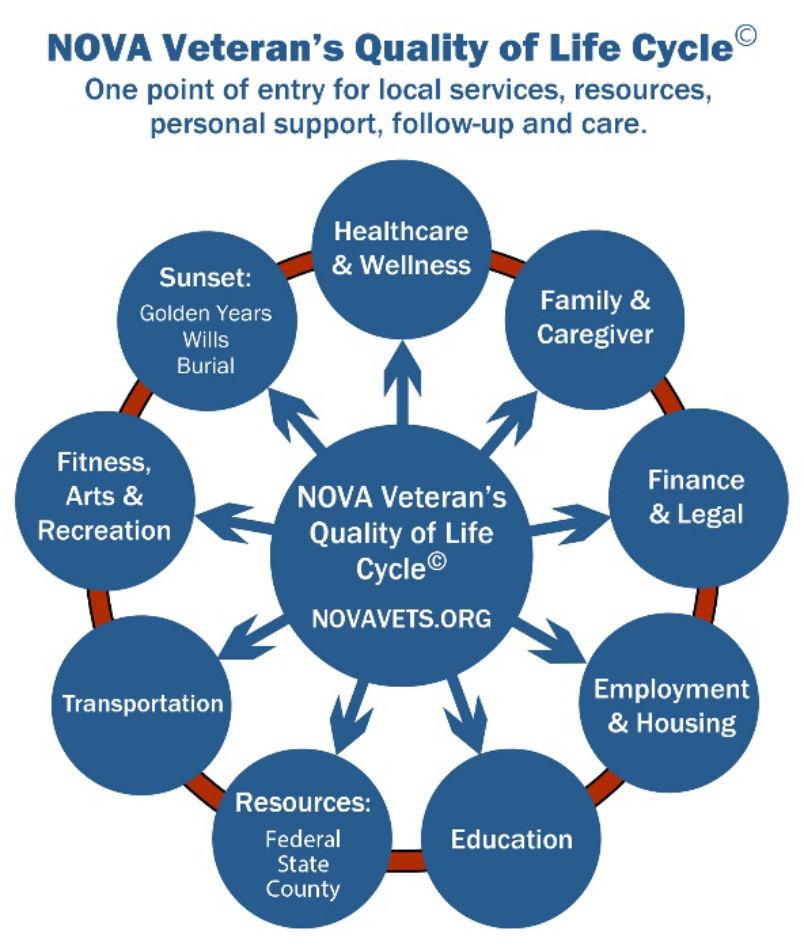 The numbers in March as the pandemic took hold equals 264 Veterans with over 567 caseload hours. A 10 times increase in hours and 13 times increase in number of Veterans over the Jan/Feb monthly averages. We are the only local organization that case manages, advocates and provides continual follow up to ensure services are received and continued as needed. We provide personal, one-on-one coordinated care and support using our comprehensive network of vetted and proven local resource partners that focus on the critical areas of safety, essential needs, food, healthcare, transportation, housing, legal, finance, and family/caregiver support. 
NOVA Veteran's Vulnerable Target Population: The 2017 US Census reports 199,049 veterans living in our 10-county service area. 62,471 of these veterans are categorized to be within our vulnerable veteran population with 4,688 (2.4%) in poverty, 31,431 (15.8%) disabled, and 26,352 (13.2%) age 75+.
Program Description: Support Services Specialists perform a comprehensive intake with each Veteran/family member in order to determine their immediate needs to best find and coordinate efficient and effective support. (We are not a resource directory or a navigation service). Support Specialists case manage and provide a continuity of support through multiple partner organizations using our NOVA Veteran's Quality of Life Cycle© model. During a crisis situation like our current pandemic, we follow up with all previously supported veterans (going back 5 years) due to their uncertain health and circumstances. We are utilizing a surge of volunteer support now available but soon will fade as they get back to their regular jobs and routines.
Over 264 veterans called in March equaling 567 hours case managing. Many having current immediate needs and now receiving our additional and on-going support.
If you'd like to volunteer or become a community donor please contact: MAJ Angela H. McConnell, Ph.D., USAFR/USA  (703) 659-0788 or info@novavets.org.
5 Min Video on Who We Help
https://comcastnewsmakers.com/Videos/2018/7/20/The-Northern-Virginia-Veterans-Association?autoPlay