Democrats selected candidates to represent their party in the November general election. Republicans nominated their top three choices during a convention last month, and voted for House of Delegates candidates this week.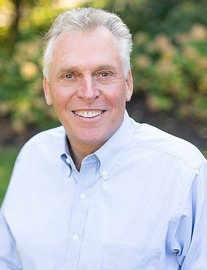 Terry McAuliffe won the Democratic bid in a landslide against an array of other candidates, sweeping up 62 percent of the votes. He will face the Republican candidate, Glenn Youngkin, in November. McAuliffe previously served as Virginia governor from 2014 to 2018. Virginia governors are not allowed to serve consecutive terms.
Celebrating his win with a tweet attacking his opponent, McAuliffe said: "I'm running for Governor to move Virginia forward. My opponent is an extreme Republican who wants to buy the Governor's office. We need to get our message out there and build the biggest grassroots team Virginia's ever seen."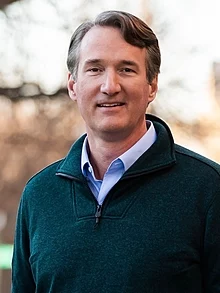 Youngkin is from Richmond and is a former investment group leader, basketball player and coach and father of four. Youngkin is heavily focused on election integrity.
After McAuliffe won the Democratic bid, Youngkin also took to Twitter. He tweeted: "While we differ mightily as to how to best serve Virginians, I want to thank the five contenders in today's primary for running. I welcome Terry McAuliffe to the race and look forward to presenting our competing ideas for Virginia's future."
In the race for lieutenant governor, Hala Ayala beat out runner up Sam Rasoul for the bid. Ayala won 37 percent of the votes, Rasoul trailed with 24 percent of the votes. She will face Republican candidate Winsome Sears in November.
Sears was the first Black Republican woman, first female veteran, and first legal immigrant woman elected to the House of Delegates. Her platform includes being pro-life, protecting the Second Amendment, parental school choice, ballot box integrity, and reopening the economy.
The attorney general bid saw incumbent Mark Herring securing the nomination with 56 percent of the votes. Opponent Jerrauld Jones received with 43 percent. Herring will face off against Republican candidate Jason Miyares in the general election.
Miyares of Virginia Beach is the former delegate for District 82. His platform includes punishing criminals and protecting victims, creating a pro-business Virginia, standing with the police, restore law and order, election reform, fight human trafficking, opposing illegal immigration, fighting for the next generation and looking out for the vulnerable.
House of Delegates races saw many delegates who are running for reelection win their bids, such as Kathleen Murphy, Ken Plum, Kaye Kory and Alfonso Lopez. 
District 45 saw Alexandria Vice Mayor Elizabeth Bennet-Parker secure the bid with 59 percent of the votes over former delegate Mark Levine. District 50 saw political newcomer Michelle Lopes-Maldonado garner 44 percent of votes over current district Delegate Lee Carter. And District 86 saw Irene Shin narrowly upset current Delegate Ibraheem Samirah for the bid. Shin won with 51 percent of the votes in a tight race as Samirah trailed with 49 percent.
The Republican ballot saw mostly candidates running who were unchallenged in their district for the House of Delegates positions. 
Regions such as Hampton Roads, Charlottesville, southwestern Virginia and Richmond reported low voter turnout for the day. While WTOP reported that an estimated half of the ballots cast June 8 in Fairfax County were done early or by mail.
The general election will take place November 2.
Democratic Winners (percentages as of June 9 from the Virginia Department of Elections. Some precincts have not yet turned in results at the time of this article.)
Governor: Terry McAuliffe, 62.17 percent of votes
Lieutenant Governor: Hala Ayala, 37.14 percent of votes
Attorney General: Mark Herring, 56.67 percent of votes
House of Delegates District 34: Kathleen Murphy, 74.48 percent of votes
House of Delegates District 36: Ken Plum, 77.37 percent of votes
House of Delegates District 38: L. Kaye Kory, 61.46 percent of votes
House of Delegates District 45: Elizabeth Bennett-Parker, 59.25 percent of votes
House of Delegates District 49: Alfonso Lopez, 70.55 percent of votes 
House of Delegates District 50: Michelle Lopes-Maldonado, 44.06 percent of votes
House of Delegates District 86: Irene Shin, 51.74 percent of votes
Republicans that will be on the ballot on November 2:
Governor: Glenn Youngkin 
Lieutenant Governor: Winsome Sears
Attorney General: Jason Miyares
House of Delegates District 34: Gary Pan
House of Delegates District 35: Kevin McGrath
House of Delegates District 36: Matt Lang
House of Delegates District 37: Kenny Meteiver
House of Delegates District 38: Tom Pafford
House of Delegates District 39: Maureen Brody
House of Delegates District 40: Harold Pyon
House of Delegates District 42: Ed McGovern
House of Delegates District 43: Brenton Hammond
House of Delegates District 44: Richard Hayden
House of Delegates District 45: JD Maddox 
House of Delegates District 48: Ed Monroe
House of Delegates District 53: Sarah White
House of Delegates District 67: Bob Frizelle
House of Delegates District 86: Julie Perry