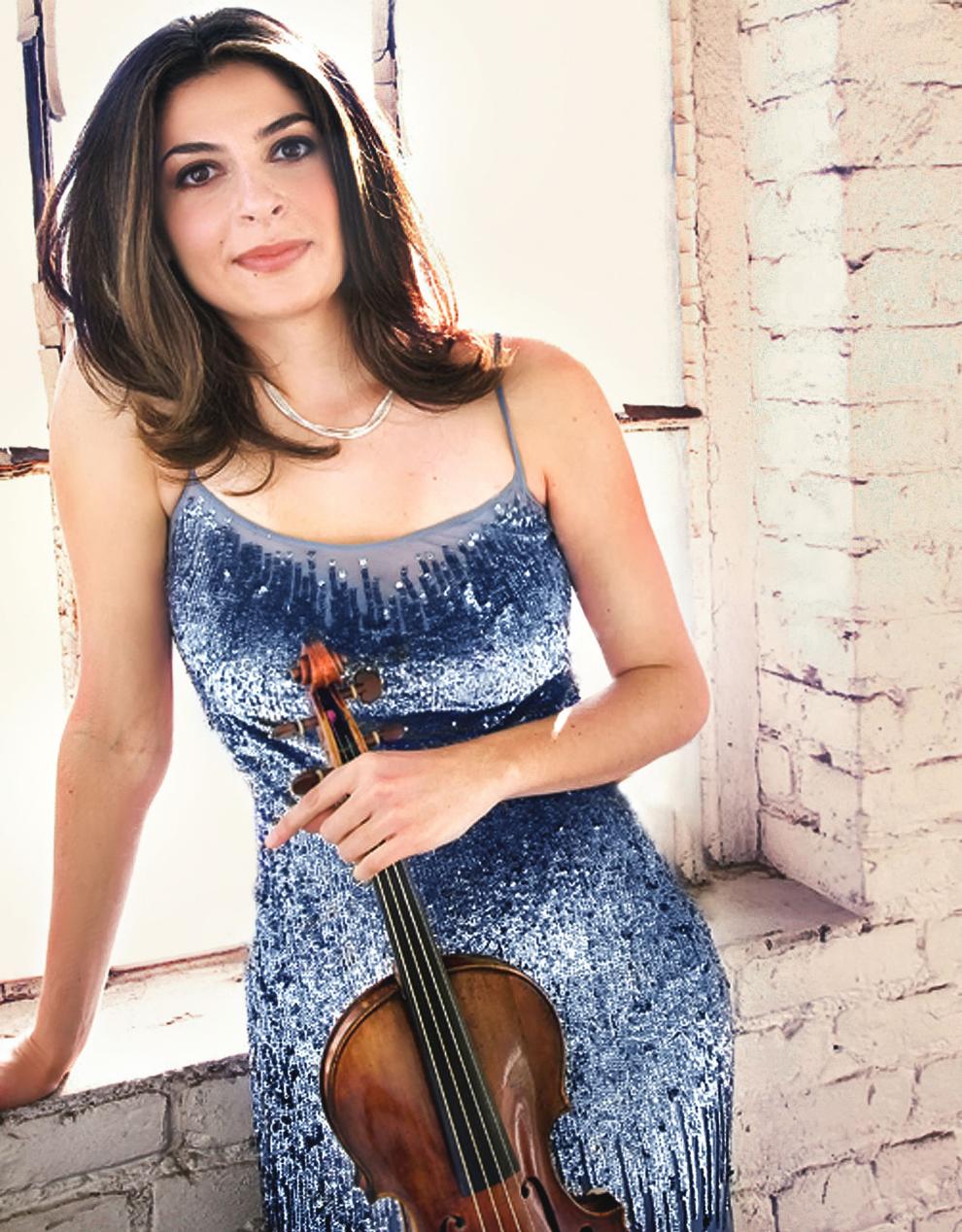 "You are fire," said Yanni to his audience with a deep voice, looking at the crowd that filled the Feline Center at Wolf Trap on a breezy Sunday afternoon on July 29. It was as if he was warming himself by their emotions, which he kept alive with his poetic and energetic performance. He believes tolerance is a necessity. I remember him saying that during his travels, he meets new people with open arms, an open heart, but most importantly, an open mind. Through storytelling, he introduced his life lessons, songs and unique orchestra members before every musical piece. Yanni introduced them as the best in the world in what they do, but for me, the most unforgettable performer was American violinist Lindsay Deutsch.
I never imagined that a violinist would be able to express her feelings using her whole body-- including her face and even her hair-- while holding her violin as if it is an extension of her body, and still sound pure, soothing and sublime. I liked the description in her bio: performer and entertainer.
How was your experience performing with Yanni in Saudi Arabia?
DEUTSCH: I am the newest member of the band, and before I joined this band, I was completely classically trained. So I was playing Bach and Brahms and Beethoven. Along the way I had met Alexander Zhiroff, our cellist, who did that long cello solo. And Mary Simpson, the violinist who used to play my part, needed to drop out. She wanted to have a family and do other things. So about two weeks before Saudi Arabia, I got a call from Yanni's folks, asking if I knew his music and if I might be interested in playing for the band. Just based off of Zhiroff recommendation of me and based off of a YouTube video, they hired me to come down to Saudi Arabia. And that was my first time playing this kind of music. I'm used to performing without amplification…without any monitors, without any of that going on in the background. So I just showed up and was playing a whole new style of music with new people, and in a couple of days, we started performing. And it was an eye-opening experience. I've only gotten to play around the United States and Canada myself, so being able to tour with Yanni in this faraway land where everything is different …The culture was amazing and the people were so receptive. They took us in, and the way that they reacted to the performances was out of this world! I mean, they enjoyed every second of it, and they let us know. It was just the loudest, most receptive audiences you could ever imagine. And overseas, too, the warmth of these people is unbelievable: the way that they treated us like family right away, it was an unforgettable experience for me; I'll never forget it. It was not only my first time playing in Saudi Arabia, but it was my first time playing with the band, so it's an experience that I will never, ever forget.
I wanted to ask you about how you met Yanni, about who found who; it is interesting that Yanni's team reached out to you.
DEUTSCH: Yes, they reached out to me. I remember when I was nine years old getting a birthday gift, which was a big CD player. In those days, we didn't have all these Apple iPhones and everything, obviously. So I get this huge CD player and inside the CD player is one of Yanni's CDs. And I had never heard of Yanni; I was nine years old, and I remember listening to the CD and I loved it! And then to fast forward twenty years and to get this opportunity was mind-blowing, because it just brought me back to the first time I had been exposed to his music. Twenty years earlier, if you had told me this was happening I would never have believed you. I mean, it's just incredible. It's been an incredible run. Yanni treats all of his musicians like family, and I feel like I just gained 30 family members! I mean, it's unbelievable, the feeling onstage. I hope that comes across, that we do feel like a big family, and we're very supportive of one another, and we're really rooting for each other out there. This is my fourth month on this summer tour, and I feel like I just gained a whole new set of family. So, it's been really life-changing for me.
That's a great achievement! So, Yanni's team knew about you from YouTube?
DEUTSCH: So Zhiroff, the cellist, and I played in a classical concert. And I guess he had a feeling that I could switch to this genre of music even though I've never really played this genre before. But he must have had a feeling. The great thing about classical music is that it trains your chops; it trains your fingers really well. There's no better genre to do that. And once you have the chops, if you have the personality and the charisma, you can basically play any style after that. And I guess that's what they were hoping, because there was certainly no video on YouTube of me playing this style of music. But you could tell that I could play the violin, and I guess they hoped that I would be able to switch to this genre. And yes, they saw a YouTube video of me playing classical music. And they really were in a bind. It was a pretty quick turnaround as far as getting that show in Saudi Arabia, and they had just lost the other violinist, and they really needed someone now. So I just moved in and we got along so well. He was so warm and helpful for my first shows, showing me the ropes. I've learned so much from watching how this works. In my previous life, in classical music, it's all about the composer who lived hundreds of years ago, and what they wanted. And you're not really allowed to infuse your own personality into the style. That's not the point of the music. You're supposed to guide the style based on the composer's wishes. And in this style, Yanni gives us, the artists, the freedom to do what we want to do, and to express what we want to express. And when he does that and he gives you the keys, then you're going on stage as Lindsay Deutsch, and you can really just go crazy. Anything goes. So giving me the ability to be me, to be myself, to play how I want to play, was very powerful. And I'm having a blast.
What is this new genre?
DEUTSCH: Classical music was written a few hundred years ago; the masters are Bach, Brahms and Beethoven. They all developed their style from Bach, the first classical composer. And this style of music, I would say, is new age, with some pop, and maybe a sprinkle of classical. But it was written, obviously, during Yanni's lifetime, by Yanni, so it was within the last 30 years. I have not played music by living composers often, only two or three times. So to be playing, not only music by a living composer, but by a composer who is standing 20 feet away, is a whole new experience. It was, at first, intimidating, because with my previous background it was all about "What do you see? What do you want? How can I express what you want?" And then, slowly but surely, as we got to know each other better, and we chatted a lot about it, Yanni began to trust me as an artist. It was more about, "I've put down the black dots, but you make it you." And as soon as we figured out that dynamic, everything changed onstage. And I just cut loose. And he's happy and I'm happy. We found the way that works best for this music and for me, and he's happy with that as well.
Do you improvise?
DEUTSCH: I don't. I don't improvise at all. That's not a skill that classical musicians learn. But jazz players, they do improvise. In this show, Yanni will do some improvisation, but I don't improvise. It's the same every night, the same notes.
Watching you play has changed my view of classical music. I heard that you started a non-profit organization, the Classics Alive Foundation. Can you tell me more about it?
DEUTSCH: About 15 years ago, my sister and I started Classics Alive, which is a non-profit organization, and we both received so much help. You don't get far, I don't think, in any profession, without receiving a lot of help from others. I got a lot of free lessons from a lot of teachers. I got an instrument on loan, and all throughout the way, I received so much help from other places, like my school, the Colburn Conservatory. I got in totally free of charge, free room and board. And when I graduated, I realized that it was now my turn to give back. Music, especially classical music, changed the course of my life so dramatically. And it was such an important part of my existence that I felt the need to make sure that young people still enjoyed the genre and still appreciated it. I felt it crumbling a bit; I felt that the whole of classical music was waning. I felt our audiences losing touch with it, as we're getting so advanced, and everything is about new and fresh and different; what was it about this old genre that would make it survive? And I thought that what would help is bringing it to the kids. Anyone who hears it, who hears it over and over, is moved by it. They love it, but they're not often exposed to it, and I saw that as a big problem. Also, for selfish reasons, I thought, "If this genre doesn't exist, what am I doing? What is the point of my career? Who will hear the music that I love so much?" So I toured around and I played for kids; I play with orchestras that do family shows; we have a competition where young, very talented artists can get a management contract; we have an instrument loan program. So the whole point is, especially in our community in Los Angeles, to make sure that kids have access if they want access, and we think they're going to want access if they're exposed to it. So we're trying to do our small part, and it's something we really enjoy.
You said that classical music changed your life. Could you tell me a short story? How did it change your life?
DEUTSCH: I was actually two years old when I heard Itzhak Perlman, who is the most famous classical violinist alive, and he's still playing. I was two years old, and I was sitting in front of the TV. I heard him play a Fritz Kreisler piece called "Marche Miniature," and I was done. From that point, I felt such a profound sense that that was what I was meant to do with my life. I kept asking my parents for a violin, and they said, "No, you're too young." And three years went by, and finally, they give me a violin. I'm not joking about this, it was a cardboard box strung with rubber bands. So that's how much they trusted me with a violin. I used that for six months or so, and finally, I get my wooden violin. I have never broken a violin, by the way. It was clear right away that I had found what I was supposed to do. I took to it very well; I clearly had skill with the musical part but also with the physicality part right away. I think that is a gift, to be able to find one's passion in life at five years old. I mean, how is that possible? I think people can spend an entire lifetime and never find it. And some people will find it in college. But to find it when you're five, it gave it my life a huge sense of purpose. I jump out of bed in the morning; I still do, because I'm so excited to learn my new song or to learn my new repertoire and to work. I love working! And that's because I love what I do. I've been playing for 28 years now, and I've loved every second of it.
Amazing! Can you give us a closer look at who Yanni is as a person? Onstage, we saw him as poetic, spiritual and inspiring, but who is he on a personal level?
DEUTSCH: Yanni is a very hard worker; one of the hardest workers that I've come across, and his sense of perfection is unlike I've ever seen. And after touring for an entire career and playing this music for an entire career in front of adoring audiences, to see someone like this do a sound check every day with notes and things to fix, things to work on, things to improve, it changed my perspective on work ethic. It's quite intriguing that he's made it to the very top—there's nobody in his field better than him—and yet, he's still working everyday to be better. And that, for me, is very impressive. And on a personal level, when I first met Yanni, he didn't know me, and he worked with me every day on my music, and he made suggestions…We worked together every day in Saudi Arabia, and then, on the evening of the last concert, he came to my dressing room, and he said, "You are wonderful. I think that you've improved since we've worked together, but I want you to forget everything that I told you, because I want you to play from your heart, and I want you to play this music how you want to play it, because I trust you, and I'm going to gift this music to you. You own it. It's yours." That moment was very powerful for me. That was the moment that I think my style in his music really took off. Because I had the help from him, but now it was also me, and he gave me permission to do that. But he's also the guy giving high fives backstage, and giving encouragement constantly. Before every solo, he is now a big encouragement for me to make sure that I am feeling good. He is so supportive and encouraging, and I couldn't ask for a better work environment. He's just all-around an inspiring person to work for and is just a lot of fun. He's smiling at you the whole show. He'll have playful interchanges with the musicians onstage and make sure that we're comfortable. I only have the best things to say about Yanni. He's a wonderful human being.
It shows onstage. What is next for you now?
DEUTSCH: I have started a new group. I was so inspired by this kind of playing. I was so happy that I was able to infuse my own personality. I decided that I wanted to explore. I still love classical music, but I want to do more crossover music. After meeting Yanni, I decided that I want to go full-force into a new band called Take 3, which is a piano trio, and we play pop music, but with a classical flair. We're playing Beatles tunes, we're playing movie tunes, and we're giving it a classical flair. It's very different from anything I've done, but I have to credit this experience for inspiring me to do that. I think that's where my true gifts are. I've realized that in this last year, touring with this band. So it kind of changed my entire life path and entire career path, being here. I owe a lot to him and his inspiration.