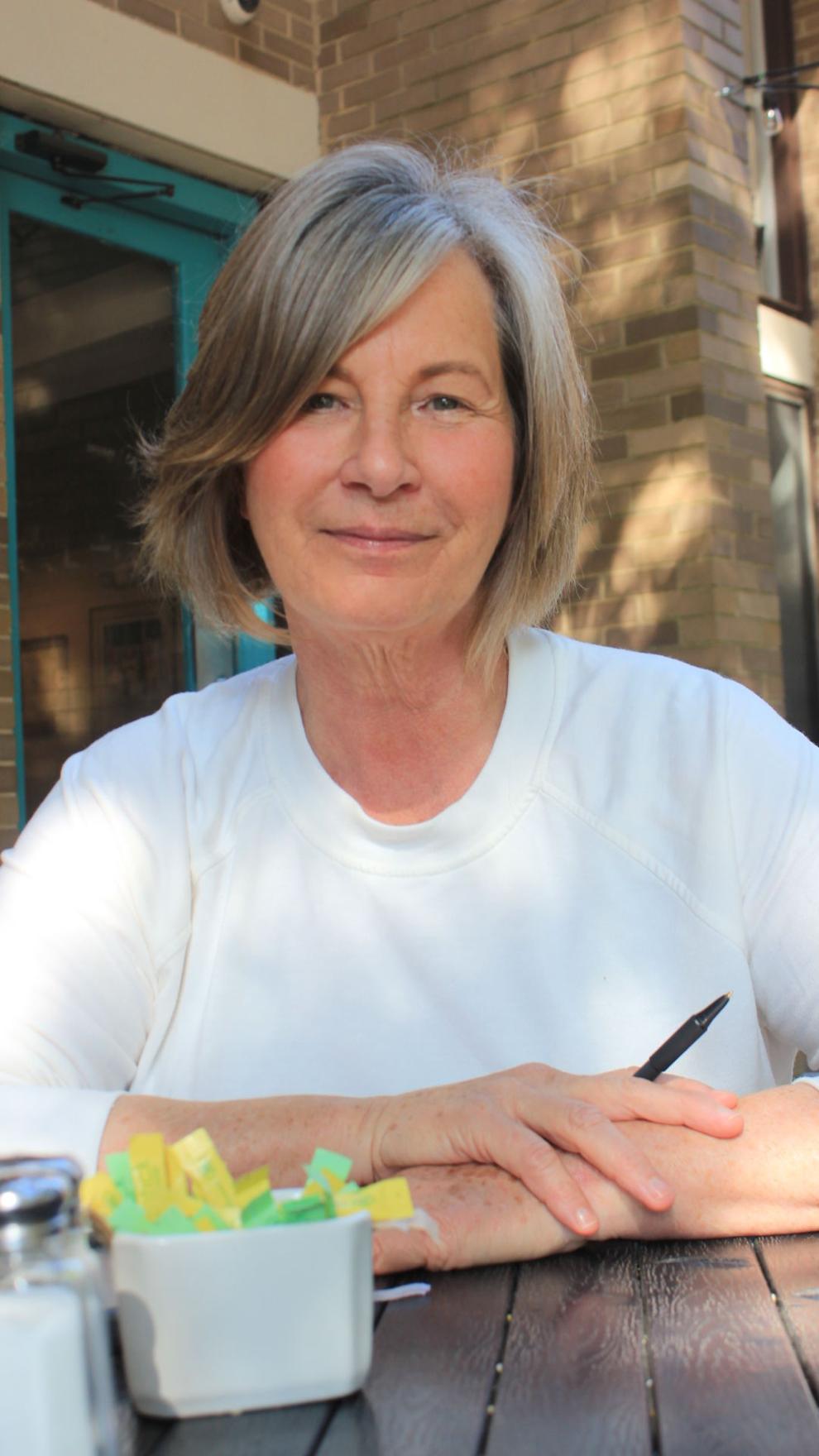 "The people who love live music and who make music happen are as important as the musicians," said Ken Avis, local musician and co-host of radio show Antidote Sounds, mentioning one name that I was slightly familiar with: Eve Thompson. "Eve has been finding and presenting diverse, high-quality music for many years, bringing some of the best to Lake Anne at festivals and in the Coffee House & Wine Bar. It's always a pleasure as a musician to work with such a smart presenter with a clear love of music," added Avis.
Eve Thompson, named winner of Best Real Estate Agent by the 2017 Best Reston Business Awards, is the owner of Lake Anne Coffee House & Wine Bar (named Best New Business by the 2017 Best Reston Business Awards) and the organizer of Lake Anne Roots Music Festival and Jazz and Blues Festival.
Thompson came to the northern Virginia area in 1985 "to see if East Coast living would suit me—it did." She met her husband, Rick, at work and they were married in 1987.
Her philosophy is simple: "I just think that everyone's life is better if they have beauty around them."
When I arrived at Lake Anne Coffee House & Wine Bar, where we had this conversation, she was just finishing a delicious breakfast with her husband:
So, what I heard about you is that you are a real estate agent, the owner of this coffee house and you also organize music events. Is there more?
Thompson: Well, my husband and I run the craft market that operates on the Plaza [Lake Anne Plaza], and so we have a little organization called The Friends of Lake Anne and it runs the craft market and the proceeds from the craft market are how we do the music events … It started years ago.
There's been a little craft market of some sort on this plaza forever, since 1980 something, and we were very involved with the County Office of Community Revitalization, OCR. The County has six or seven revitalization districts and that's where Mosaic, all the work that Mosaic did, was the result of the efforts of a revitalization district. That's the one I have followed the most closely, and Lake Anne Plaza is also part of a revitalization district. And so for years, we participated in the charettes and the studies and the working toward assemblages of property so that they could do revitalization here ... we began several grassroots efforts at revitalization. Just our own bootstrap, and the idea was that we could, just by improving vitality of the Plaza, and trying to do all the things we could, like making it pretty ... that that would attract better businesses. The proceeds of the craft market did things like signage projects, beautification projects. We purchased the first colorful umbrellas and so those would be purchased and then donated to the condo … so little by little it started to make a difference.
And so ... not that we did that by ourselves, by any stretch of the imagination … at different times through the years, I've had a little cadre of helpers. The first group was two other residents: volunteers Beverly Wicker, who had graphic arts talents, and Kathy Westgard, who just had a great eye.
Is she a filmmaker?
Thompson: No, she is just an artist. Actually, they're both artists.
I also heard about your interest in the intersection between real estate and art.
Thompson: Well, I think that the... It's the intersection of art in public spaces and then, to me, real estate is always part of that presence. Now, the lens that I really see things through is the connection to places that people have. I just think that everyone's life is better if they have beauty around them.
I agree.
Thompson: And so, one of the things that's so awesome about this neighborhood, and Reston in general, is that our real estate markets are all totally mixed up. So there's no enclave of, "Oh, this is where the rich people are."
Really?
Thompson: No, not at all. Because even where you have million-dollar homes over on North Point wherever, there'll be a little townhouse community where you can get a little town house for $400,000 or $350,000 right here, where you have million-dollar house on the lake, or an $800,000 townhouse on the water. You have condos all around you that are $300,000. So, when you mix it up like that you, you have not only mixed housing types, but you have... Then you have diverse incomes and you have diversity in general.
We have the fellowship house across the street. The tables and chairs were a huge thing for them because they want to walk out and sit on the plaza. In a lot of cultures, plaza life is a thing. Going to just sit outside after your meal or before your meal or whatever is just part of life in a lot of cultures. We really see that on a regular basis and it's wonderful. So I think that the more enhanced the space is, the more you have that. The more you have people in the space and engaged with the space.
How about supporting local artists?
Thompson : Our big project this year, for a brick-and-mortar project, is, we're going to label all of our public art. Signage with public art, Reston-approved signage … Friends of Lake Anne will pay for it.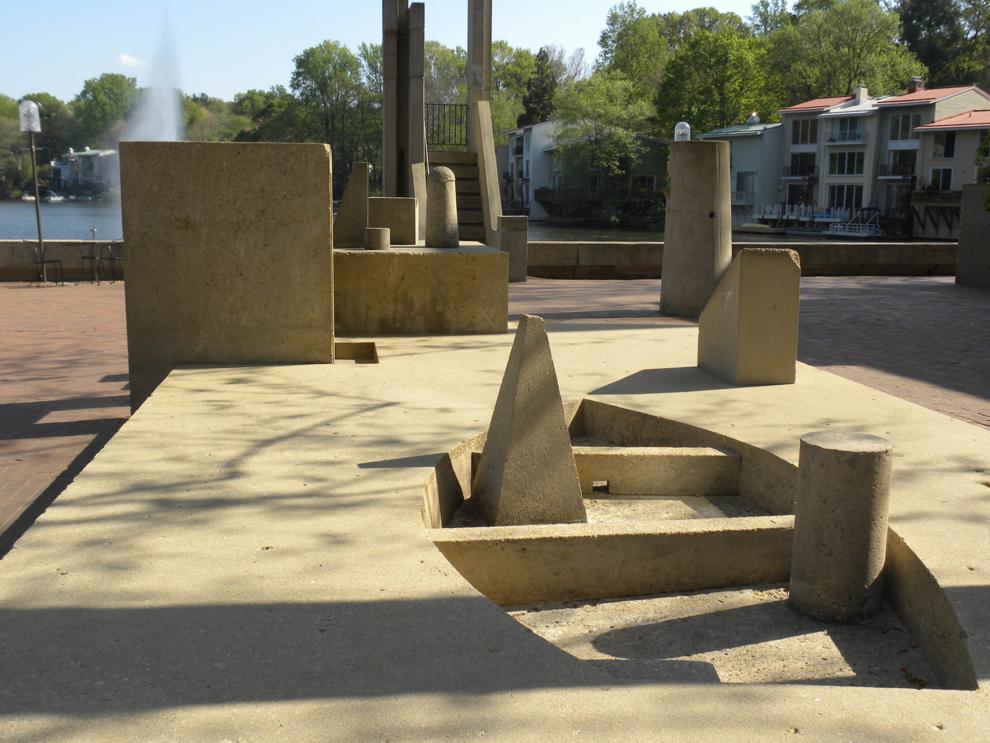 This piece, "The Plaza Fountain," is by James Rossant. There's "The Sun Boat" sculpture by Gonzalo Fonseca. So, none of it is labeled. We want to label it like art. So that people know, "Oh, it's not just a concrete play structure."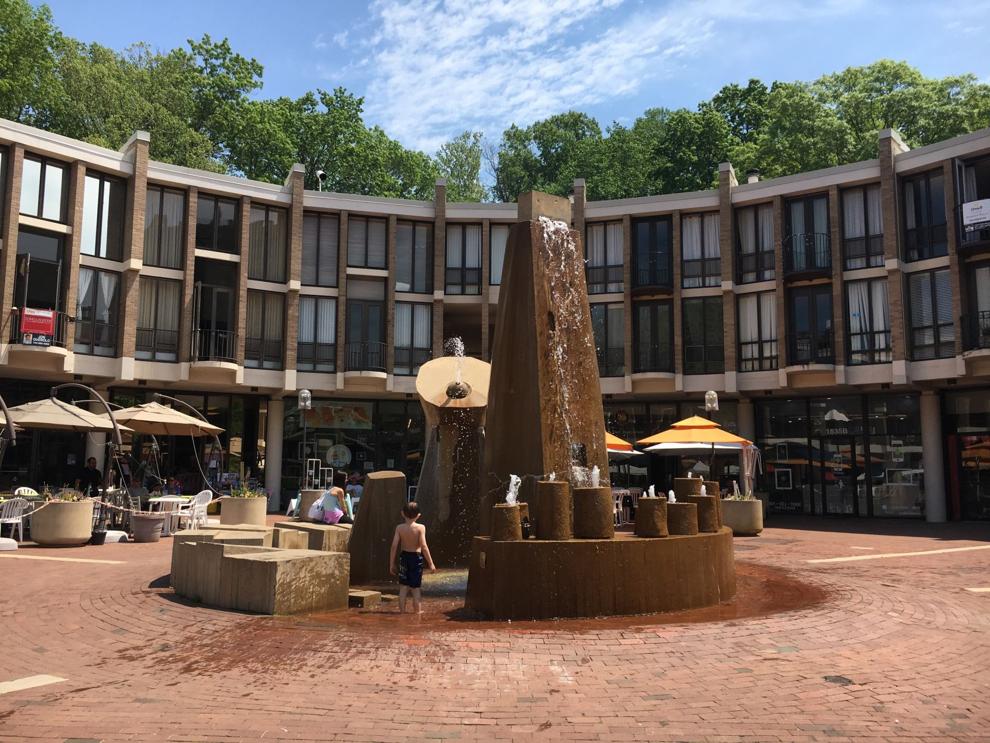 [At the request of Eve Thompson, we are planning to install informational signs by each public artwork at Lake Anne Village Center to create greater awareness about the artworks. The signs will include the following information: Name of artist, date of work, date the artwork was completed, one or two sentences that describe or interpret the artwork, the name of the owner and/or sponsor of the artwork," said Anne Delaney, executive director of Public Art Reston.
"There are more than 10 artworks at Lake Anne Village Center, a couple already have signs ('Untold Stories' by Zachary Oxman and 'Decorative Icons'). We are planning to install signs for the remaining eight artworks:
'The Pyramid,' by James Rossant
'The Plaza Fountain,' James Rossant
'The Pulpit,' James Rossant
'The Sun Boat,' Gonzalo Fonseca
'The Lookout,' James Rossant
'The North Shore Drive Underpass' (includes 'The Underpass' by Gonzalo Fonseca and 'Swing' by William Roehl)
'Wooden Horse,' Marco Rando
'Ceramic Mural' (Moorings Drive underpass), Olin Russum
'Van Gogh Bridge,' William Roehl
You can view the artworks on our website where we have documented Reston's public art collection since the 1960s. We add new public artworks that follow the Public Art Reston's review process. https://publicartreston.org/engage/explore/gallery/
We also published the Public Art Tour Series: Lake Anne. It is a guide to public art at Lake Anne Village Center. The publication can be purchased at the Reston Museum and at Reston Association (members service). We are currently working on the second edition."]
What made you start the music festivals?
Thompson: I think that this is just a great venue for music.
And you started the whole thing because you wanted to create a sense of community?
Thompson: I just wanted to fill the plaza with people who would have a great time.
Do you organize them by yourself?
Thompson: No. I've always had a partner in crime and for years it was Michael Lyons, who is a local artist, a musician ... Now, the last couple of years it's been Vaughn Ambrose who's been in Alexandria, but he plays around a lot and so they put together the lineup, I put together all of the equipment, all of the permits with the County and I do all the administration, all the un-fun, back-end stuff. And then I pay for everything.
You pay for everything...
Thompson: Well, the Jazz and Blues is about... technically spent about $13,000 on it this year. We get a sponsorship from Reston Community Center of $5,000 and then we cover all the rest. We sell beer to help offset the expense. It's funny, the last Roots Festival I thought, "Oh my gosh, I think we're going to break even." We didn't quite. But we don't do it to make money. We do it because the more people have that connection to the place; the better it is for everything. Because the more people love it, the more they will respect it, the more they love it. And the more they support the local businesses. I mean, these are all mom and pops.
The more they might look at an empty storefront and say, "Hey, you know what? I can bring my business here."
Do you have any vision for the arts in the county?
Thompson: Oh man. I personally think that... There's study after study after study that will tell you that the arts are good for business. They are good for economic development. It's not just good for people, which I do believe in a very fundamental and powerful way. But it's just good for business, period... My vision tends to be limited to just Lake Anne. I think that there's something really special about this place to me. Really, nothing makes me happier than to just see it full of people and with businesses that are really thriving.
What kind of art do you want to see?
Thompson: I like to see temporary art projects. Where you have a temporary installation of a mural... We did the posters ["We Make Reston" project], it was like faces of Reston and RCC sponsored that one with Public Art Reston … They took photos of people in different places, like at the Metro stop. Then they blew them up really big and they put them all on the sea wall and they were all over Reston. That was a great project. I would love to do a lights project, some kind of light project for nighttime for the winter.
Winter is a very quiet time here. We have the water, you can engage the water as part of your public art.
How about the musicians who perform in the festivals, are they all local?
Thompson: Most of them. The level of talent in the Washington D.C. area is unbelievable. It's crazy.
You have been working with them for years.
Thompson: Yes. But every year there's somebody new. That's what's amazing. It's like, "Oh my gosh."
Any names you would like to mention?
Thompson: Shacara Rogers was the headliner for the last one. She's been on the millennium stage. She's just an amazing vocalist. And they backed her with an octet, which was fabulous. An eight-member group that was super diverse. There were two women horn players, which you don't see that often. Shannon Gunn on trombone, who's just a remarkable force, and then the sax player, Leigh Pilzer – she is so talented. Traditionally, jazz is male-dominated, on the instrument side. The vocalists obviously tend to be women. So that was terrific, and all local.