The event started on an inspiring note, with Ebro Darden, Apple Music's global editorial head of hip-hop and R&B, calling to the audience's attention that Apple Music is concluding its Up Next live summer concert series with a special performance by Khalid at Apple Carnegie Library, Apple's beautiful new D.C. store, once home to the historic Central Public Library. It was "the first public building to be desegregated" in D.C., highlighted Darden to the hungry, young and diverse audience and added, "This event is all about love."
He was right. This event was all about love, and the signs of love kept appearing:
● As Khalid appeared, the big, blue hearts on his white shirt spoke loudly. His eyes spoke, too. He connected with the audience immediately, making a genuine effort to look audience members in the eye, embracing them with a look that says thank you, you can make it, too, and a smile that says peace. Looking from his eyes to the dancing crowd, I saw the same vibration.
● Apple Music team members, united in black t-shirts that represented their artistic souls, were filled with passion and dedication. The team included multiple ASL interpreters, photographers carrying their cameras around, and videographers recording the event live. One member of Apple Music's team noticed a child attending the event. He approached the child's mother with orange earplugs to protect her child's hearing.
● Love was not only directed toward the crowd, especially children and people with disabilities, but also toward the environment: two glass bottles of water were onstage for Khalid to drink from.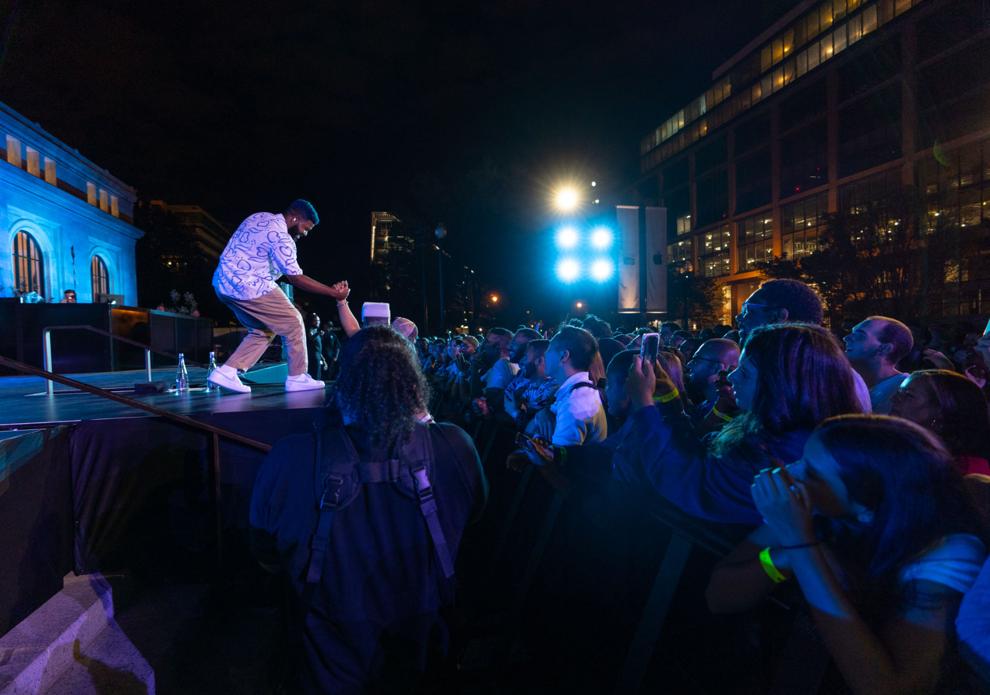 Nicole Goines from D.C., a loyal Apple customer, learned about the opportunity to attend Khalid's free event through Apple's newsletter that she signed up for. When asked why she likes Khalid, her answer was: "His voice is really different. There are not really many male R&B singers now these days that can produce a really soothing vibe." Also, she was interested in seeing him live.
According to Apple.com, "Apple Music Up Next is a monthly program showcasing the best new artists in the world. Each month, Apple Music tastemakers and editors identify one artist to feature, then utilize the power of the platform to raise awareness of that artist to Apple Music's growing audience of music fans."
Khalid was named Apple Music's Up Next Artist in 2017. He has quickly become one of the biggest artists in the world, with five Grammy nominations, several top 10 hits and a quadruple platinum status to his name. He was chosen to be an ambassador for the Music Forward Foundation, which prepares underserved youth for the music industry. Khalid's role includes "mentoring aspiring artists, speaking at educational youth workshops, [and] donating funds from ticket sales," among other things.
It's interesting that Khalid is able to see the problems that underserved youth face in the music industry. "There are so many kids who don't have the resources or information to get started in the music business. There is this huge world of creative opportunities that you can pursue a career in, and there are so many amazing jobs in the music world that I imagine young people would be excited to pursue if they knew about them," he said, according to the Music Forward Foundation's press release.
Apple is proving that it is a master of inspiring people; Apple knows that love is the medium required for inspiration. I asked four audience members about the event as they left, and they all shared that Khalid's performance exceeded their expectations. They also seemed to be touched that this event was free. Looking at the bigger picture, the free Up Next series is a great strategy for reaching exceptional talent in undiscovered places and leading the way in building a pipeline of diverse, creative talent. Let's take a bite!