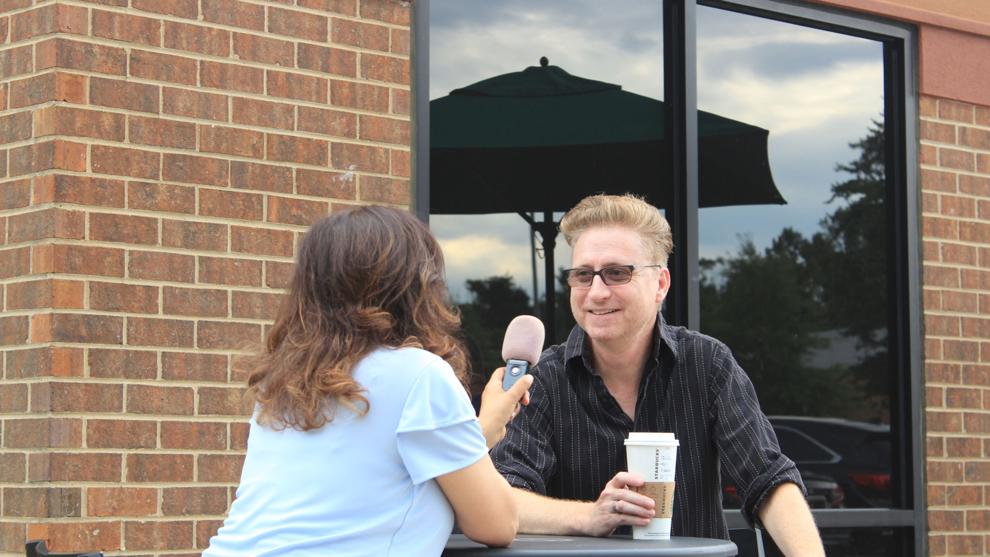 I have always been interested in digging deep and reaching out to the local talents in the county. The first person who came to mind was Bill Coughlan, an award-winning screenwriter, director, editor, producer and animator who lives in Burke and leads the Television, Internet & Video Association of DC, Inc. (TIVA-DC), which offers networking opportunities themed around a particular training concept and is getting ready for its big event, the 2018 TIVA Peer Awards on Nov. 17, at the National Press Club.
Even though Coughlan is a visual filmmaker and has a design background, his current projects are audio projects, "I'm working right now in radio," said Coughlan. "I'm working with another filmmaker, Bjorn Munson, on a group called "Jabberwocky Audio Theater" and we're producing audio dramas. And they're broadcasting on the air at WERA with Arlington Independent Media weekly right now."
Coughlan believes "The most exciting [in Fairfax County] is young people coming in and doing this right now. There are a lot of fantastic, young filmmakers who are coming up in Fairfax County and I've seen a lot of their work. I saw some stuff that was just shot down at the Lorton prison by high school kids that are putting stuff together. I can see that there are a lot of local theatre communities here. My daughter was just in a production of "Footloose" and I went to see and connect with a lot of the actors who I've seen in films, like young teen actors and so on. Johnathan Newpor, this young filmmaker who was a child actor, he started to make his own films here … Seeing the creative stuff that these young people are doing makes me really excited for the future."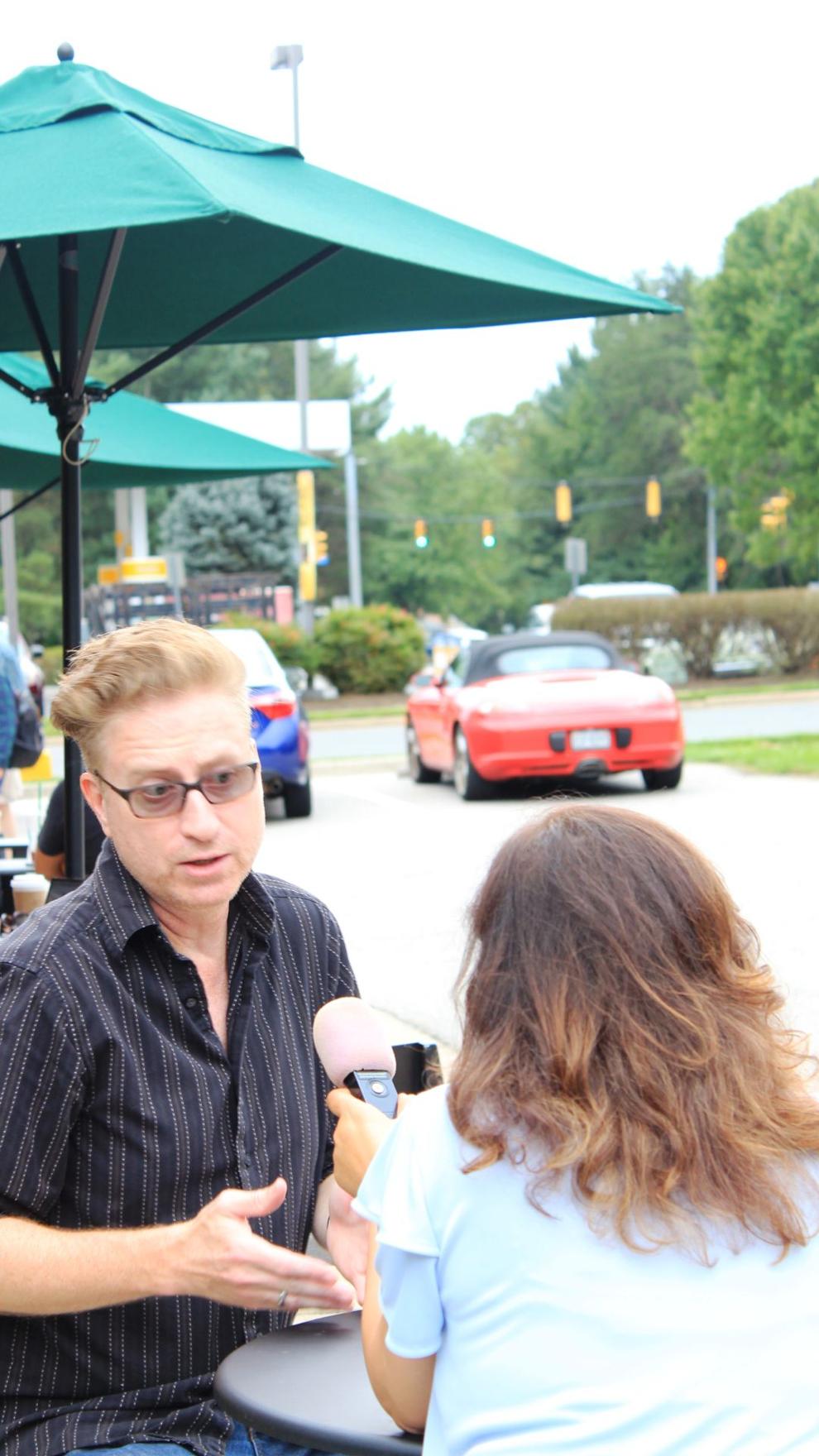 We met at a coffee shop in Burke. My first impression: he looks very young. You would not believe that he has two daughters in college.
How did your relationship with film start?
COUGHLAN: I was a film fan ever since I was a little kid, so I basically started watching some of the blockbuster movies of the seventies that came out, but then seeing also in that same time frame, smaller scale movies that just about anybody could do, and I realized that you didn't have to be a big Hollywood producer to make movies. That was eye opening for me.
Really?
COUGHLAN: I remember the movie I was watching was director Ernie Fosselius's "Hardware Wars," which is a "Star Wars" satire film, shot on film, but very low-budget. As a "Star Wars" fan, I obviously sought it out. But then I saw that film and I said, "Wow! This is something that somebody can just do themselves. They're not part of a studio, they're not part of the Hollywood system, and they can make their own movies. That, and studying how movies were made. I looked at the old Ray Harryhausen stop-motion animation films that he used to do. And I just love the idea of using art and creating photography to do trick photography, special effects, and so on. I was always fascinated with that. Then in high school, I had the opportunity to take some film classes. My professor, Ellis Baker, taught a filmmaking class and we learned how to cut 8 mm or 16 mm film. Literally cutting and splicing film together and shooting our initial projects in high school. And then working with video and so on. But it wasn't until much later that things became digital. I went into graphic design and art as a background for my initial professional career. And once digital tools became more available at the desktop level, that's when I realized, "Wow, I could bring an entire video department in house, the company I worked at, and I could get a Canon XL1S camera at that point, a Premiere editing suite, all the software," and developed an entire video editing company. And then, once I'd gotten approval for that, I said, "Well, I need to practice making these," and started making short films. And I've just continued to grow, assembling a team of creatives for my creative work, and just making contacts within the local industry for the professional work that I do.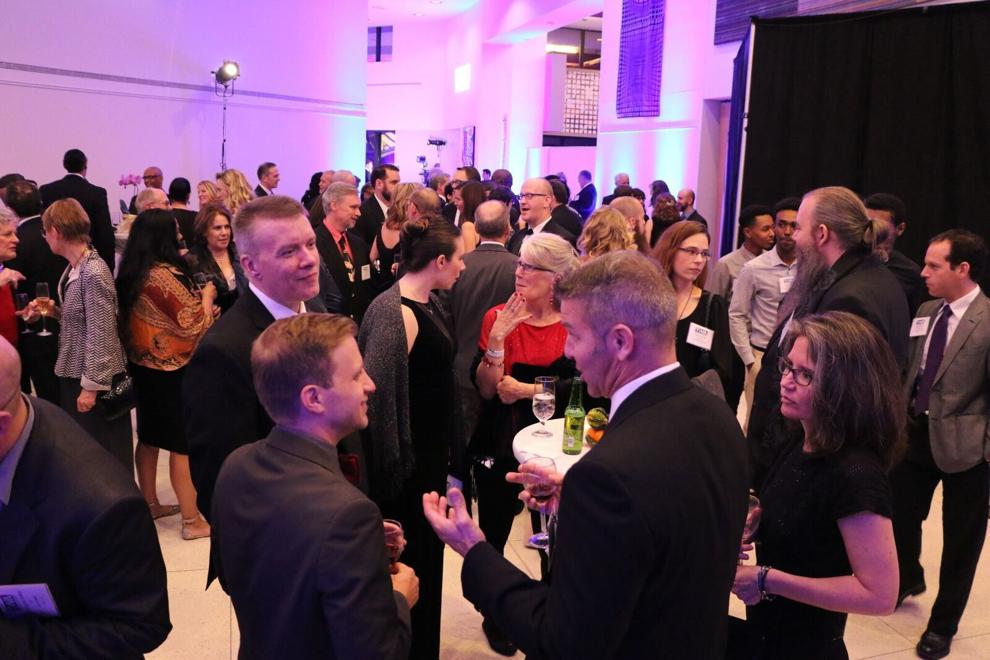 You are the president of TIVA, what does TIVA offer to its members?
COUGHLAN: TIVA-DC is a not-for-profit organization that is based on membership, and in addition to the networking opportunities and recognition by the Peer Awards, members can take part in regular meetups, where people just can have general networking opportunities where you meet other people in the field; they are usually themed around a particular training concept. Recently we worked with some of the virtual reality groups to host a piece on 360-degree video and virtual reality video. So, we bring our members and say, 'Hey, this is what the cutting edge is, and the newest technologies are, and by the way, while you are here, we are going to set aside half an hour to just sit around and meet people.' This summer, we did a focus on acting. Actors are worried about opportunities. We do have a strong union acting presence here, union and non-union, but a lot of times people don't know where to go to find jobs, or don't know how to share that information or find the best steps, so we would host various actor meetups to say, 'Hey, here you can meet other actors, but also learn from them what to do, how to get yourself out there, how to find out about auditions and so on.' And we had this training session on self-taped auditions, one of the things that actors are dealing with right now. Rather than just going into auditions, they are asked to just videotape themselves. Well, that's tough, that's something that is not part of the skill set of a lot of actors. So, what are the best practices for that? We brought some big casting directors and people who really work with actors to tell actors how to do that. We had a huge attendance for that event. So that is what TIVA does. We'll showcase equipment, there might be some new software out that one of the local production studios is going to showcase. People say, 'Hey, come out to our studio, you can tour our studio and see what we can do.' I'm actually working right now to try to get something with Arlington Independent Media, to have some of our members come out there and see some of the local production groups. We have independent community production facilities with Fairfax County Independent Media, Arlington Independent Media, DCTV. We have lots of different groups that allow regular people to get in on the ground floor, to get inexpensive equipment. So those are the kinds of things that TIVA tries to do: find opportunities to share knowledge across the membership base.
Can you share some local names and talents in filmmaking?
COUGHLAN: We really have fantastic filmmakers. A friend of mine, Jonathan Zuck, a filmmaker who I worked with on a lot of short films, is releasing his first feature film called "Meant To Be Broken." It stars Dave Coyne, Nick Depinto, another actor who I worked with regularly. And Kevin Good, who is a director and cinematographer and in his own right. They're releasing that film; it's a feature-length film.
This film up in Baltimore, called "Butterfly Kisses," a horror film. Brilliant! I just saw this at the GenreBlast Film Festival out in Winchester a couple weeks ago. It is a really good film. It is scary but not graphic, it's sort of a thriller and it has really an interesting take on the found footage genre.
"Meant to be Broken," Jonathan Zuck's film, is more of a road movie adventure; it's kind of fun. "Butterfly Kisses," is sort of a horror film.
Kevin Good, who is the cinematographer on "Meant to be Broken," just directed a film, written by his now-wife Jenna St. John, called "Dinner with the Alchemist." It is a period piece that takes place in New Orleans and was shot on an independent budget. But he really did a good job of finding ways to create turn of the century New Orleans through digital imagery and creative shot cropping. And it's just a great story; I remember I was part of the writers group with them and they were workshopping the script of that film, so I got to see this from the beginning stages to now seeing the finished product. It's always great when you see a film that your friends put together and you don't have to say, "Oh, that's cute," you can look and go, "No, that was really good! I really enjoyed that." So, there are a lot of people doing really great, creative films in the feature-length world right now; that's sort of what I love, but even just some of the groups that do short films; a friend of mine, Lee Perna, a producer who produces a lot of my work, has just started an event in Del Ray, Alexandria: Movie Night at The Evening Star Café, where they showcase local films the last Sunday of every month. I have gotten to show some of my short films there, but they reach out to other filmmakers near and say "Hey, would you showcase some of your stuff here, documentary films, short films?" It's usually a casual atmosphere, but it is a great way to see some of the stuff that is locally produced. There is a big event here called the "48 Hour Film Project." It started here in D.C. Filmmakers Mark Ruppert and Liz Langston started it as sort of a joke, asking local filmmakers, "How long would it take you to make a short film?" And they said, "I can do it in a week. No, we can do it in 4 days. We can do it over the weekend." So, they set that up as a challenge. The first ten filmmakers got together and said, 'OK, Friday night we are going to randomly draw a film genre out of a hat, and go: you have two days to write, shoot, edit, output and deliver your finished film by Sunday night.' Now it's worldwide. I've been a participant in this competition every year since 2004. I love it!
This conversation was transcribed by Beteel Abuageel.