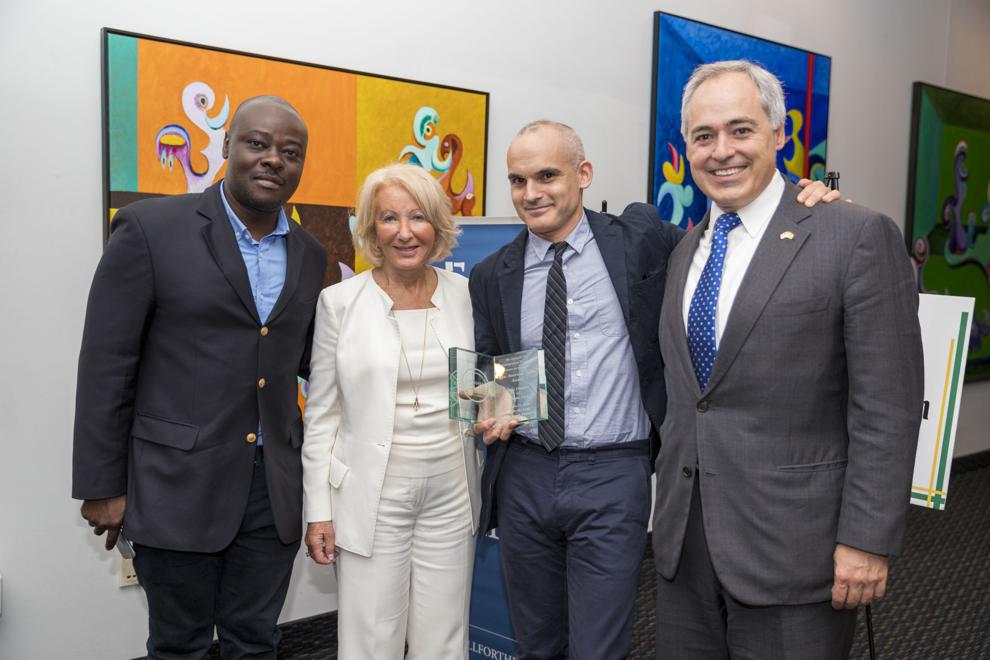 On Thursday, October 11, 2018, Hernán Díaz, author of the novel "In the Distance," was awarded the inaugural Institute for Immigration Research New American Voices Award. Fall for the Book created this post-publication book prize to recognize recently published works that illuminate the complexity of human experience as told by immigrants, whose work is historically underrepresented in writing and publishing. Before announcing the winner, Diane Portnoy, founder and CEO of the Immigrant Learning Center discussed the importance of immigrants to the United States and to literature, saying "stories… help educate the public in a way statistics cannot…We are ushering in the next generation of great authors."
Upon receiving the prize, Díaz said, "I have found a home in the English language. That is to me where I feel that I belong no matter where I am. I've always written in English although I came late in life to [it]. In a way…the spirit of this award I feel really speaks to my life story, and to the way in which I approach literature. And this is why I'm so moved and so humbled and so honored to be its first recipient." Díaz received an engraved glass book, as well as $5,000 for the top prize.
Helon Habila, Madeleine Thien, and Maaza Mengiste judged this year's contest, which was sponsored by the Institute for Immigration Research at George Mason University. At the start of the submission process, Habila spoke of the prize's importance, saying, "if America is a country of immigrants as it is often described, then the quintessential American literature would be the literature of immigration… Hopefully these new voices will make us step back and look at ourselves with new eyes, and new hope and new meaning."
George Mason University President, Ángel Cabrera opened the award ceremony.
The other finalists are Elena Georgiou, author of the story collection "The Immigrant's Refrigerator," and Renee Macalino Rutledge, author of the fantastical book "The Hour of Daydreams." They were each awarded $1,000.
About the Winner:
Hernán Díaz is the author of "Borges, Between History and Eternity" (Bloomsbury 2012), managing editor of "RHM," and associate director of the Hispanic Institute at Columbia University. He lives in New York. His novel "In the Distance" was also a finalist for the Pulitzer Prize.