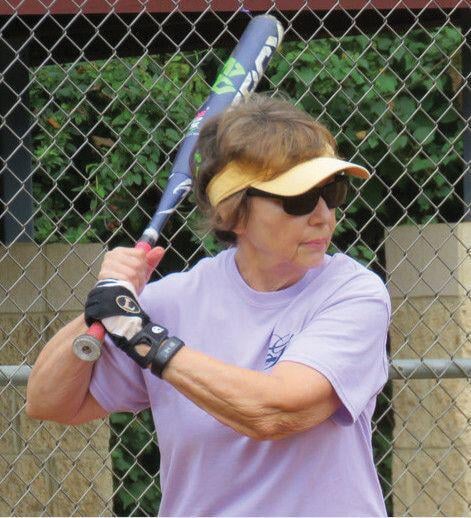 A strong tradition and camraderie among its members pushed the Golden Girls past COVID-19
If anything, COVID-19 taught us to not take our social lives for granted and to enjoy company when its present. The Golden Girls' players didn't let the pandemic take their bonds with each other away, and instead returned to the field this spring with increased excitement. 
The Golden Girls — founded in 1989 — is a Vienna-based slow-pitch women's softball league for those 40 and older with 146 active players on recreational and tournament teams alike. Built on the pillars of "fun, friendship and fellowship," 86-year-old Beth Hersey, one of the "Founding Mothers" and member of the 80s tournament team, said, the Golden Girls is the prime destination for senior softball players in Northern Virginia. 
Many Golden Girls have been playing in the league for more than 20 years, while some — Hersey being one — have been involved since the league's inception 32 years ago. But Marilyn Mallery, 78, emphasized that the league prides itself on being "welcome to everybody." Mallery, the Golden Girls' membership chair, newsletter editor and creator of the organization's website, said the league isn't all about the game of softball — it's about the people. 
"The Golden Girls are a very special bunch of women," Mallery said. "We have people from every background you can possibly think of — every profession." 
There are four recreational teams among the Golden Girls that play each other on either Wednesday nights or Saturday mornings. It's for more casual players, Mallery said, but the tournament teams are more competitive. There are currently teams at different age groups — 50 plus, 55 plus, 70 plus and 80 plus — and they travel across the country to play against senior softball teams from Florida, California, Tennessee and Michigan, among other states. 
Peg Moyer — 75-year-old player, manager of the 70s tournament team and Golden Girls president — said even though league games allow her to see everyone involved with Golden Girls at the same time, her participation with the tournament team has helped her forge relationships she otherwise wouldn't. 
"I like being involved with the travel team because we've made friends with many of the players on all the other teams because we've seen them for so many years," Moyer said. "It's good competition, but it's also camaraderie."
Among other tournaments, the Golden Girls have travelled to The Huntsman Senior World Games in St. George, Utah, as well as tournaments in Canada. With no sponsors, Moyer said the Golden Girls will subsidize teams for a certain amount, but travelling to venues across North America is still too expensive at times. She said the team will drive to Saint Louis, for an upcoming tournament because they can't afford to fly this time around. 
The recreational league play of Golden Girls caters to a different audience within the organization. Marie Edwartoski, 58, said even as a former softball player, she just "enjoys being out there" and doesn't care about the game's end result. She said she doesn't want to be the "weekend warrior" who ends up in the emergency room, but rather wants to stay physically active in order to help not only her physical health, but her mental health as well.
Within league play, certain rules help make Golden Girls softball approachable for all. For example, new players can take six strikes when they're at-bat compared to the normal three, which all other players get. Rather than discriminating against new players, the league's philosophy is, "as long as one is able to play, one should be able to play," Edwartoski said. 
However, no one in Golden Girls was able to play during the thick of the pandemic last year. When games were put on hold, the team had a winter conditioning program every Monday at Dulles Sportsplex, and Moyer ran hitting and fielding clinics with all the pandemic protocols intact for those who were "brave enough to come out" to practice. 
 When the team returned to play this spring, Mallery said it hasn't been all sunshine and rainbows for the players despite the excitement of playing again after a two-year hiatus. 
"We've noticed differences in our bodies, of course," Mallery said. "I think there's been a few more accidents and pulled muscles than we normally have because we all sat out for a year."
One of those accidents happened to Hersey May 23. She broke her leg trying to jump over a ball that was in her base path while running from first to second base — she fell on her femur and hip and had surgery the next day. The 86-year-old said she's recovering better every day, and said she "plans on playing" when she's able — the September-October fall season is when she's shooting for. 
The sacrifice that players like Hersey put their bodies through begs the question: Why do they still play softball?
"It is so important to me," Hersey said. "I've … never had the chance to play softball [growing up], but it's always been in my mind that that's something I wanted to do … I saw this ad in the paper [for Golden Girls], and I just went with it."
Mallery said, at this age, many still play simply because "they love the game." For Moyer, she said it's her way to get female companionship because she didn't have a sister growing up. Living in a townhouse community, Moyer said she seldomly sees her neighbors, so Golden Girls has become her social life. 
The social life that Golden Girls cultivates has helped form tight off-the-field bonds, Mallery said. She organized "Golden Girls and Friends," which is a group within the organization that goes on trips together — one in the winter and one in the summer. Mallery said she's been coordinating it for 20 years, and the group has gone on more than 30 trips by now. It started as cruises in the Caribbean, she said, but they've expanded and have since gone to South Africa, New Zealand and Peru, among other trips. Golden Girls and Friends is going to Italy this October. 
Since the group is similar in age and interests, Moyer said it helps others feel sympathy for one another. Coming off the pandemic, it's especially been heightened. 
"It's a very supporting, loving, giving group," Moyer said. "If somebody has a problem, someone will always step in and help. We keep in-tune to who's sick, who's injured, who's had any kind of problem in the family, close deaths — any kind of emotional problems."
As someone who joined Golden Girls shortly before they shut down operations in spring 2020, Edwartoski said it's like she "changed schools, and everyone else is kind of established." In many organizations, this would create a social barrier, but Edwartoski said Golden Girls has been very welcoming to new players. 
The Golden Girls' welcoming atmosphere was accentuated by how many watched JMU softball's run in the Women's College World Series (WCWS) together. Mallery said all the ladies would watch on Saturdays, and Moyer said JMU "was like our team." The ladies watch the WCWS every year, but Moyer said this year was different because "everybody" was completely dialed in to how the Dukes were doing in Oklahoma City. Edwartoski said JMU's run could have ripple effects in the state. 
"I think it was great for [JMU] to get on that national stage," Edwartoski said. "It serves as an example for girls in Virginia to say, 'Look, there's a pipeline to that,' and might give them an opportunity. Even though you've got to be incredibly talented to get to that level."
Moyer, a 2019 National Slow Pitch Hall of Fame inductee, referenced a separate tournament in Charleston, S.C., during her Golden Girls' career where her travel team — and all four other Golden Girls teams — won the whole thing. Their prize? Watches — which serve as a reminder for the rest of the summer for who's back in action. 
"[We] all got watches and … would say, 'What time is it? It's Golden Girls time,'" Moyer said.