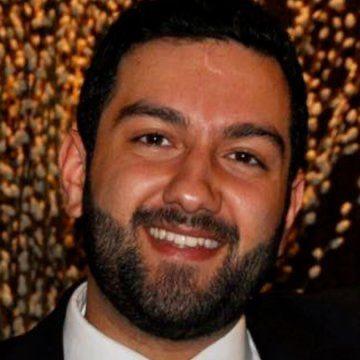 The Fairfax County Office of the Commonwealth's Attorney is conducting an investigation of the fatal shooting of McLean resident Bijan Ghaisar by U.S. Park Police officers in 2017, top county Prosecutor Steve Descano confirmed on Jan. 30.
As his first month in office drew to a close, Descano and his team met attorneys representing Ghaisar's family and said they were in the process of reviewing evidence to determine how to proceed in the case.
Descano's announcement is the latest development in a saga that has now stretched on for more than two years, as Ghaisar's family and friends, with the support of local civil rights activists and elected officials, seek clarity and accountability from the Park Police regarding his death.
"Our investigation into this important case is now fully underway, and we're making progress," Descano said in a statement. "…To the countless citizens, advocates, community leaders and elected officials that have reached out on the importance of this case — your message has been heard."
Questions continue to linger around the circumstances that led to two Park Police officers firing multiple shots at Ghaisar when his vehicle stopped at Fort Hunt Road and Alexandria Avenue in Alexandria on Nov. 17, 2017.
U.S. Park Police officials said in the wake of the incident that the officers had pursued Ghaisar's SUV because they suspected it had been involved in a hit-and-run crash on southbound George Washington Memorial Parkway.
A Fairfax County police officer who joined the pursuit to provide backup captured video footage with an in-car camera that showed the Park Police officers pulling Ghaisar over twice before they approached his vehicle on a third stop around 7:40 p.m. and discharged nine shots, five of them reportedly hitting Ghaisar.
The Fairfax County Police Department publicly released the in-car camera video footage on Jan. 24, 2018. The department previously conducted an administrative investigation that determined none of its officers on the scene had discharged their weapons.
After the shooting, Ghaisar was transported to Inova Fairfax Hospital, where he remained in a coma for 10 days before dying on Nov. 28, 2017.
25 years old at the time of his death, Ghaisar was a first-generation, American-born citizen of Iranian heritage who worked as an accountant after graduating from Langley High School and earning a bachelor's degree from Virginia Commonwealth University in 2015.
Ghaisar's family has maintained that he was unarmed when shot and questioned the need for the Park Police to pursue him when he did not instigate the reported traffic accident, which involved another vehicle rear-ending his SUV and did not result in any injuries.
Frustrated by the lack of information coming from the Park Police and the U.S. Department of Justice, Ghaisar's parents and sister filed a wrongful death lawsuit against the U.S. and several unnamed Park Police officers with the U.S. District Court in Alexandria on Aug. 3, requesting a trial by jury and $25 million in damages.
While the federal civil suit is still pending, it has already produced some results in the form of the names of the two Park Police officers who were involved in Ghaisar's death. The agency identified Alejandro Amaya and Lucas Vinyard as the officers in question in March 2019 after a U.S. magistrate judge permitted the plaintiffs' attorneys to subpoena Fairfax County police and the U.S. Attorney's Office for the Eastern District of Virginia as part of a discovery motion.
Ghaisar's family amended their civil complaint on Mar. 29, naming Amaya and Vinyard along with seven other individuals still identified only as John Does.
Initially led by the FBI, the federal investigation of the Park Police shooting concluded on Nov. 14 when the Justice Department announced that it would not pursue charges against the Park Police officers, stating that the available information did not prove beyond a reasonable doubt that they willfully violated federal civil rights laws.
Descano's predecessor, Raymond F. Morrogh, explored prosecuting the case at a county level, but his office's attempts to present evidence of possible criminal charges to a grand jury were hindered by the U.S. Attorney's Office for the District of Columbia, which did not allow FBI agents who worked on the case to participate in the proceedings.
Morrogh was ultimately unable to present the case for a grand jury before leaving his position as Fairfax County's commonwealth attorney on Dec. 31. He had served in the office for 36 years, including 12 as its top prosecutor, but he was defeated by Descano in a Democratic primary in June.
Roy L. Austin, an attorney for the Ghaisar family, welcomed Descano's announcement that his office is investigating the case after meeting with Descano and his team at the commonwealth attorney's invitation.
"Mr. Descano assured us that his team would examine all of the evidence that they had and that they would make a decision how to proceed based on that evidence," Austin said. "Importantly and unlike past experience, Mr. Descano made it clear that he would keep us regularly informed and he would make sure to contact the family about any significant developments to ensure that they would not first learn what is happening from the media."
Descano says he and his team are dedicated to conducting their review of the case "in a thorough and timely fashion."
"It's important to me that this family, like the family of any victim, knows we are doing what we can to carefully investigate this, follow the facts and take appropriate action," Descano said. "Making this determination is a top priority for me. I thank the family and the community for their patience."
According to The Washington Post, Amaya and Vinyard have been on administrative duty with pay since April 2018, but they have not yet been interviewed by internal investigators since the Park Police will not start its own investigation of the shooting until all criminal proceedings are resolved.