"MEOW! Noah, what's going on these days?! Our humans have been home all day long since last week! I can't sneak and get into stuff that I know I shouldn't but I do anyway because the humans are here! This was nice at first because I enjoy playing and cuddling some of the time. But, a little mischief every once in a while does a cat good!"
"WOOF! WOOF! I know, right?! My thoughts too! The humans are staying at home because of some Coronavirus (COVID-19) thing!"
"HISS! HISS! HISS! OH NO! I told Dad to stay away from that beer! I knew it wasn't good for him! HISS! HISS! HISS!"
"WOOF! No Samson, he doesn't drink that. This is serious stuff! Coronavirus (COVID-19) is a serious illness going around the world! The government leaders have asked humans to stay home to keep from pawssibly getting it and becoming very sick. So, we will have lots of time for cuddling and lovin's and playing games!"
"HISS! Can we get the Coronavirus?"
"Paws, no Samson, we cannot. It is not transmitted from humans to dogs and cats or vice versa. I have been reading emails from the American Veterinary Medical Association, PetMD. com, the AKC, and Dogster to keep updated! WOOF! WOOF! There is no evidence or reason for any human to give up their pets either! Barks! Paws, it is still a good idea for humans to wash their hands, as most do anyway, after petting their dogs or cats. Barks, should the human get Coronavirus, they should have another human take care of their pets including feeding, walking, treats, providing water, and playtime, while in quarantine just to be safe! WOOFs!
"Meows! Noah this could be fun! I love our humans but let's have some fun with them…."
"I have! I have been walking my human and putting some extra steps into our walks to make Dad walk faster! He comes home more tired! WOOF!! Barkingly, I make sure we keep some distance between us and other humans too. I am teaching him how to play fetch, even in the house. It's taking some time. Barks, after I threw one of the toys and sat down staring at him for a few minutes, he fetched the toys. You know humans Samson! Tug games are fun too. WOOF! I love taking the toy to Dad, putting it in his lap and taking it away quickly. When he looks at me funny or ignores me, I growl! He's learned to be quicker on the draw and tug that toy! WOOF! Barks! Barks, and we run and play in the backyard too."
"Meows, I love it! Purrs! Purrs! I have been following the humans around the house with my wand toys. Wherever Dad goes to work, I follow him and bring my toy. I sit there and 'MEOW! MEOW!' as loud as I can and rub against his legs and do it again. Purrs. Purringly, I love stretching up to him asking him to pick me up and then we cuddle for a while. Then we are off again with the wand toys! Purrs! I will be glad when they get out of the house again! I am worn out with them around all the time! I miss napping on Dad's worktable all day and watching the birds in peace and quiet! Purrs… a-h-h-h-h-h… one day soon I hope!"
"Barks," "MEOWS," "should humans have any concerns about their pets, pawlease contact their Veterinarian. Remember, pawlease do not abandon your pet! They need you! You need them!"
Meet a few friends needing "Forever Homes!
Levi is a handsome debonair 5-year-old affectionate fella with cropped ears and black coat! He enjoys chasing a ball or playing tug-of-war and napping! He has some basic training. He loves cuddling with his human(s). His house manners need training. He is shy at first but warms up quickly.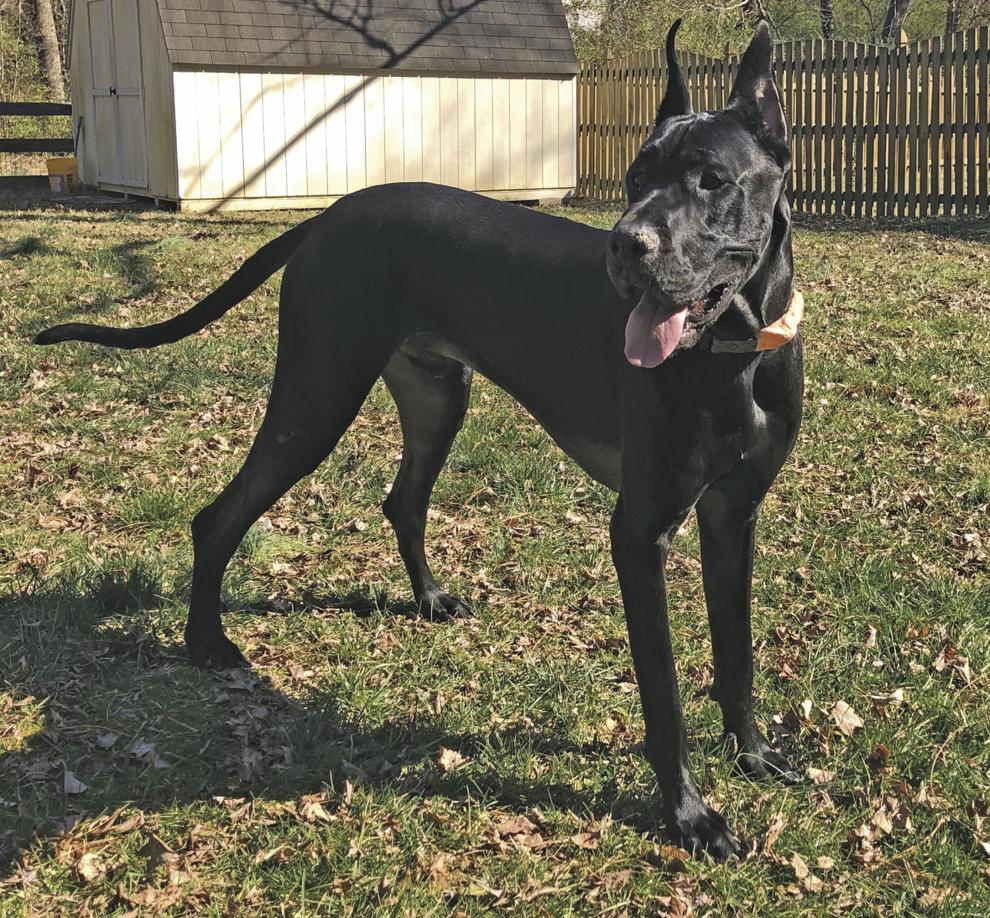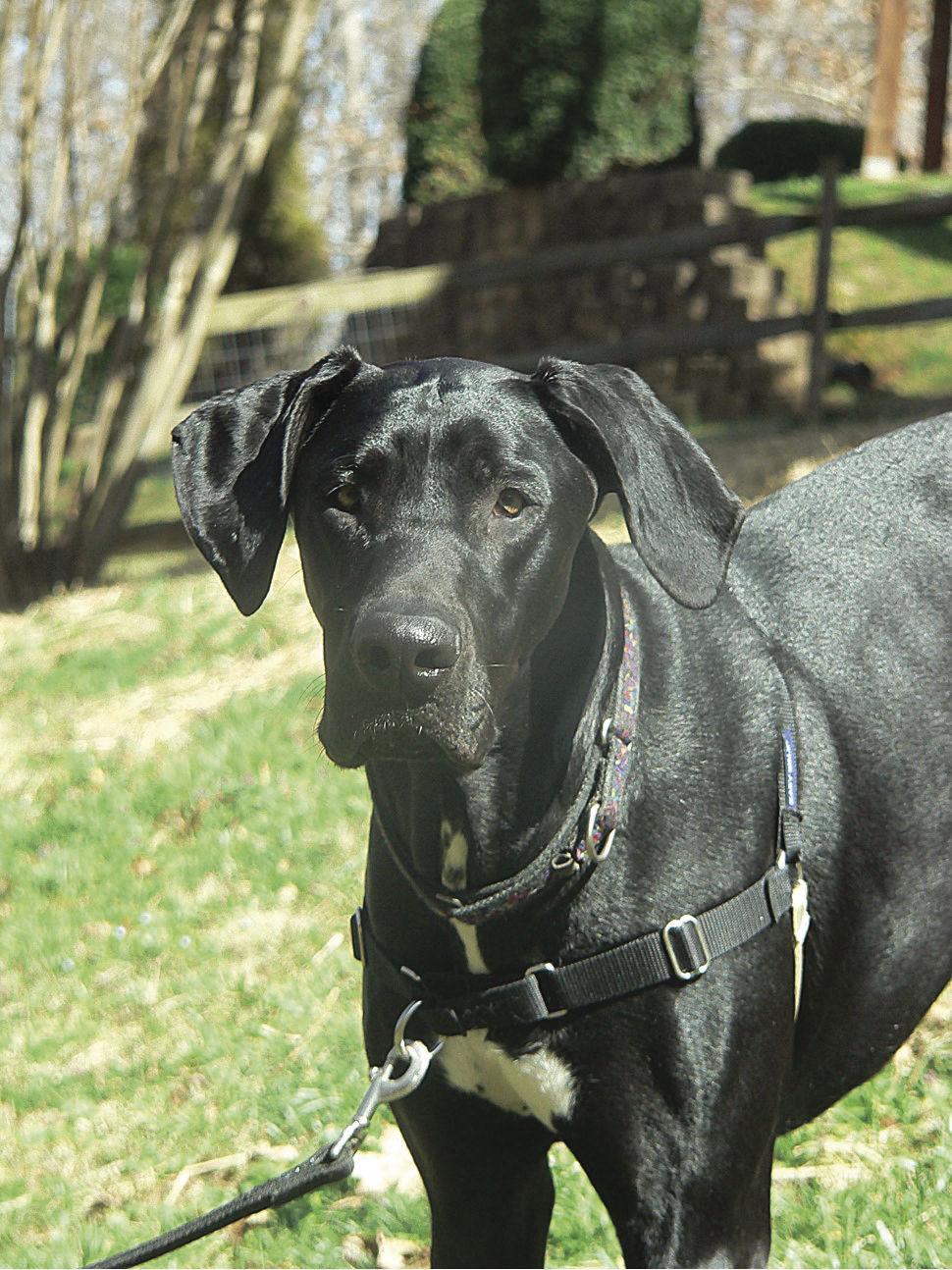 Duke, a 1-year-old fella, who is very much a goofy sweet puppy! He loves attention and doesn't realize his size yet! He loves his humans, going for walks, romping and playing! He requires a 6-foot fenced backyard as he's a jumper. He is good with mini-humans, other dogs, and pawssibly cats.
Mid-Atlantic Great Dane Rescue League, www.magdrl. org, call (703) 644-8009, email coordinators@va-magdrl.org.
About us! WOOF! MEOW! Do you enjoy our articles? Barks and purrs, pawlease follow us at www.fromthedogspaw.com by email! We paw about dog and cat adoption, humor, dog and cat adoption and facts about dogs and cats. Noah is Dog, Samson is Cat-in-Charge, to their human, Allen Pearson, Dog Photographer and Writer, www. allenpearsonphotography.com, www.allenpearsonphotographyjournal.com, www.facebook. com/AllenPearsonPhotography, www.instagram.com/fromthedogspaw, www.facebook.com/ fromthedogspaw.