WOOF! Since the hurricane season began on June 1, storm preparation is impawtant! BARKS!
WOOF! To prepare, humans should be aware of the natural and man-made disasters that could happen in your area. Paws, each disaster can require different preparation. WOOF! typically, our area has had a few tornadoes and hurricanes over the years. My humans have taken me to the basement for tornado warnings. A derecho and a hurricane came through several years ago, which required us to put our plans into action. We were prepared as we'd made plans before the storm ever existed.
Emergency voice commands
Barks, when my human first adopted me, he taught me to obey his voice commands, which he sometimes uses in an emergency situation. These commands, "LET'S GO NOAH! GO!" followed by showing me to the basement, was a drill we repeatedly practiced until he was satisfied I had it in my skills. This has proved to be beneficial during "Tornado Warnings."
Maintain a place with needed items
Paws, my human maintains a drawer in our kitchen with needed items for me, such as, a leash, poop bags, some treats, flashlights, and an umbrella. A basket of large towels are kept close by. He makes certain when the items are used, they are returned as they are useful in an emergency.
Keep extra supplies on hand, including bottled water, extra leashes and collars, bowls, poop bags, and at least a week's supply of pet food and water! Obtain a pet first aid kit too. WOOF! Have a properly sized pet carrier or crate for each pet. Store these where you can grab and go.
Research places where you can take your pets in an emergency evacuation. Do you have family or friends who will allow you and your pets to stay awhile? Create and update a list of hotels and emergency shelters that allow pets. BringFido.com and GoPetFriendly.com have directories of pet-friendly lodging options.
Maintain a folder of your pet's medical records, vaccinations, and preventatives. Keep it updated! My human keeps copies in a folder along with photos of me in our cars, which makes evacuating in an emergency pawsomely handy! WOOF!
Prepare for emergency veterinary trips. Don't be like the human who wasted urgent travel time searching for a leash, collar and towels to cover the bleeding paw. Be prepared.
ID Tags
WOOFS! As always, keep ID Tags and microchips up-to-date!
Meet my friends from Lab Rescue looking for their "forever homes"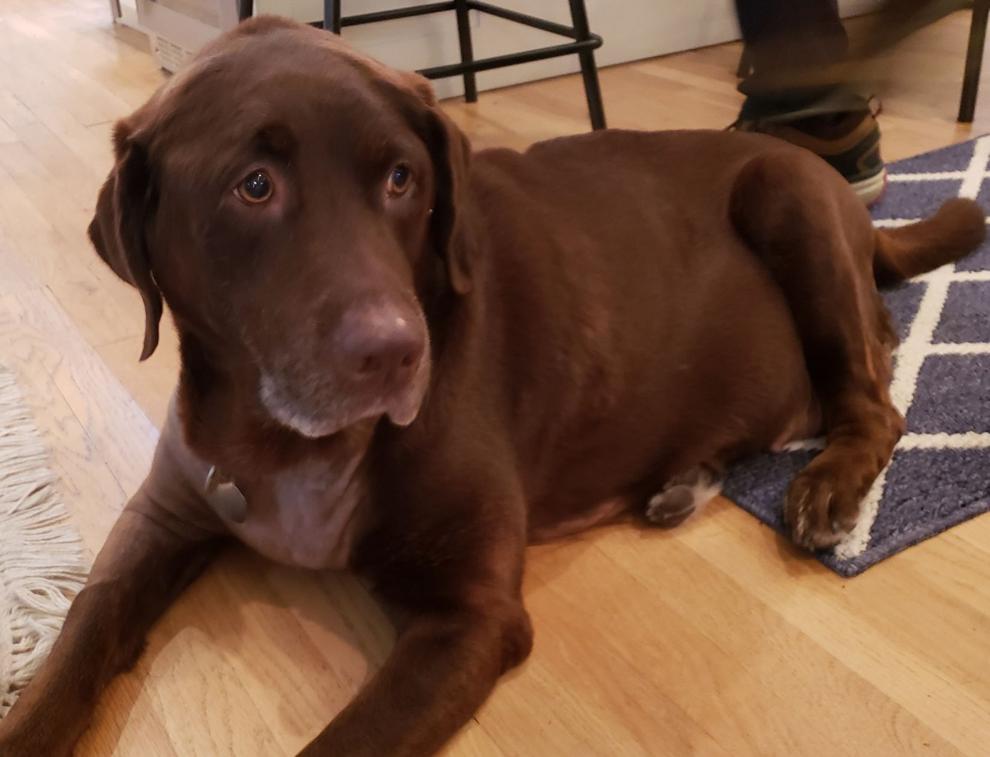 Duchess is an affectionate, easy-going, out-going 10-year-old chocolate Labrador retriever who is quite a character. She keeps her foster "servants" busy tending to her every need from morning kibble to mid-day apple slices and evening dental chews. She enjoys wandering around the garden and taking walks. She hasn't been too interested in balls, antlers or toys. Recommended for mini-humans ages 10+. Good with dogs. No cat history.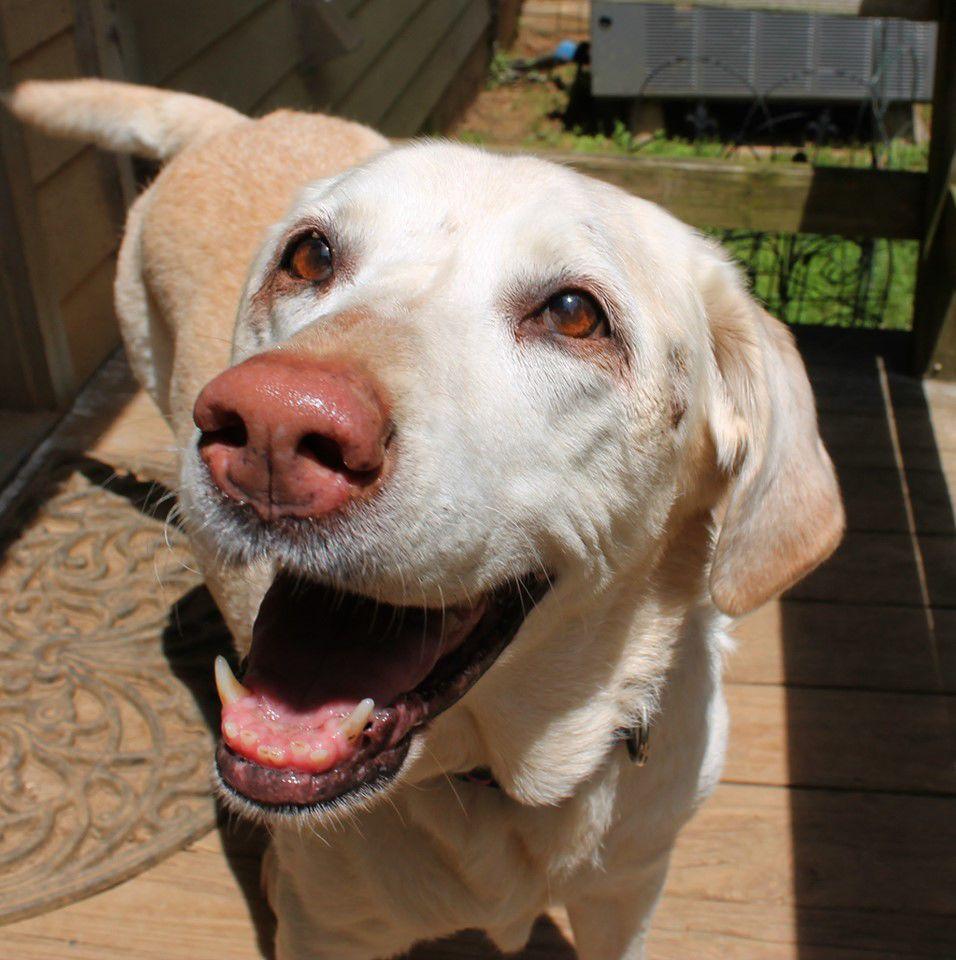 Ginger is a 12-year-old yellow Labrador retriever looking for a "forever home" in a one-level single-family house with minimal steps. She loves showing off her pawfect Lab smile! She's a fun, active girl who is good with other dogs and cats. She has pawsome house manners, enjoys car rides, sunny days, walks, and especially, hanging out with her humans. Recommended for mini-humans ages 8+.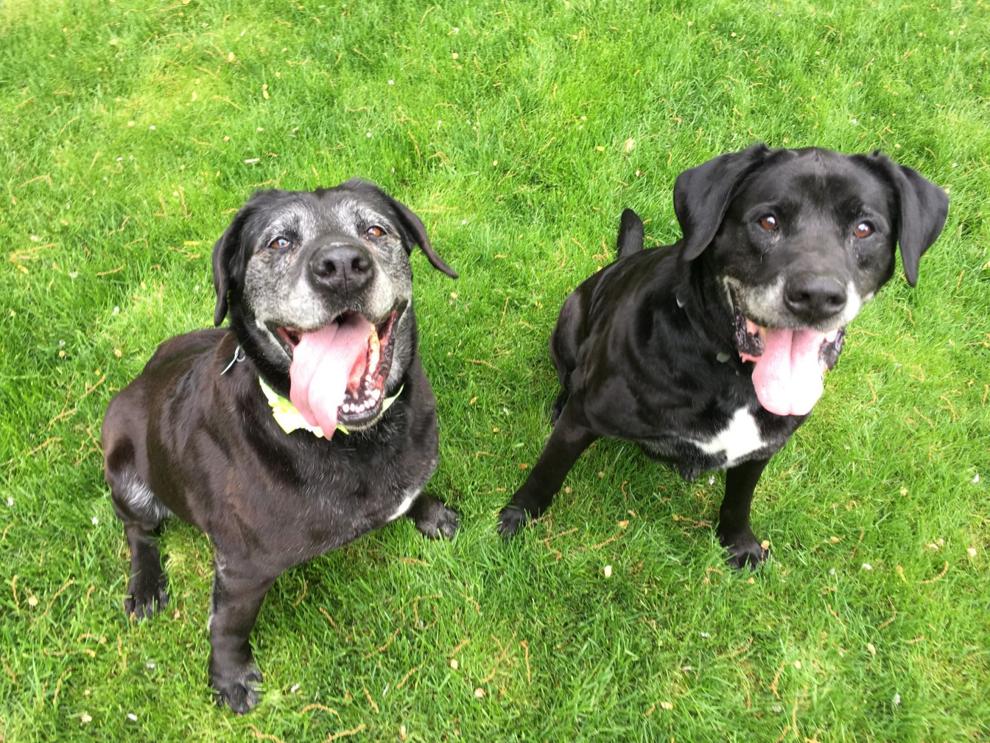 Smokey Joe and Princess Anne are two easy-going, laid-back, 13-year-old black Labrador retriever bonded buddies who must be adopted together. They love chasing and fetching balls- again and again, going for walks and being included in your everyday errands. They are polite to humans they meet and a pawleasure to have around the house! Good with cats, recommended for mini-humans ages 10+.
Barks, Lab Rescue is offering a $75 discount on adoption fees for seniors ages 9 and better through June 23. For impawtant details, pawlease inquire at info@lab-rescue.org or 301- 299-6756. Visit www.lab-rescue.org/seniors.
Lab Rescue of L.R.C.P., Inc. www.lab-rescue.org, Lab Line: 301-299-6756, email info@lab-rescue.org.
WOOF! Paws, the Lab Walk & FunFest is Saturday, June 8, 10 a.m. to 2 p.m., at Quiet Waters Park, Annapolis, Maryland. A pawsome day of fun activities for dogs and humans! Learn more at, https://giving.lab-rescue.org/dogwalk2019.
About us!
WOOF! MEOW! We invite you to follow us at www.fromthedogspaw.com by email! Samson and I paw about dog and cat adoption, humor, dog and cat adoption and facts about dogs and cats. Noah is Dog, Samson is Cat-in-Charge, to their human, Allen Pearson, Dog Photographer and Writer, www.allenpearsonphotography.com, www.allenpearsonphotographyjournal.com www.facebook.com/AllenPearsonPhotography, www.instagram.com/fromthedogspaw, www.facebook.com/fromthedogspaw.