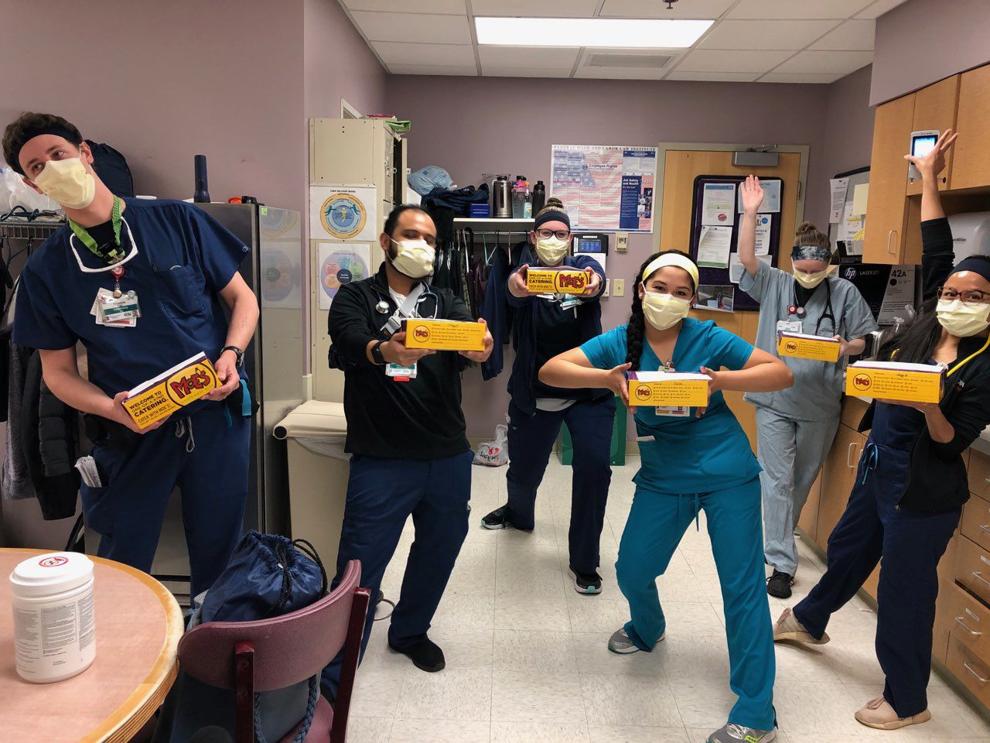 The COVID-19 pandemic is having a historic economic impact on local businesses and some of them are finding creative ways to keep people employed.
Those solutions include raising funds to provide meals and treats for hospital workers, firefighters and police. Feeding the workers is a symbiotic relationship that also helps keep local restaurant staff on the payroll.
Area hospitals started receiving meals around the third week of March, according to Amy H. Richards, executive director of Philanthropy for the Inova Schar Cancer Institute and Inova Health Foundation.
"The community and restaurant owners began almost immediately reaching out to us," she said. "It's especially heartwarming to watch people come together during uncertain financial times to help others … truly putting others first."
As of April 20, more than 20,000 meals had been received across the Inova footprint from almost 700 donors, according to Richards. Of those 700 donors, 340 have supported Fairfax County-based Inova care sites.
Matt Curry, owner of Craftsman Auto Care is spearheading a fundraiser called Feed a Hero. Through his Go Fund Me and Facebook pages, Curry has raised about $25,000 so far, half of their $50,000 goal.
"We were trying to figure out what to do to help out in our community and realized that some of our friends who owned restaurants needed business to enable them to keep their cooking staff on payroll," said Judy Curry, co-owner of Craftsman. "So we hired them to prepare meals that we would deliver to hospitals and fire departments in the area."
The Currys are partnering with founding restaurants CiaoOsteria in Centreville, the Amphora Restaurant Group with locations in Vienna and Herndon, the Harbour Grille in Woodbridge, 29 Diner in Fairfax, The Vienna Inn and Chantel's Bakery in Sterling. Additional businesses wanting to participate can contact Curry at https://bit.ly/2VJtTYn.
With the Curry's effort, 100 percent of all donations go directly to providing nutritional, individually wrapped lunches and dinners. They are delivering at least 100 meals a day to first responders.
"As long as we can keep donations coming in, we will deliver meals," said Matt Curry. "We may keep the campaign open and where we find a need try to serve as necessary."
Another area businessman, Queso Now What, Inc. owner Frank Maresca, is collecting donations through his "Feeding the Frontlines" campaign.
The campaign, an idea of Maresca's wife Carol, collects $10 donations through orders of the Taco Kit Drive Thru and those donations in turn purchase a burrito box from Moe's Southwest Grill in Chantilly.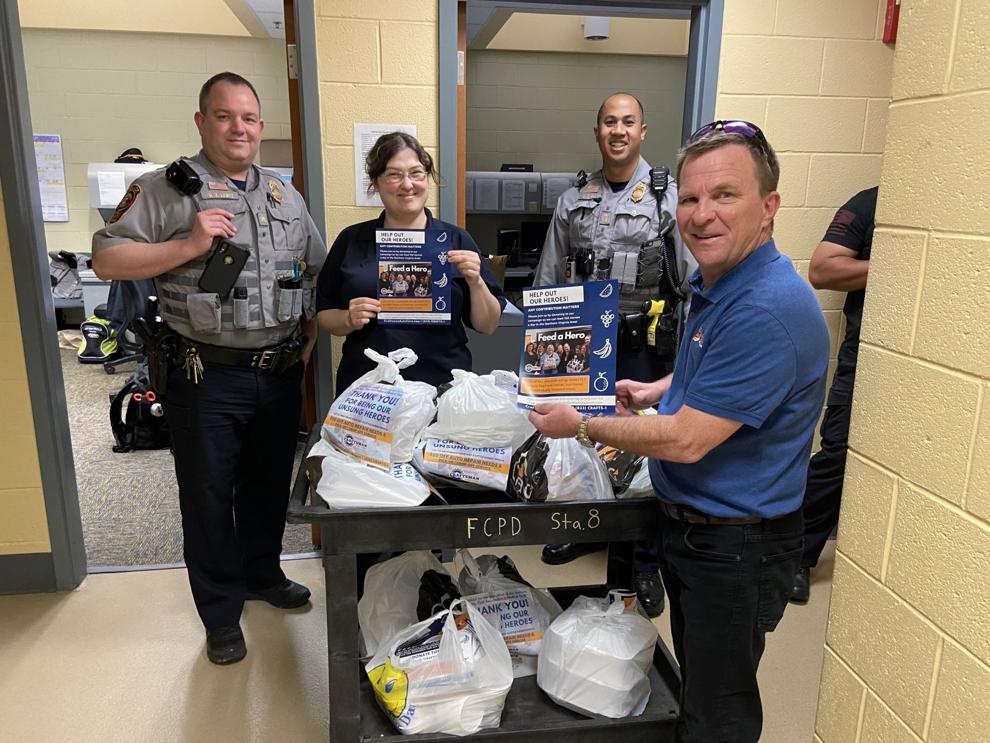 "We've done lots of community involvement and charitable work over the last 15 years since we opened Moe's in Chantilly and South Riding," said Maresca. "When the stay-at-home orders went into effect last month, our business was impacted as were most businesses. Many of our employees have worked with us for years and are like family so in an effort to 'keep the lights on' and keep our employees working, we started the neighborhood Pop-Up Drive Through."
One they saw the popularity of the Taco Kit Drive Thru, Carol suggested a donation option be added to support the local hospitals and 'Feeding the Frontlines' was born, according to Frank.
Currently the campaign is donating to Inova Fairfax, Loudoun and Fair Oaks. Since the campaign began April 7, 200 meals have been donated.
Pastry chef and owner of Cupcake Novelties in Centreville, Farozan Jivrav, started a GoFundMe called Treats for Frontliners on her Facebook page. She has delivered treat boxes to Inova Fairfax and Fort Belvoir Hospital as well as Sentara in Woodbridge. Her goal is to continue deliveries on a weekly basis as well as branching out from the D.C. area.
"The generous support of our community through time, talent and treasure with more than $2 million raised to help address the growing needs of this pandemic and over 20,000 meals provided to our team members has been truly humbling," said Sage A. Bolte, chief philanthropy officer and president of the Inova Health Foundation. "The meals are just another way to help ensure that our team members stay strong and healthy in this marathon we call COVID-19. The messages of hope that they are provided with these meals along with the meals themselves boost morale every day. We are truly grateful for our community's participating in supporting our frontline heroes."
Other restaurants from Fairfax County who have generously supported frontline workers include Lucia's Fox Mill location, Burger Fi, Inca Social, Paisanos, Listranis of McLean, Anita's, Caboose Brewery, Subway, Haute Cakes Pastry Shop, Nothing Bundt Cakes and El Sol of Vienna, according to Richards.
"Inova is proud to be the region's largest not-for-profit health system and it is our privilege to serve this amazing community," said Richards. "Fairfax County and the entire region has rallied at this pivotal moment through investment in Inova's Emergency Preparedness fund, supply donations, meal donations and uplifting expressions of gratitude … each and every gift and act of kindness makes a difference."