Federal prosecutors will seek the death penalty for the alleged leader of a reportedly gang-related conspiracy to kidnap and murder two Fairfax County teenagers in 2016.
Department of Justice attorneys laid out their case for seeking a death sentence against defendant Elmer Zelaya Martinez, 27, in a nine-page notice of intent filed with the U.S. District Court for the Eastern District of Virginia in Alexandria on Jan. 6.
Martinez is one of 11 individuals facing charges in the deaths of 17-year-old Edvin Mendez and 14-year-old Sergio Triminio whose remains were discovered by Fairfax County police in Holmes Run Park in the Lincolnia area on Mar. 2, 2017.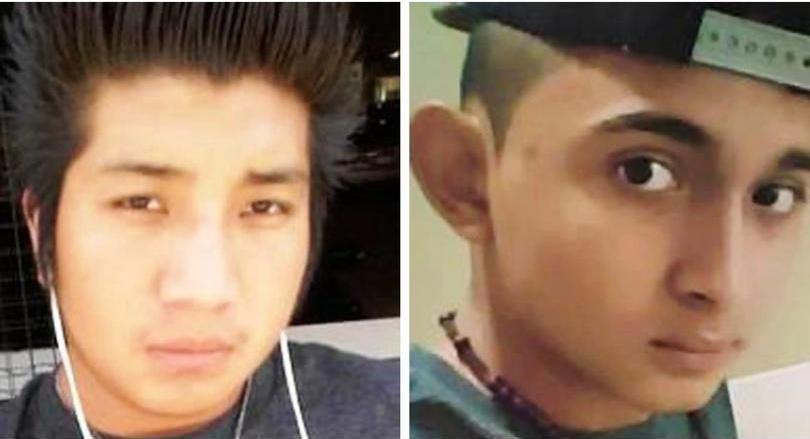 Indicted by a grand jury on eight counts on Feb. 21, 2019, all of the suspects are believed to be members or associates of the gang MS-13, specifically a clique called the Park View Locos Salvatrucha that operates in Northern Virginia, according to the indictment.
The charges include conspiracy to commit kidnapping and murder in aid of racketeering activity and kidnapping resulting in death. Martinez was indicted on all eight charges.
Federal prosecutors say in their notice of intent to seek a sentence of death that they singled out Martinez for the death penalty because his background and character, "moral culpability," and the nature and circumstances of the offenses suggest he "poses a future danger to others in that he is likely to commit, and direct others to commit, additional acts of violence in any setting."
The Department of Justice is not seeking the death penalty in its case against the other 10 people charged in connection with the Holmes Run Park murders.
Defense attorney Robert Jenkins disputed the characterization of Martinez, an immigrant from El Salvador, as a man with a violent criminal history, noting to The Washington Post that his client is not alleged to have inflicted blows in either killing.
"We on the defense side, representing Mr. Martinez, fully expected that this would occur," Jenkins said. "That doesn't change our disappointment, because we do believe that the decision was infected by politics and that this is not all about achieving justice."
Attorney General William Barr of the Trump administration announced on July 25, 2019 that he was directing the Federal Bureau of Prisons to adopt a proposed protocol that would let the federal government execute prisoners after a 16-year moratorium.
The Department of Justice scheduled lethal injections for five death-row inmates that would have represented the first use of capital punishment by the federal government since 2003, but a U.S. District Court judge in Washington, D.C., ruled in a legal challenge by inmates that the proposed procedure is not authorized by federal law.
The judge issued an injunction on Nov. 20 halting four of the executions, which were set for December and this January. The fifth execution was blocked a month earlier by a different court.
While appealing the district court decision, the Justice Department asked the U.S. Supreme Court to allow the scheduled executions to resume while the lower court's ruling was being reviewed, a request that the Supreme Court denied on Dec. 6.
When announcing his intention to resume federal executions, Barr noted that the death penalty is authorized under legislation adopted by Congress and argued that the Justice Department owes it "to the victims and their families to carry forward the sentence imposed by our justice system."
MS-13, a gang formed in Los Angeles, Calif., in the 1980s that spread in Central America as well as the U.S., has become a particular target for scrutiny by law enforcement under the Trump administration.
According to a Post report from last February, President Donald Trump has referenced MS-13 at least 161 times since taking office in 2017, though killings linked to the gang have declined over the past year or two due to "an aggressive response by local and federal authorities."
The American Civil Liberties Union filed a lawsuit against then-Attorney General Jeff Sessions and federal immigration agencies in August 2017 arguing that three Long Island teenagers were detained unlawfully without evidence to substantiate suspicions of MS-13 affiliation.
Jenkins believes prosecutors decided to pursue the death penalty against Martinez, because the Trump administration wants to use the case to justify its opposition to immigration from south of the U.S. border.
Based on his more than 25 years of experience handling death penalty litigation, Jenkins says the allegations against Martinez are not especially different from those faced by other suspected gang members he has represented in court, but prosecutors did not seek death sentences in those past cases.
"The most substantial distinguishing factor between those cases and this one is that we now have a president who has spent the better part of the last three-plus years singling out Latin Americans from south of the border and portraying them as all being members of a violent street gang invading this country," Jenkins said. "…This case undoubtedly will shed great light on that and [Trump's] reasons for wanting to close the border to the south, and I believe that Mr. Martinez is a victim of that policy decision."
When contacted by the Fairfax County Times, a Justice Department spokesperson declined to comment on prosecutors' decision to seek the death penalty for Martinez.
Fairfax County police uncovered human remains in Holmes Run Park in early March 201 after receiving a tip that led to extensive searches of that park as well as Lemon Road Park in Falls Church, which detectives soon determined did not have any buried remains.
The department's search and rescue team, along with crime scene detectives and FBI special agents, discovered two sets of remains in Holmes Run Park near the intersection of Crater Place and Yellowstone Drive on Mar. 2, 2017.
In their indictment, Department of Justice prosecutors allege that the 11 defendants in the case murdered a victim identified by the initials EEEM on or around Aug. 28, 2016, because they believed he was a member of a rival gang looking to infiltrate MS-13.
Prosecutors say the defendants then killed SAAT on Sept. 26, 2016, believing he was working with law enforcement as an informant. The attacks were also a means of proving their worth for promotion within the gang.
According to the Department of Justice's notice of intent to seek a death sentence, Martinez was involved in "substantial planning and premeditation" of EEEM's death and committed offenses in an "especially heinous, cruel, or depraved manner in that they involved torture and serious physical abuse" to the 17-year-old victim.
Prosecutors say Martinez has "displayed no remorse" for his actions.
Jenkins calls the prosecution's characterization of his client "in many respects, inaccurate."
He told WTOP that the Jan. 6 filing was the first time the defense had heard an allegation that Martinez was in possession of a "shank or sharpened instrument on at least two occasions while in pretrial custody."
The next hearing in the case was scheduled to take place on Jan. 10 at the federal courthouse in Alexandria, where a judge was expected to discuss pre-trial filings, possible trial dates, and other next steps, Jenkins says.