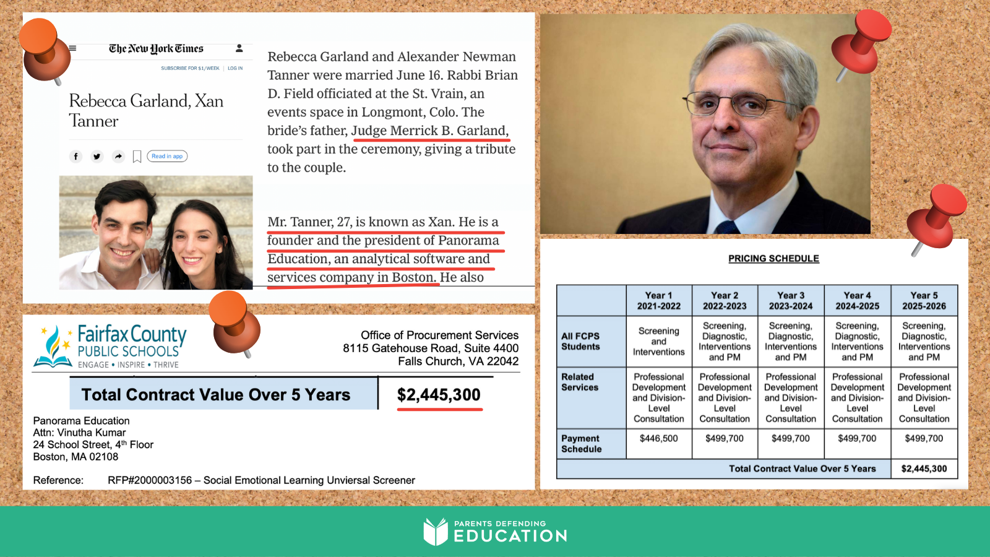 This week, U.S. Attorney General Merrick Garland stunned parents across the country, marshaling the powers of the FBI against parents whom school board members deem "threatening." This story hit home with courageous parents in Fairfax County who have been challenging school board members for more than a year over policy decisions about school reopenings, admissions policies, data breaches, porn, and pedophilia in local school libraries and contracts with consultants who are data-mining students.
The threat of being put on an FBI watchlist could be enough to dissuade the faint-hearted, but local Fairfax County parents are undeterred. Stacy Langton, a mother who exposed the porn and pedophilia in local school library books, says, "I'm not intimidated. I am not frightened. We are standing up for our kids. That is sacred work." She attended a "Pep Rally for Parents" before Thursday night's school board meeting this week.
And other mothers – who don't want to reveal their names for fear of retaliation from the school system– are digging into a contract, now totaling $2.4 million, that Fairfax County Public Schools signed this summer with a Boston-based consulting firm, Panorama Education, that brings the national story very close to home. What they have dug up should interest all local taxpayers – and school board members. 
It turns out that, in the summer of 2018, U.S. Attorney General Garland's daughter married Xan Tanner, a co-founder of the Big Tech business — Panorama Education — with which Fairfax County Public Schools just inked the controversial contract to conduct a "social and emotional screener." 
Panorama Education has built a booming business with school boards, approving rich contracts collecting data on students with "screeners" and "surveys." It is just the tip of the iceberg on a multimillion industry of Big Tech data mining America's kids.
After signing an initial $1.8 million contract in early June, with plans for a narrow "screener" this year, officials at Fairfax County Public Schools quietly "set up the secure data exchanges" in August to send Panorama Education student data, before even giving parents the choice to opt-out of their student's participation in the contract, according to an email from a school official. 
FCPS officials have confirmed to parents that the school district transferred data to Panorama, including the name, student ID, school, and grade of students, and they justify the data transfer as part of a process of "quality control." Parents are asking why any information needs to be provided to an outside consultant for whose work they have filled out an "opt-out" form. 
Days later, in early September, school district officials inked a new deal, known as "Amendment No. 2," immediately expanding the data-mining project to all of the school district's 180,000 students, at a final total cost of $2.4 million – a final total that the school district did not announce to the public. It's buried in a list of indistinguishable contracts online.  
Local parents expressed concern this week that Panorama Education will profit from Garland's outrageous silencing of parents not only in Fairfax County but around the country challenging its data mining of K-12 students. 
Panorama Education staff gets status as "school officials" so they have the right to private student data under federal law, according to another email from a Fairfax County school district official. 
In an email to a parent, Deborah E. Scott, director of intervention and prevention services at Fairfax County Public Schools, wrote: "FCPS is permitted under the law to share student data with outside vendors who meet the criteria of the 'school official' exception under the Family Educational Rights & Privacy Act ('FERPA'). Third-parties who are considered 'school officials' are permitted to receive student data absent parent consent."
Reading the email, local parents cringed at these words: "Absent parent consent." 
Later, when a parent asked this week if her son's information had been shared with Panorama, despite her signing an opt-out form, Scott responded: "FCPS set up the secure data exchanges in August after the contract was awarded." The information had already been shared – even before parents were notified about the screener and given a chance to opt-out.
This week, in the face of much criticism, FCPS beefed up its website page about the "screener," while sending emails to parents who had opted out, checking to see if they had made a "mistake."
Why does it matter? Facebook founder Mark Zuckerberg is an investor in Panorama Education, which is signing contracts with school boards across the country, providing the company a backdoor to children's most intimate feelings. The company is now a Trojan horse for Big Tech in K-12 schools. A whistleblower this week testified in Congress that Zuckerberg has been exploiting new "growth projects." 
K-12 education is clearly one of those "growth projects."
Under fire for negatively harming the mental health of children, Zuckerberg and Garland's family are now in the business of data mining children's most intimate emotions — and supposedly help children deal with the mental health issues Zuckerberg helped manifest. 
Big Tech is now involved in the data mining of the minds of America's kids — with the blessing of school boards.
Panorama Education and Fairfax County Public Schools didn't provide answers to our questions by deadline. On September 23, Fairfax Times published an article about this contract in late September, advising parents where to go to fill out an "opt-out" form. (The deadline is October 8.) 
Parents started voicing their opposition. The night of September 23, I spoke to our school board and raised the issue. Six days later, on September 29, the National School Boards Association sent a letter to President Joe Biden, asking for federal intervention against "domestic terrorism and hate crimes" against school boards. On October 4, U.S. Attorney General Garland summoned the FBI to investigate threatening parents. 
This conflict of interest and violation of student privacy laws should anger all Americans. Garland needs to issue a ceasefire. Recuse himself. Apologize to all of America's parents. And get Big Tech out of K-12 schools.
Asra Q. Nomani is vice president of strategy and investigations at Parents Defending Education. She is a former reporter at the Wall Street Journal. She can be reached at asra@asranomani.com.