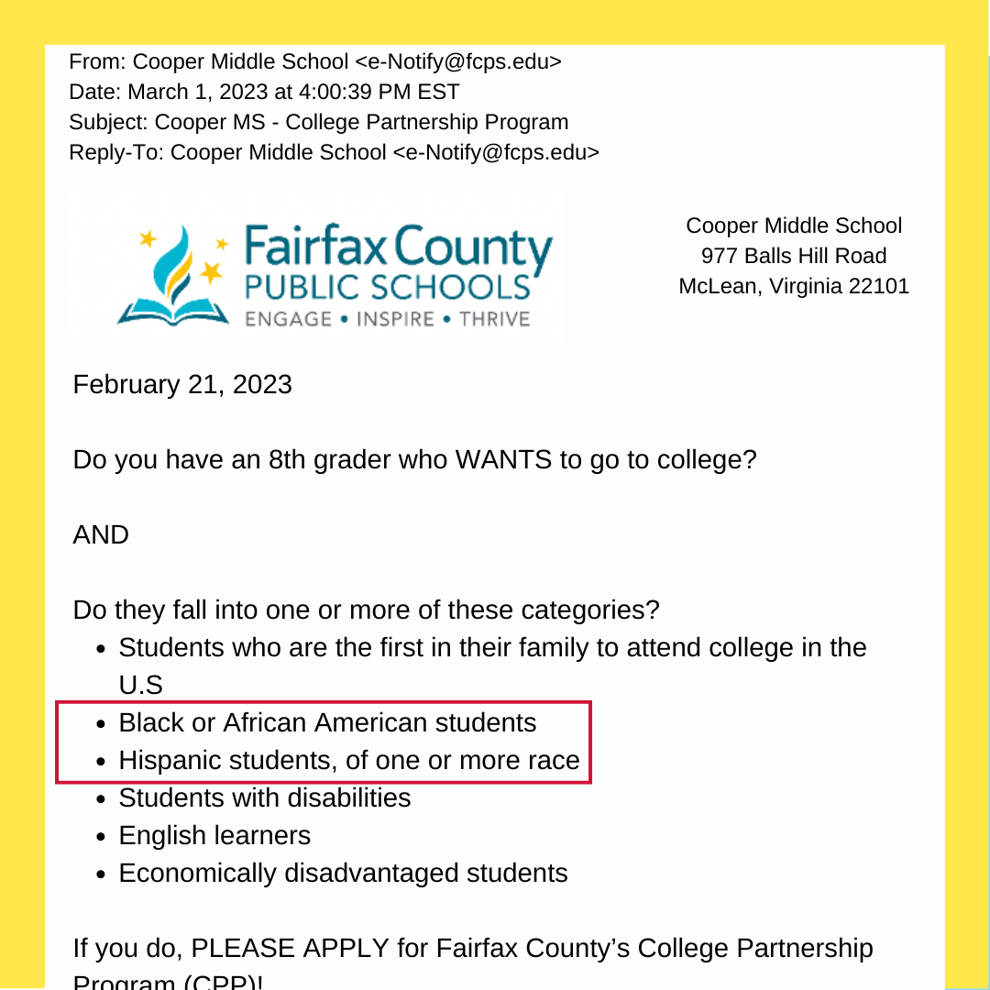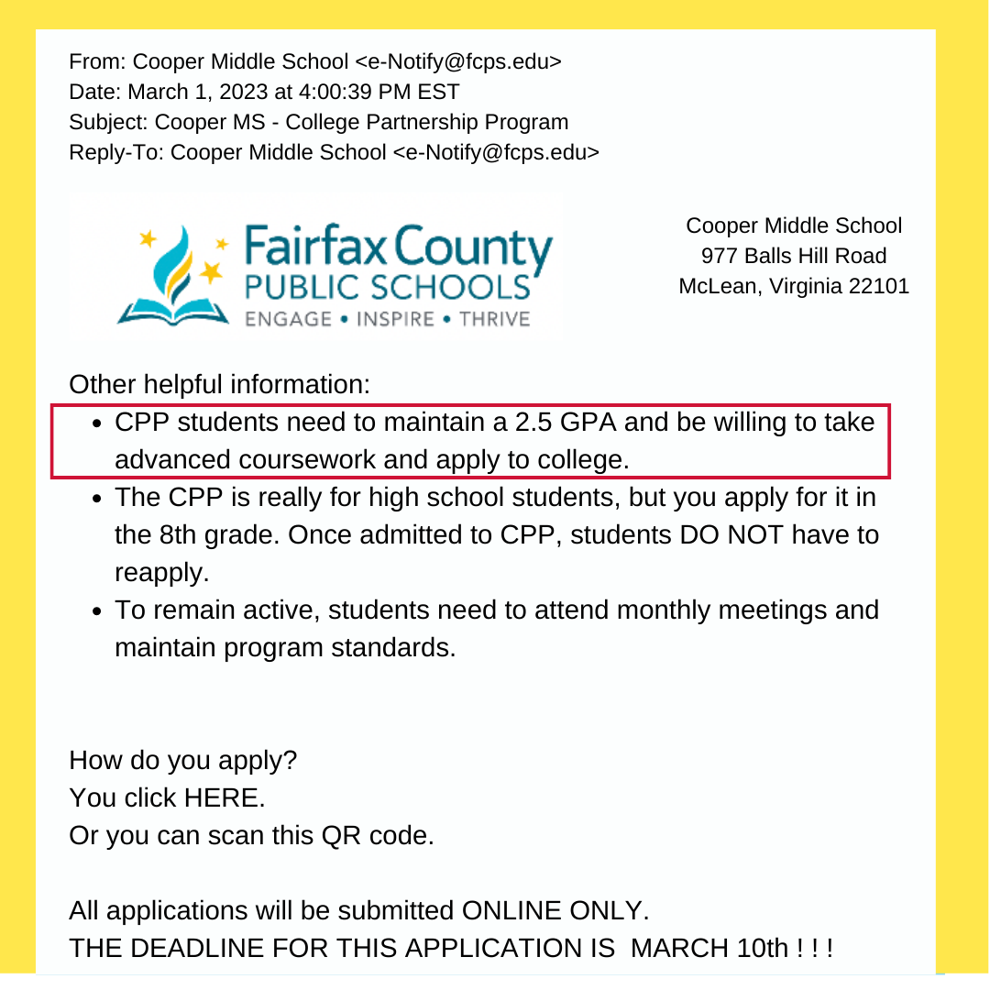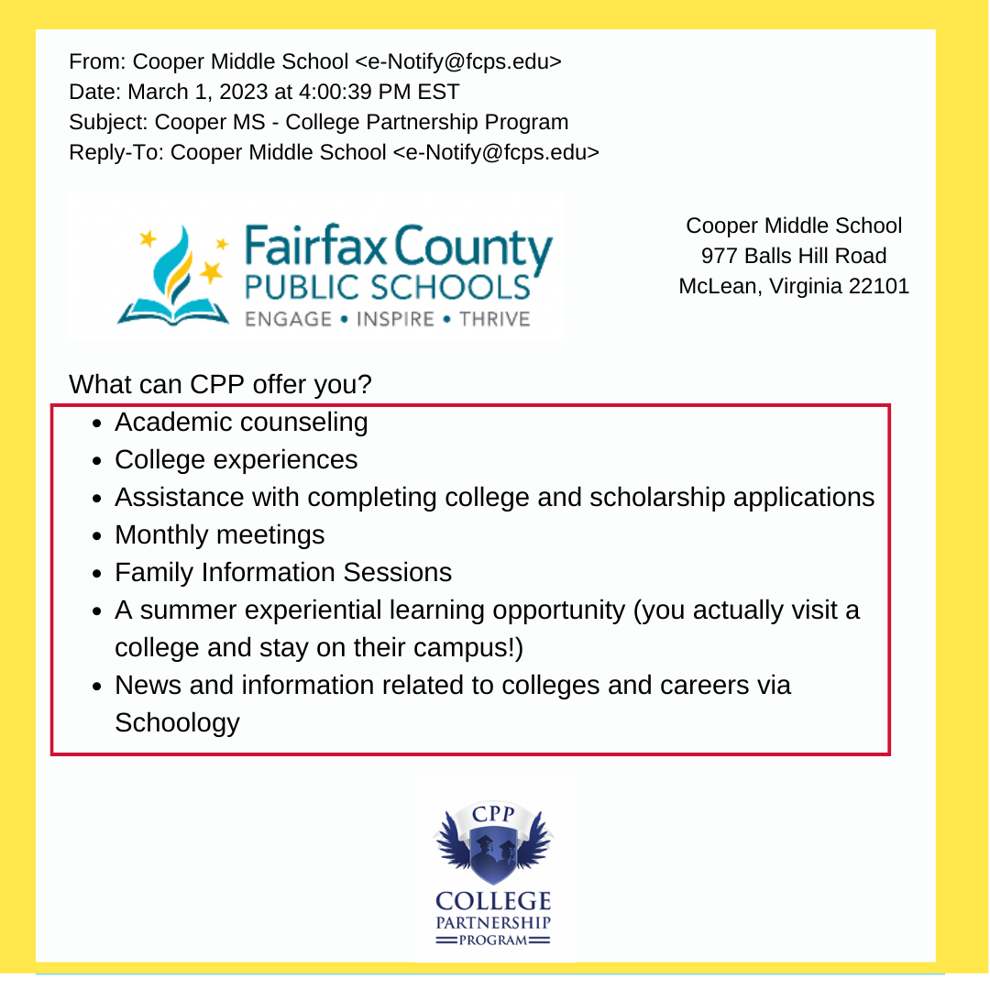 The controversial Asian Exclusion Act, which barred Asians from equal opportunities in the United States in the 20th century, appears to be alive and well, parents say, in Fairfax County Public Schools, in a signal of the institutional racism Asian American youth are increasingly facing in education nationwide.
Parents in Fairfax County Public Schools, right outside the nation's capital, got a strange email last week about a deadline of March 10, for the school district's "College Partnership Program," identifying Black and Hispanic students as qualifying for the program based on race and excluding other racial groups, including Asian students.
On March 1, at 4 p.m., officials at Cooper Middle School in Fairfax County, forwarded the families of eighth-grade students an official school district letter with an enticing offer, "Do you have an 8th grader who WANTS to go to college?"
The letter, shared by officials at Cooper Middle School just down the road from the CIA, then quickly added this caveat in capital letters: "AND…" 
On letterhead from Fairfax County Public Schools, the letter, dated Feb. 21, then asked probing questions about the eighth grader who "WANTS to go to college," inquiring: "AND Do they fall into one or more of these categories?"
The categories aren't merit or academic based. Fairfax County Public Schools didn't respond to a request for comment sent at 11:21 a.m. on March 6, but issued a curt statement at 5 p.m., after the close of business, with the subject line, "Clarification: College Partnership Program," stating, "Recent communication to families provided information about the College Partnership Program (CPP). We apologize for any language pertaining to candidacy and the link to further information on the website that were omitted from the original message." The email gave parents links to the program, but the letter from March 1 still stood uncorrected with its odd requirements for entry into the program. 
They are based solely on other markers of identity: 
"Students who are the first in their family to attend college in the U.S [sic]"

"Black or African American students"

"Hispanic students, of one or more race [sic]"

Students with disabilities

English learners

"Economically disadvantaged [sic] students"
Who is missing in the letter? 
At least three racial minority groups who are protected from discrimination in the United States of America under the 14th Amendment of the U.S. Constitution, guaranteeing equal protection under the law. 
Fairfax County Public Schools deliberately excludes Asian students, who number 34,392 students this 2022-2023 school year, or 19% of the total student population of 181,447 students according to school district data tabulated in February. 
The letter sent from Cooper Middle School also excludes students in the race and ethnicity categories of "American Indian or Alaskan Native," of which the school district has 498 students or 0.27% of the total student body, and "Native Hawaiian or Pacific Islander," of which there are 211 students or 0.12% of the total number of students. 
It's not clear from the program's awkward wording if the school district includes students who are in "Two or More" race and ethnic categories. The school district has 11,275 students or 6.21% of the student body.
But the actual program's online advertising includes students identifying as American Indian, Alaskan Native, and Native Hawaiian or Pacific Islander. It doesn't include Asian students.
The program most certainly also excludes marketing to students who are white, of which there are 66,263 students, or 37% of the total student population.
On March 8, two days after publication, Kathleen Miller, a spokesperson for Fairfax County Public Schools, sent a statement to Fairfax County Times, saying that it is "wholly inaccurate" to conclude that Asians and whites are excluded from the program and further stating, "No group of students has been banned. This program is open to everyone/anyone, as has always been indicated on our website."
In fact, the official school district website for the program uses racial categories to describe a "typical" student in the program as "African-American," "American Indian," "Alaskan Native" and "Hispanic." It also lists other identifiers and excludes any mention of Asian or white students as participants in the program.
Local father Glenn Miller, an attorney, got a copy of the email from a concerned parent and said the program raises many concerns for him. "This program excludes children based on race, and it seems to be in direct violation of the school district's own anti-discrimination policy."
If the "8th grader who WANTS to go to college" checks one of those boxes, they are invited to apply for the school district's "College Partnership Program," qualifying them for all sorts of perks, including academic counseling, "college experiences," "assistance with completing college and scholarship applications," "monthly meetings," "Family Information Sessions" and "news and information related to colleges and careers via Schoology," an online platform. 
The perks also include monetary rewards: "A summer experiential learning opportunity (you actually visit a college and stay on their campus!)."
The school district's website lists Lakeyta Smith, an educational specialist, as a point of contact. It says the program goal is to increase the number of students, "particularly first-generation and traditionally underrepresented students" who "enroll and succeed" in college.
The official website  touts "SAT preparation classes" and "parent education sessions." It adds "American Indian" and "Alaskan Native" students as a typical part of the "underrepresented population in higher education" it is attracting.
There are 17,760 Black students in Fairfax County Public Schools or 10% of the total student body, and there are 51,048 Hispanic students, or 28% of the total student population.
The school district's anti-discrimination policy states, "No applicant or employee on the basis of, of race, sex, color, age, religion, sexual orientation, gender identity, national origin, genetic information, pregnancy status, childbirth or related medical conditions, marital status, veteran status, and disability shall be denied the benefits of, or be subjected to discrimination under, any education program or activity, as required by law."
A former Wall Street Journal reporter, Asra Q. Nomani is the author of a new book, Woke Army. She is a senior fellow at Independent Women's Network. She is reachable at asra@asranomani.com and @AsraNomani on Twitter.
This article was updated to include comment from Fairfax County Public Schools received after deadline.