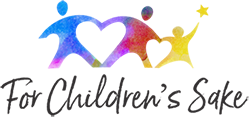 May is National Foster Care Month, a time to acknowledge social workers and recognize the ways in which people can enhance the lives of youth in foster care. But during the COVID-19 pandemic, the foster care system has been affected more than ever.
Kelley Willis, a program director at For Children's Sake, a therapeutic foster care agency in Fairfax County, explains that the pandemic has had an overreaching impact on the agency. Not only are staff working from home, but foster parents and children in the system are having to face new challenges.
"Parents are trying to figure out how to balance their jobs and being teachers all of a sudden," she says. "Some of our families have multiple kids. Not only their birth children, but some have two, three, sometimes four foster kids in their home, and now they're playing teacher to their children."
For Children's Sake is a therapeutic foster care agency, which differs from county agencies in that they help children that have more challenging behaviors on a therapeutic level. The agency, which has been around since 1998, is facing new problems with the pandemic.
"Our kids, because of their traumatic background, oftentimes have an IEP," or an individualized education program, so it's sometimes harder for families to work on the programs from home, explains Willis.
Many kids, because of the environment at their birth home, looked forward to the routine and environment of school. But now, they can't. "While they're in a safe foster home, they're still missing out on that," says Willis.
Ever since closing its doors at the end of March, Willis and other staff members have been working from home and conducting virtual family visits, which greatly differs from their physical visits before the pandemic. Although a lot of things have changed for the agency, their support for families has increased.
One of the biggest challenges for children in foster care right now is that, due to social distancing, many court hearings are postponed several months. An upcoming case, in which a child's birth parents were going to terminate their parental rights so that the child's foster parents could move forward with adoption, has been postponed until October.
"The poor child is sitting in care – in the same foster home, he'll be okay – but he was really looking forward to starting his adoption process," says Willis.
Another case in which two sisters were looking to move to a relative's place in Florida, which was scheduled in April, has been postponed until September. "When it gets pushed back all these months, it's devastating for these kids," she says. "We do so much work with them to prepare them for what their next step is and now, at no fault of anybody, this is all thrown off."
An additional problem that the children are facing now is that they can't see their birth parents in person. Now, they speak through the phone. And on top that, many therapies have stopped having sessions. Although some still do them over the phone, many children with trauma and mental health issues are left with no therapy during this time.
But Willis says that this has only brought families to support each other. "We're a smaller agency and we like it that way because it feels like a family." Although they didn't usually have support groups, now they're fostering weekly virtual sessions for their families. "Through a time of crisis, we've all come together."
What's best to highlight during this year's National Foster Care Month is the need for foster parents and other types of help. Although many of the children at the agency have lived in challenging environments and suffer from trauma, "they are children who just need a loving home." Willis says that For Children's Sake works with kids from birth to 18 years old, so there's a large variety of age ranges for interested foster parents.
"There's a dire need for foster parents, and if anyone's ever thought of it, or if you want more information, it does not hurt to call." She also adds that for those who can't commit to fostering but still want to help, the agency is also looking for individuals to help with their daycare and with some of their trainings.
The agency's phone number is 703-817-9890 and the program director's email is KWillis@fcsva.org.