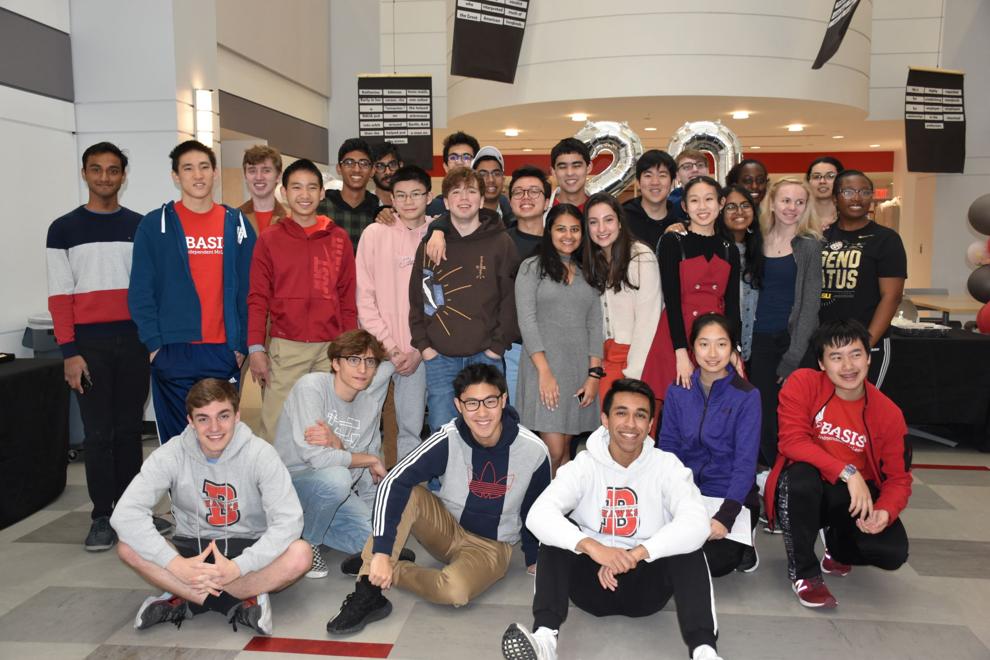 Just as schools have moved instruction to online learning, seniors at BASIS Independent McLean (BIM), a private school in Fairfax County, continue with job training through virtual internships.
The school's 'Senior Project' is a unique aspect of the curriculum, in which seniors participate in an internship to get hands-on experience in their area of interest, write weekly blogs, and share a final formal presentation with their community. This year was BIM's inaugural opportunity to implement the program, but the internships have now moved online.
Kate Irving, college counselor and senior project coordinator at BIM, says that the 10-week projects offer an opportunity for students to "demonstrate the knowledge and research skills they have developed throughout their time in high school." The final projects are "entirely designed, created, and led by students on a topic they are interested in, with the help of an On-Site Mentor."
She explains that current seniors have had to pivot and adapt. "COVID-19 can make us feel stuck, but these students still have forward momentum, and are engaging in their learning lives."
Senior Robbi Goodyear is an intern at American Fuel and Petrochemical Manufacturers, where she updates databases, uses the company's safety portal for record keeping, and participates in conference calls. While teleworking, she has converted her dining room into her workspace.
"My day to day is busy. I have a conference call with the internship team every Monday, Wednesday, and Friday morning. After those calls, I work on previously given assignments or I do work that is assigned related to the call."
Tommy Edelmann has also had to adjust to the online format. The senior is interning at Unanet, a mid-size software company based in Dulles. He explains that all students completing a senior project need to put in a minimum of 15 hours per week. "Before the COVID-19 crisis, I would commute to the office twice per week for 8 hours each. Now, I have much more flexibility."
An upside to working from home, for Edelmann, is that he can take breaks in between working periods. "For instance, if I work on my project for a few hours in the morning, I can go eat, play the piano, and walk the dog, then come back to do more." He says this is a good dynamic for him. "Mental blocks seem to resolve after some time away from the computer."
Of course, a new platform can come with its challenges. Irving explains that many of the students were not able to fully emerge themselves in a professional environment before the move to online learning. "Students in IT environments moved their operations online with ease, while the lab-based research had to take a sharp left turn."
Goodyear says that her biggest challenge is staying motivated while working from home. "I try to give myself a mental daily checklist so I can stay on track with my Senior Project goals."
For Edelmann, the biggest challenge is not being able to go to someone in the case of problems. "Before, when working on-site, there were lots of great coders working right next to me that I could easily speak to when having problems. Now, I have to rely more on the internet to figure out things like new libraries and syntax errors."
Although the seniors are being faced with new challenges, Irving says that she's inspired by how engaged the students continue to be in their education. "They are all adapting to a changing world and are clear-thinking in pursuit of their future."
Not being able to see her classmates every day hasn't disconnected Goodyear with other seniors. "I feel connected knowing that I'm not the only student going through this issue," she says.
Social media also plays a big part in the students' social lives. Goodyear says that her and her friends discuss how they feel with the current situation and talk a lot about their next step: college. "I think we all just want to move on from this current situation."
Apart from keeping in touch with his friends through social media, Edelmann also feels connected to his classmates during their weekly Senior Zoom calls organized by senior project coordinator.
Irving reminds the seniors that lifelong learning is "the key to success and enjoyment in one's life." In light of the pandemic, her advice for students is to challenge oneself and be ready to adapt. "Keep planning for your future while keeping your eyes wide open to the present."