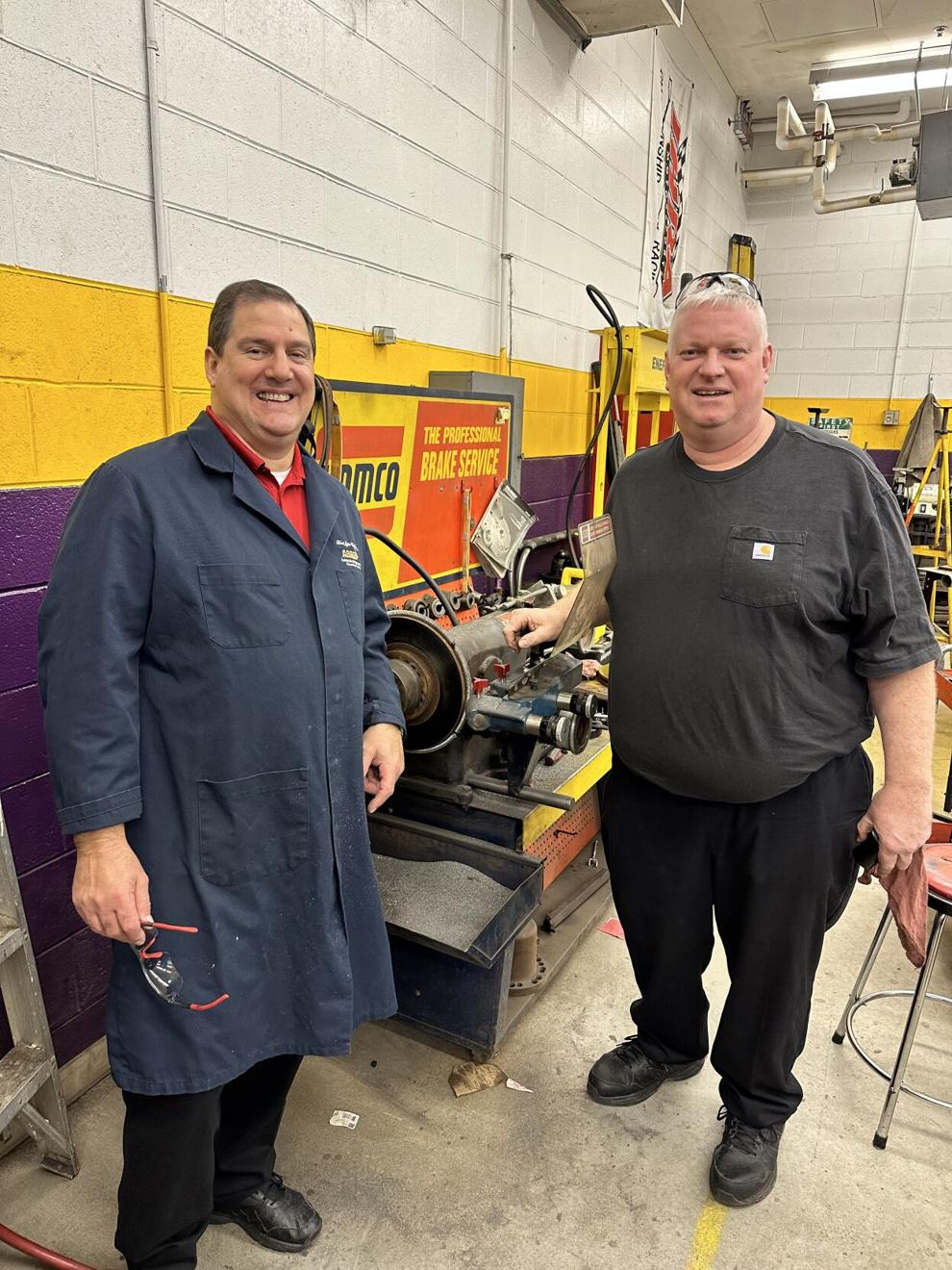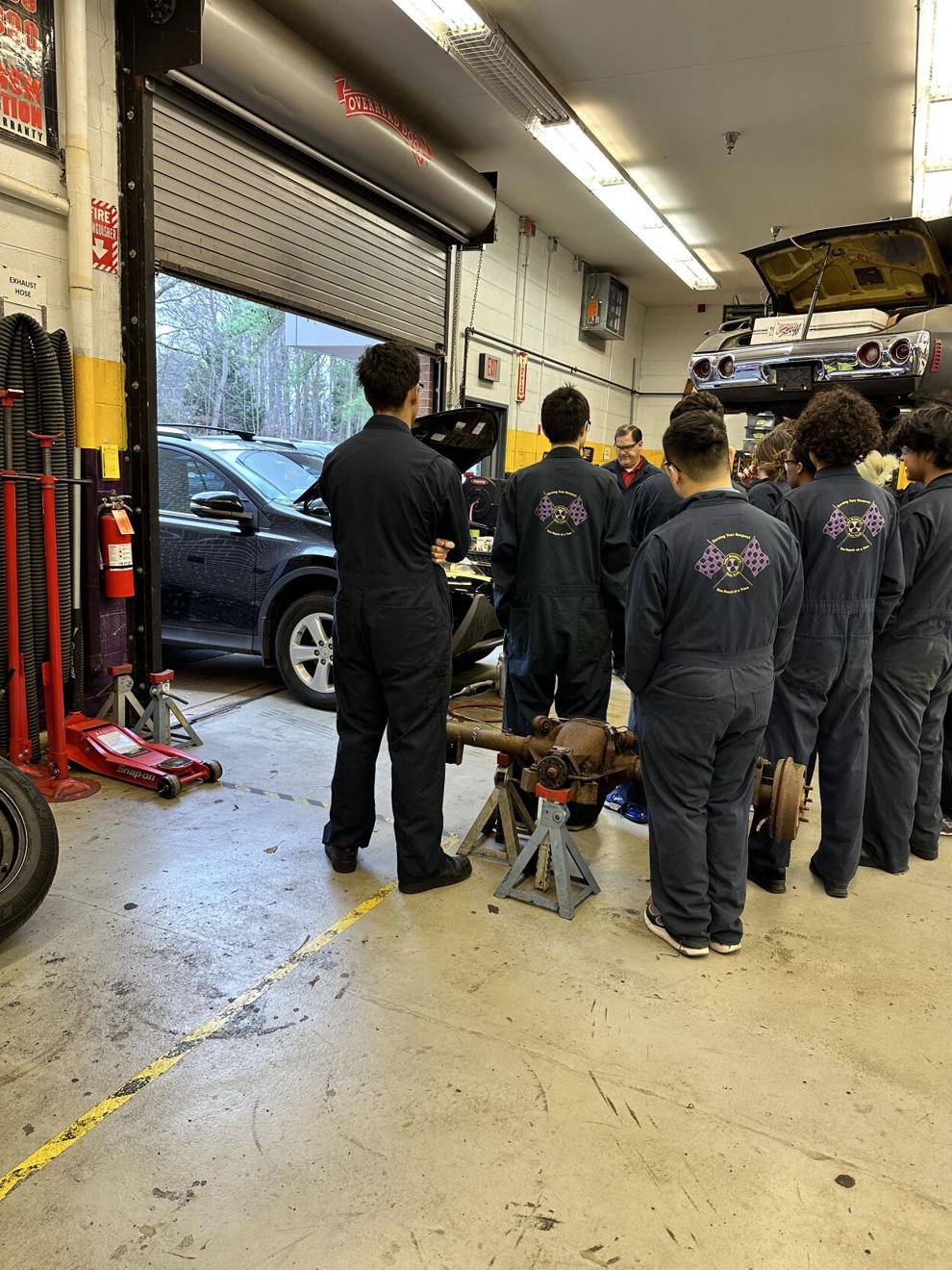 In a shop class in Burke, you will find two teachers with more than 50 years of teaching experience combined. From the outside looking in that might not be a shocking revelation. But Dominic Prakash and David Plum have a much deeper story than that.
They first crossed paths in middle school, as part of the first class to go through Langston Hughes Middle School in late 70s, taking shop classes together when they went to South Lakes High School. If you asked either one of them back then, being teachers together and walking the halls of Lake Braddock Secondary School was not something they considered.
Both were highly encouraged by their parents to find what they loved, and continued to follow one another through life, developing and honing their skills. 
"When I left high school, I thought I was training to be a kitchen manager," Prakash said. He asked David if he needed a job, "so I got him a job and we started working together at Friske's," a local eatery that was owned by Great American Restaurants. 
Prakash is also Plum's biggest fan. He is always looking for an opportunity to share how amazing is Plum is. He speaks about his friend admiringly, sharing that things weren't always easy for Plum. 
"At the time there wasn't a lot of help, and he struggled with dyslexia. I was the nerdy kid who didn't have a lot of hands-on experience" said Prakash. "In high school, they joined together to lift each other up in the areas they each excelled in. "He helped me with the stuff he was comfortable with, and a lot of the reading and book stuff we did in class I would help him and we found a balance."
Before graduating from high school Plum left the restaurant and got a job at a gas station nearby. When Prakash was getting ready to graduate the next year his dad sat him down to talk to him about what he wanted for his future. "He knew I was on a career path," Prakash said. "But he wanted to know if there was something else I was passionate about."
When Prakash shared that cars might be more than just a hobby, his dad set out to help his son find his avocation. While Plum continued working at the gas station, Prakash's dad set up an interview with Johnny Koons, the original owner of Koons Auto, whose secretary he knew from playing tennis.
Pretty soon both boys were reunited, working for Chevrolet. After more than 10 years in the business Plum's dad, Ken Plum – FCPS teacher and administrator for whom the Plum Center for Adult Education is named – spoke to his son about a unique opportunity to teach adults about cars. Pretty soon, and history would indicate, Plum and Prakash were reunited, helping each other out. Ken Plum told the boys they had an opportunity to really do something different. David Plum went first and began teaching a Lake Braddock. Ken Plum wasn't going to stop there and encouraged Prakash to follow suit.  
"When I can teach with Dave, I'll go," was all Prakash could say. Three years later, the other teacher at Lake Braddock retired and the rest is truly history.
"Creating that peace of mind and that fundamental knowledge of cars," Plum said, is what drives these two middle school friends. 
"People didn't think we'd have a shop class now, no one would want to learn about this stuff," Prakash said."There are no stupid people fixing cars." Their classes are popular and kids will take it one year and keep coming back. 
"I love this class because both of these teachers are just so amazing," said Jonathan, a junior who has been in their class since he was a freshman. "My goal is to buy something like this old Chevelle we're working on, and rebuild it." 
The rest of the class echoed Jonathan's sentiments remarking that this was their favorite class to take. Both Plum, who is the less talkative of the dynamic duo, shrugged off the adulations as the kids in the class shouted their praise of the two teachers. "It was just a one-year contract," "and 20-something years later, I'm still here," Plum shared. "I just love teaching these kids."