FACETS and other organizations worked to bring the holiday spirit to children at Fairmont Gardens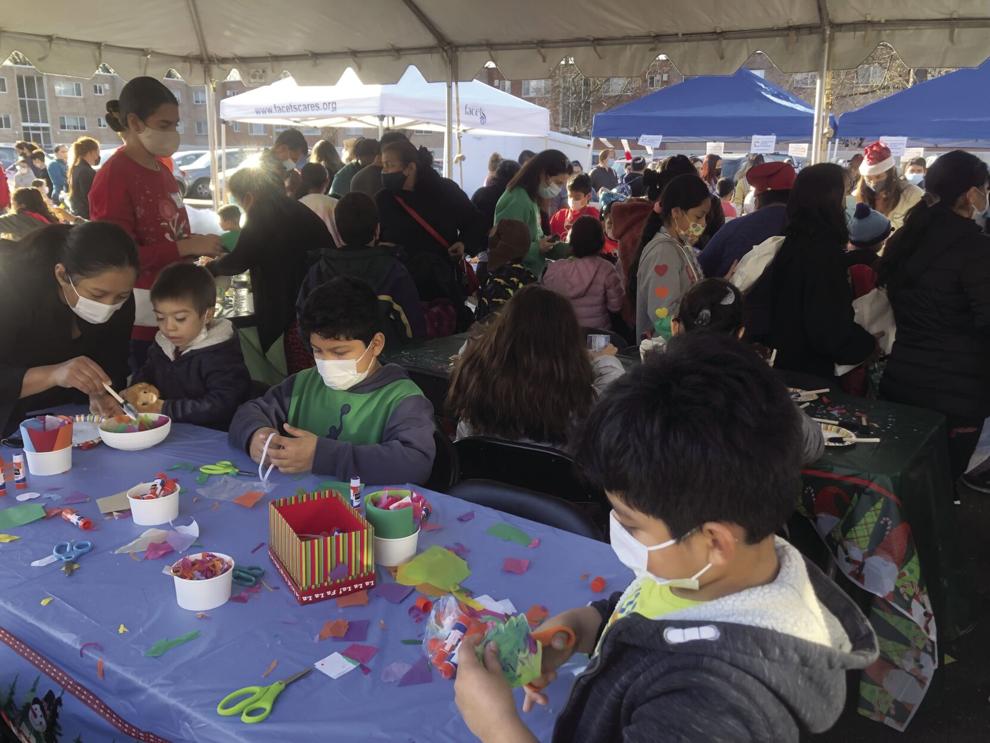 People in the Annandale community came together December 4 for a neighborhood-wide event at Fairmont Gardens, where children could make gifts and decorations for the holiday season.
Walking around the event, stations for youth community members were set up for them to make cards for loved ones, as well as photo frames to give parents. The children also made ornaments, where they could put items such as beads inside. 
The event even included a space to meet Santa and his elf through the Fairfax County Police Department.  
The event was held by FACETS, an organization that meets the needs of those suffering from the effects of poverty in Fairfax County, in conjunction with Kids Give Back and Community Art for Everyone (CAFE). 
Other partners also provided the chairs and tables for stations, as well as hot chocolate. 
​​ "It's about breaking the cycle of poverty with a multi-generational approach. this is a high-poverty neighborhood in terms of looking at the census. But what this program does is it brings in … members of the community as leaders and identifying what the greatest needs are in their community," said Allison Coles, FACETS' senior director of development and communications. 
Coles noted that hundreds of youth participated in Saturday's event. She also noted that Opportunity Neighborhood Annandale, part of FACETS, was essential in discovering the needs of the community through a survey and speaking to those in the neighborhood. 
"One of the things about Opportunity Neighborhood is that it is a collective impact, and it's about bringing everyone together — all the different stakeholders, including the individuals in the community, Coles explained. "That intent is being served to identify the needs, having them be leaders and identifying resources or projects or opportunities, and then bringing the community together. And so this is really kind of beautiful representation [of that]."
Coles said that Opportunity Neighborhood Annandale's Community Director Nayely Lopez, was essential to gather that information, as well as Terry Angelotti, the strategic director. 
"The initial thing she [Angelotti] needed to do was identify first which community in Annandale really specifically could benefit from the Opportunity Neighborhood program. And then it was conducting that survey, about what the greatest community needs were and then identifying leaders and partners and bringing them together. And so you're kind of seeing what that collaboration has brought together," Coles said. 
Aside from helping those who are in need, the event also gave people an opportunity to give back. Teachers from Woodburn Elementary School were out to volunteer on Saturday, 
The community partners and volunteers present at the event shared the sentiment that poverty in Fairfax County should be given more attention.
"There's not a lot of awareness of the intense poverty here ... for the last couple of years, we've really been trying to let people know that there's a serious situation here. I think we're slowly getting there," said Woodburn Elementary School Principal Katy Richman. 
Denise Gavilan, founder of Kids Give Back, said that the organization's mission is to inspire the next generation of leaders by providing children 6 to 12 years old with volunteer opportunities. Founded in 2019, the group has completed various projects within the area. 
"In the beginning of the year with Woodburn — the way our relationship with Woodburn started was one of our board members is an FCPS teacher. And she said, 'You know what, the teachers don't get a lot of love at the beginning of the year, and they're all coming off the pandemic.' So we made 110 welcome baskets. There were crafts in there that the kids made, which they loved. Then there was lotion and snacks, and you know, just treats and things that they need during the day," Gavilan said. 
FACETS is looking for a permanent place to meet and provide resources for people in the county, as well as always welcoming volunteers and donations.