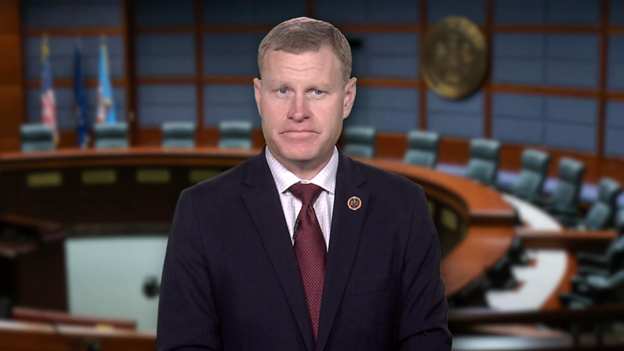 In the annual state of the county address, Board of Supervisors Chairman Jeff McKay reflected on the county's key objectives as well as the impact of the coronavirus pandemic. 
McKay listed five priorities – high-quality education, affordable housing, protecting the environment, improving transit, and reforming public safety practices – at the top of the address and detailed ways the board has worked to meet goals in each area. 
"I'm proud to say we've made considerable progress in each of these categories over the past year," McKay said, noting that the county secured funding for teacher raises. In May, the Board approved a 2 percent salary increase for Fairfax County Public School employees in the FY 2022 budget.
McKay also highlighted the county's $50 million investment in affordable housing. The Board previously set a goal of building 5,000 new affordable homes by 2034, and as of May 2021, approximately 1,800 units had been constructed.
In July, the Board approved a plan to put the county on track to be carbon neutral by 2040 to curb climate emissions. Part of this effort includes an increased emphasis on alternatives to motor vehicles, though many projects currently lack adequate funding. 
McKay then turned to new public safety strategies, several of which were pursued following nationwide protests over policing as well as local events. In June 2020, video footage from a body-worn camera showed Fairfax County Police Officer Tyler Timberlake tasing resident La Monta Gladney without any apparent provocation and placing his knee on his neck, which prosecutors used to charge Timberlake with three misdemeanor counts of assault and battery. 
The incident prompted the Board of Supervisors to expedite the implementation of body-worn cameras for officers. According to Fairfax County Police Spokesperson Sgt. Ian Yost, the department now has 1,210 positions equipped with body-worn cameras, which covers all patrol squads and patrol-support sections.
McKay touched on other public safety initiatives such as the county's Diversion First program, which offers alternatives to incarceration for low-level offenses in cases that involve substance use and mental health disorders as well as developmental disabilities. 
Last fall, the county additionally launched a co-responder program for crisis intervention that aims to address mental health crises in the field and divert individuals from arrest. The co-responder teams consist of FCPD officers and trained clinicians from the Merrifield Crisis Response Center, and county leaders are exploring ways to expand the program to achieve 24/7 coverage. 
The remainder of McKay's remarks focused heavily on the coronavirus pandemic. 
As of Jan. 12, 4,352 people have been hospitalized in the county's health district due to Covid-19 and 1,265 have died. The pandemic spurred several new health and economic initiatives as county leaders worked to respond to the crisis.
County resources administered more than 900,000 Covid vaccine doses, McKay said, nearly half of the more than 2 million doses that have been doled out in the county's health district. Outreach efforts have helped Fairfax County reach a full vaccination rate of 79.4 percent, with 89.1 percent of all residents 18 and older receiving at least one dose. 
The county partnered with local nonprofits such as Neighborhood Health and Cornerstones to provide services, such as medical care and food assistance, for residents in need. 
Cornerstones saw a 600 percent increase in first-time households seeking food or housing assistance, Cornerstones CEO Kerrie Wilson said in the address, noting that 70 percent of those served by the organization are people of color and 60 percent are female-headed households with children. 
The county also offered extensive economic aid, distributing more than $52 million in funding to cover rent, food, and utilities for residents, McKay said. The county also launched the Relief Initiatives to Support Employers (RISE) grant program for small businesses to supplement the federal Paycheck Protection Program, which provided $87 million in aid. 
"The beginning of the pandemic was one of the scariest times for me as a business owner," Thai Huynh, owner of Le Bledo Eatery, a Vietnamese restaurant in Springfield, said in the address.
"The grant we received came at a critical time for us. We needed that right away while we were waiting on the rest of the assistance from the [federal] government. The process was very easy and we got the grant money relatively fast, so it was able to help us fill in the gaps right away." 
 McKay also pointed to the positive impact of the county's paid leave policy and expressed hope other businesses and organizations would follow suit. In 2019, the Board approved six weeks of paid family leave for county government employees, enabling them to utilize more than 368,000 hours in paid leave between Oct. 1, 2020, and Nov. 5, 2021. 
The address concluded by noting the volunteer efforts of residents. Since March 2020, more than 3,000 people have signed up to volunteer with the Medical Reserve Corps, working more than 60,000 hours in tasks such as contact tracing, translations, vaccinations, and more. 
"We consider [our volunteers] as the backbone of the Fairfax County Health Department," Paula Rosca, an emergency management specialist with the Health Department, said in the address. "We are really lucky to know that they choose to serve the county and the communities in Fairfax."