Restaurant's legacy in Kristin Simons's life for the last 24 years
"Our first date was at Clyde's of Reston in December of 1998," said local Kristin Simons about her and her husband Chris. Kristin and Chris have been going to Clyde's for almost as long as the restaurant has been open in the Reston Town Center.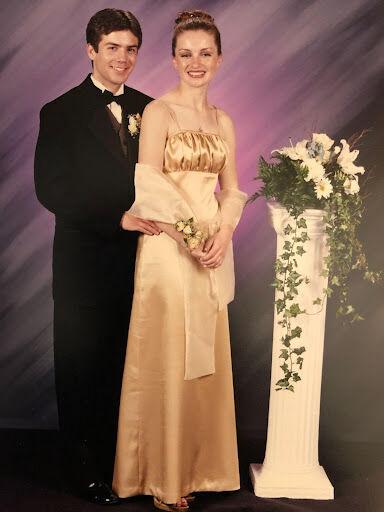 Kristin remembers their meeting fondly.
"On my first day at Chantilly my junior year of high school, my last period class was Spanish. I walked in and all the desks were in pairs. Everyone knew somebody else, so everyone was grouped, except Chris. He was the only senior in the class, he didn't know anyone else, and I was the new girl, and I didn't know anyone else. So, we got paired up."
Chris asked her out right before Thanksgiving break. The two had to wait for Kristin to turn 16 as per her father's rule on dating. They didn't wait long, scheduling their date for the Saturday after her birthday.
It was a chilly night in December 1998. Chris drove up to Kristin's house for their date, picked her up, and made a beeline to Clyde's. The two spent the evening talking over dinner and finished the night off skating at the ice rink. The rest is history–one that Clyde's is a part of.
Chris went to JMU and Kristin went to William & Mary but the pair got married in September 2008. They stayed in Reston early on and moved into their house in Oakton more than five years ago. Clyde's remained their go-to place, no matter the occasion.
"We've gone there plenty of times over the years with family, friends, doing brunches, and taking our kids," said Simons. For birthdays, promotions, and outings with family from out of state, the answer was simple: head to Clyde's.
"You knew, if you went to Clyde's, you were guaranteed a good experience, friendly atmosphere, and good food…," said Simons. "It was always an open place where you know you can get in [with] a warm, inviting environment."
Clyde's of Reston is slated to close by the end of May. The absence of Clyde's from the Town Center will be pronounced, especially for the Simons.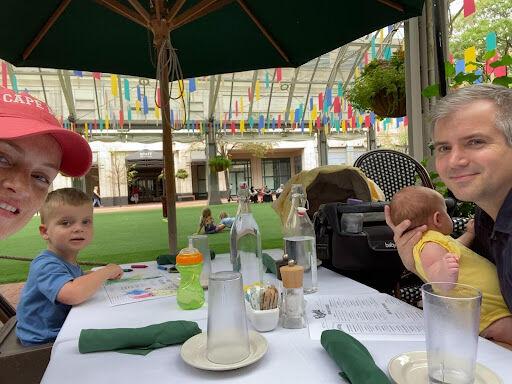 "They played a part in our lives and are a special memory for us and we're sad to see them go… Everything in life changes, the only constant in life is change [but] Clyde's was an anchor for us. We'll miss not having that as an option going forward," said Simons.
They will miss and are grateful for every memory spent sitting outside at Clyde's, enjoying family, celebrating achievements, and being together. While their son Jack and daughter Evie won't get the same chance to have their own first dates at Clyde's, Simons wishes to bid adieu to the restaurant with a warmhearted "thank you."
"Clyde's had a big part to play in our lives since I met my husband, for the last 24 years," she said. "There's a lot of fond memories there."