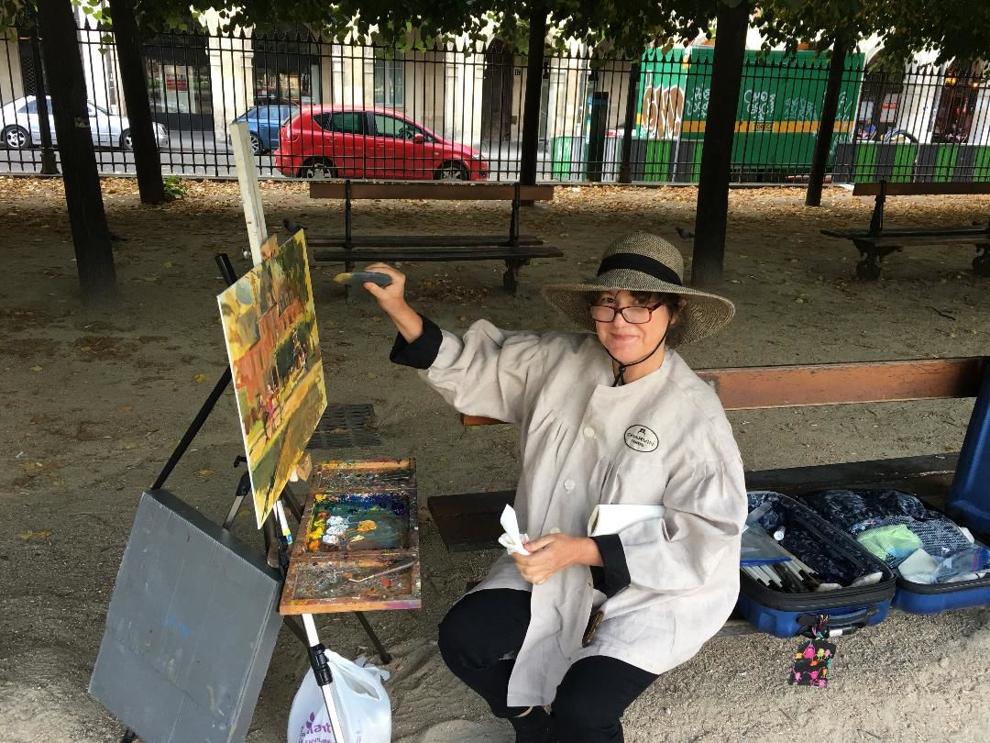 After running a successful business for 16 years, Jill Banks discovered she had a passion for oil painting after taking some classes in Northern Virginia. The Fairfax artist dived into the medium, and soon was showing regularly at the Art League, winning Best of Shows and honorable mentions, making sales, applying and getting juried into national shows, participating in the McLean Artfest and joining with studio mates in a group studio, the Artists' Atelier, to build her art career.
"There was no lack of enthusiasm, energy or knowledge base for building this one. I continue to build on the connections made in the art world locally and nationally," she said. "It's a thriving, exciting, very full career and life that contrasts rather drastically with the public's perception of what being a working artist means."
For instance, this month, her piece "On Top of the World" travels to the Steamboat Art Museum in Colorado for a fiercely competitive juried exhibition of American Women Artists; another piece will be traveling to Michigan for the American Impressionist Society show.
And she's among 200 fine art and fine craft artists chosen to take part at the Northern Virginia Fine Arts Festival, which will take place May 17-19 at Reston Town Center.
"My style has evolved from realism to more and more impressionistic. This has been both a natural and planned progression," Banks said. "Because I paint from life that wiggles, changes, and does the unexpected constantly, my work has naturally become more fluid. Through impressionism, I'm able to express mood, paint the air and light, and leave room for you to fill in the rest. Getting rid of details that detract was planned."
Banks is also a teacher of art, leading classes at the Arts of Great Falls School, and loves being able to open someone's eyes to seeing the world in a new, richer way and discovering that he or she can do something they never thought they could do.
"I'm a great teacher, according to my students … and as ranked by Expertise.com as a Top 9 Painting and Drawing Teachers in the metro D.C. area," she said. "What makes me one is the desire to share the wonderful gift of art in a patient, enthusiastic, encouraging, fun way. Plus, all these years of painting, growing and learning have given me plenty of knowledge to share with students from the complete beginner to the advanced painter."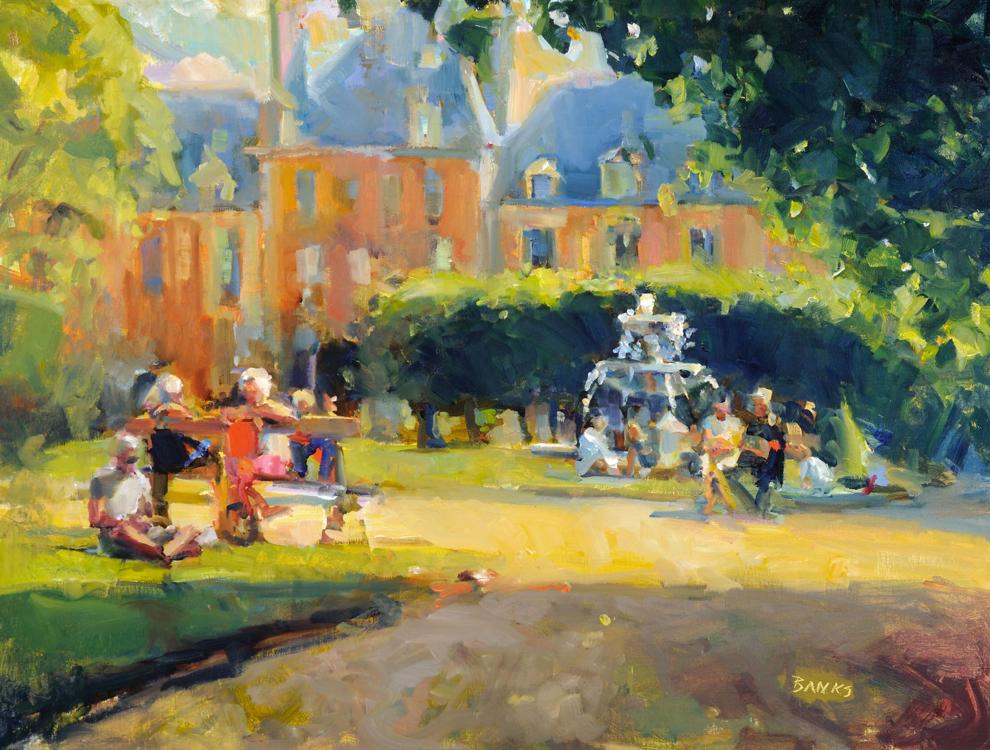 At the festival, Banks will be in Booth #506 on Explorer Street in the Reston Town Center, showing a collection of impressionistic cityscapes and rural scenes from Europe and the U.S., bathed in light and color, created in oils.
"The majority of pieces have been created en plein air—in the open air, on location, with the scene playing out in front of me, with a few larger ones derived from other on-site work," Banks said. "My work captures people gathering in favorite places, catching up with family, friends, neighbors. It fits the setting, as the Reston Town Center is where people meet, sit by the fountain, dine at the cafes."
This is her second time at the festival, having participated several years ago. It was an experience she remembers fondly.
"I loved being there, appreciated being among many great artists, and plenty of people happily brought my work home with them," she said. "In addition to finding new collectors, since I'm local, the Northern Virginia Fine Arts Festival led me to new students and was a great place to reconnect with past collectors, students, neighbors and friends."
Connecting artists with art lovers is what the festival is all about and Banks feels it's a great opportunity for both to share in their love of art.
"When people find a piece that completely entrances and connects with their souls, and that piece happens to be yours, it is such an incredible joy," she said. "I love every moment spent painting and creating. Then, to have someone be happy to purchase and bring my work into their lives every day, well, that's amazing and deeply fulfilling. I'm doing what I was meant to do. While not saving lives, I'm enriching many. This festival is a chance to do more of that."
Married to her husband Randy for 39 years, a mother of two, with two grandchildren, Banks got a late start to art classes herself, but wants people to know that it doesn't matter when you start, if you have determination you can do it.
Also in May, the artist's still life vs. street scenes will be exhibited at the Great Falls Library.
"My work captures the joy of life. I've heard repeatedly that people don't feel like they are looking at my paintings, they feel like they are in them," she said. "So I've succeeded in bringing the viewer right by my side, enjoying the thrill of being right there. Each of the paintings in the show is an example of that."