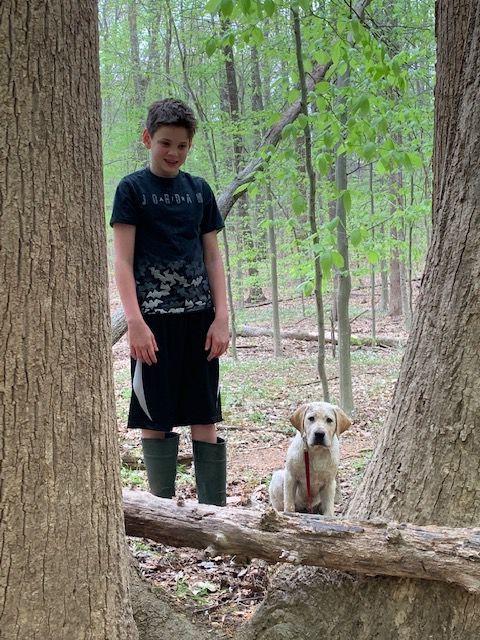 A local Fairfax mother/son pair -- Nancy and Ryan Klein -- are raising their first puppy for a New York non-profit, Guiding Eyes for the Blind (GEB). They are currently raising Brandy. Ryan will train Brandy until April, when she will return to New York for her formal training and assessment. He hopes to start raising another GEB pup shortly after.
Once Brandy has completed her guide dog training, she will one day be paired with someone who is blind -- giving that person unprecedented freedom and independence at no cost to them. The entire process costs about $50K, but the recipient never pays a dime.
We had this conversation with Ryan's mother, Nancy Klein:
What organization do you represent? What does the organization do?
Klein: I am a volunteer puppy raiser for Guiding Eyes for the Blind (GEB). I participate through the Dominion Region, which is based in Fairfax. GEB provides trained dogs to people who are blind and visually impaired at no cost to the recipient.
Please share with me Ryan's age, the school he attends and his experience with dogs.
Klein: Ryan is 12 years old. He is a 7th grader at Robinson Secondary School in Fairfax. Ryan has been a pet sitter for neighbors in the past, and he has his own dog Stella, an older Labrador retriever.
How did Ryan get interested in the training?
Klein: Ryan became interested in Guiding Eyes for the Blind after I had done some research on volunteer opportunities for our family. One of the ideas I presented was raising a service dog. Ryan immediately said "yes" to the prospect, so we signed up for the puppy sitter classes through the GEB Dominion Region in October 2018. At the time, Ryan was still in elementary school. He enjoyed the sitter experience so much that he asked to become a puppy raiser after only a few months.
How long has Ryan been doing the training?
Klein: Ryan has been training Brandy since February 2019, when Brandy arrived to us at 8 weeks old. For the first two months, Ryan attended class every Sunday with Brandy. He also worked on house manners, socialization and simple outings with her. After Brandy earned her vest at four months old, Ryan started taking Brandy on a lot of outings (ex: malls, restaurants, grocery stores, sports practices) and still continues to attend classes twice a month.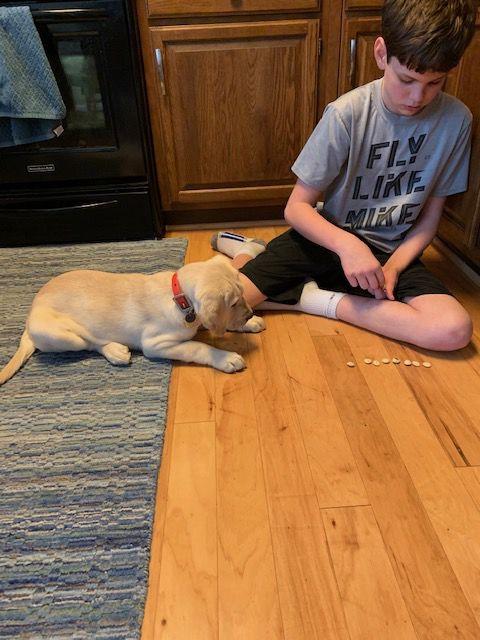 Did Ryan receive any training before working with the dogs? If so, what?
Klein: Yes. Puppy raisers attend classes to learn the fundamental skills of working with GEB pups. Ryan attended three separate classes, and he also had hands-on experience by sitting for different pups before Brandy arrived. As a sitter, you take care of a GEB pup for at least several days and can experience pups of different ages.
How are the dogs used in this program selected?
Klein: The Guiding Eyes dogs are "purpose bred" for the superior health and the temperament needed for guide work. They are all born in New York. From 0-8 weeks, they receive early training and socialization. At 8 weeks, they are placed with a puppy raiser to learn key skills. At approximately 15 months of age, they return to New York to learn guide skills with a trainer.
Once trained, what will the dogs be able to do?
Klein: GEB dogs learn the skills needed to safely guide a person with vision loss, such as indicating changes of elevation and navigating around obstacles. They are taught "intelligent disobedience" and will ignore the command to move forward if a car or other dangerous object is in their path.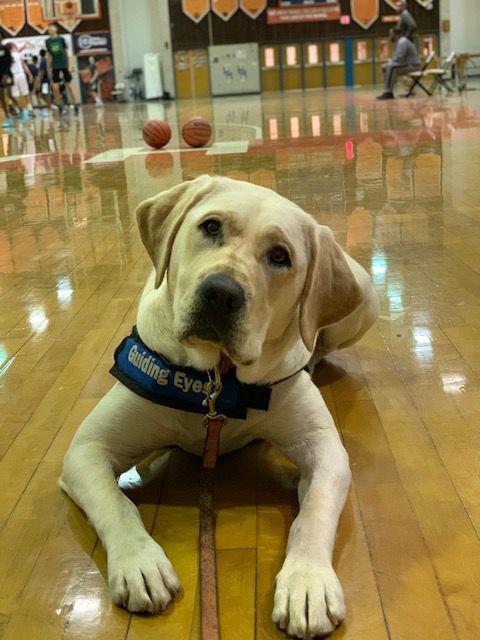 If there is anything I have not asked which you would like to share, please share below.
Klein: Being a puppy raiser is a big commitment but is tremendously rewarding. Ryan has truly enjoyed this experience! Ryan would like to share that, with the support of their family, kids can be puppy raisers, so please spread the word. Our local website is: https://gebdominion.org.