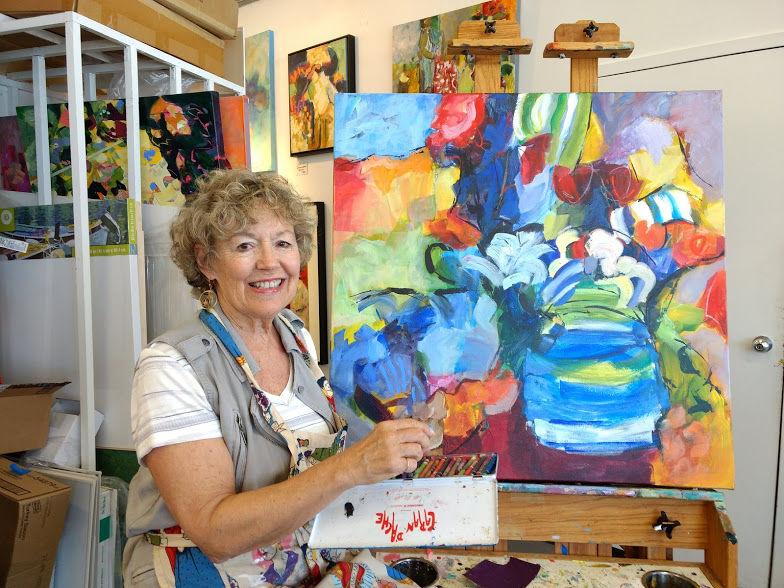 This is how I can describe the effect of her art on me: energizing, but unsettling. Ann Barbieri, who was born in Washington D.C., is one of the artists who will be sharing her art with the world during the 27th annual Northern Virginia Fine Arts Festival at Reston Town Center from May 18 through May 20.
According to the artist's website, Barbieri was recognized as "Artist of the Year" in 2004 by the Friends of the Torpedo Factory. Also, the United States State Department has selected her work for its Art in Embassies program.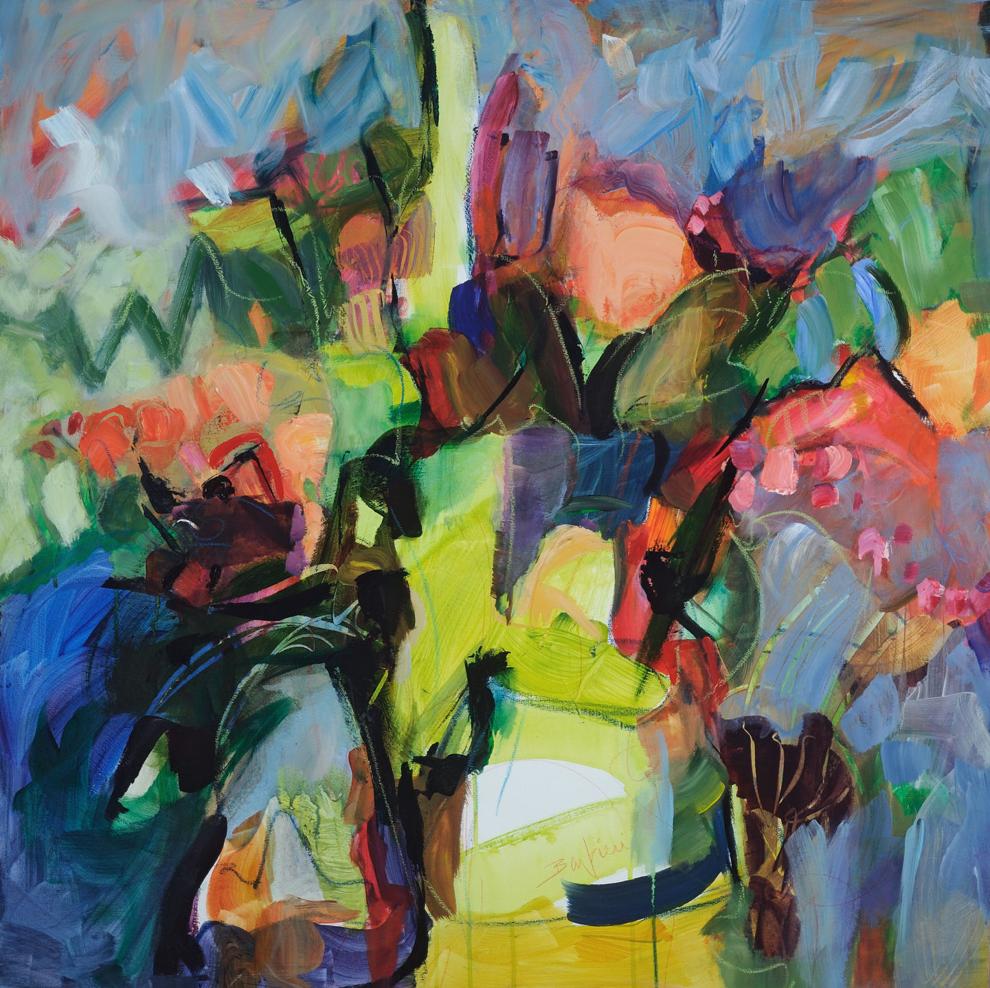 I stopped at her "Edge of the Cliff" painting and then at her words on her website: "I strive for rhythm and movement in my paintings." Yes, I can see that. Don't you see it too? She continues: "They are loose and sensuous and often have the suggestion of a figure somewhere within. I draw often from the model and that attempt to capture the gesture creeps into my work even if it's not meant to be figurative." In response, I asked her these questions:
How can you describe your art?
BARBIERI: My art: colorful abstracts, often with mixed media, such as oil crayon or collage.
When and how did you discover your style?
BARBIERI: My style has evolved over the years. As I am changing and growing, I would hope that my art does too. When I visit friends' houses today and see paintings done years ago, I see a couple of similarities to those of today: bold color and gesture, use of pattern and line.
Tell me more about your painting "Edge of the Cliff." What was the process of creating it? What does it mean to you?
BARBIERI: "Edge of the Cliff" probably started with an urge to put certain colors together. As is often the case with my paintings, it has a landscape, garden and plants feel, with a path running through it. The title has a double meaning: It is a good title for a wild landscape and for the risk of leaving the bright yellow-green area seemingly unfinished. I just love that first wash of color creating a pathway through the painting.
How important is the Northern Virginia Fine arts Festival to you?
BARBIERI: The NoVa Fine Arts Festival is very important to me. It's one of only two times per year that I get out of my studio at the Torpedo Factory and exhibit elsewhere. And as a longtime member of the Greater Reston Arts Center, I was in the very first festival, with about 40 artists and no tents, so it's a tradition. And I usually see many old friends and collectors of my work.
Which artists are you excited to meet?
BARBIERI: Frankly, I'm usually too busy to meet any other artists except the two with tents on either side of me, and I've always had a lot of fun with them. This year, there is the artists' party on Saturday night, where the prizes will be given out, so I may meet some then.
What is your vision for the future of art? What is your advice for female artists?
BARBIERI: Art can beautify one's home and one's life. I hope that people continue to recognize how much a beautiful piece of art can cheer you up and make you smile. My advice, besides "practice, practice, practice," is to familiarize yourself with social media as much as possible. That's where people are looking.