Main Street Marketplace was alive with art lovers on the evening of Saturday, Jan. 11, as the Artists Coalition of Fairfax (Artcofair) celebrated the opening of its new gallery. Some 80 people came to view about 100 original works in oil, acrylic, watercolor and mixed media in a variety of styles – realistic, impressionist and abstract -- by nine local artists.
"The collection was received very well by attendees and generated a lot of interest," said Fairfax artist Oscar Vigano, who founded Artcofair in November 2014 and serves as its president. Artcofair, he explained, is "dedicated to stimulating the appreciation of the fine arts and the development of artistic talents in the community," he said. "It functions as a nexus between the community and artists, providing artists the means to be recognized and connect with the public."
The group currently has "20 members -- and it's growing," Vigano said. Most of the artists live in Fairfax County and Prince William County, but the exhibits are open to all northern Virginia artists. He plans to organize curated exhibits and pop-up shows as well as "other artistic activities that include local artists and venues," he added. "Beginning in February, we will change the exhibits monthly, program different artistic and cultural events, have juried art contests, offer space for workshops and integrate sculptors into the exhibits."
The opportunity to rent the new venue at a price "within our budget" came a few months ago via "a very good friend" of Artcofair, Vigano said. "We at Artcofair are always seeking permanent spaces where we can evolve, reach the community and provide local artists with more affordable opportunities."
He noted that the main advantage of the new 930-square-foot space is its 75-foot-long walls, "which are perfect for hanging shows."
In addition, Vigano said, "this space is allowing us to test the sustainability of our collective model. As a nonprofit organization, we have the advantage of not having the pressure to produce a business income, so only rental expenses are our financial goal. To that end, our group of artists contributes with fees and portions of their sales to sustain the gallery."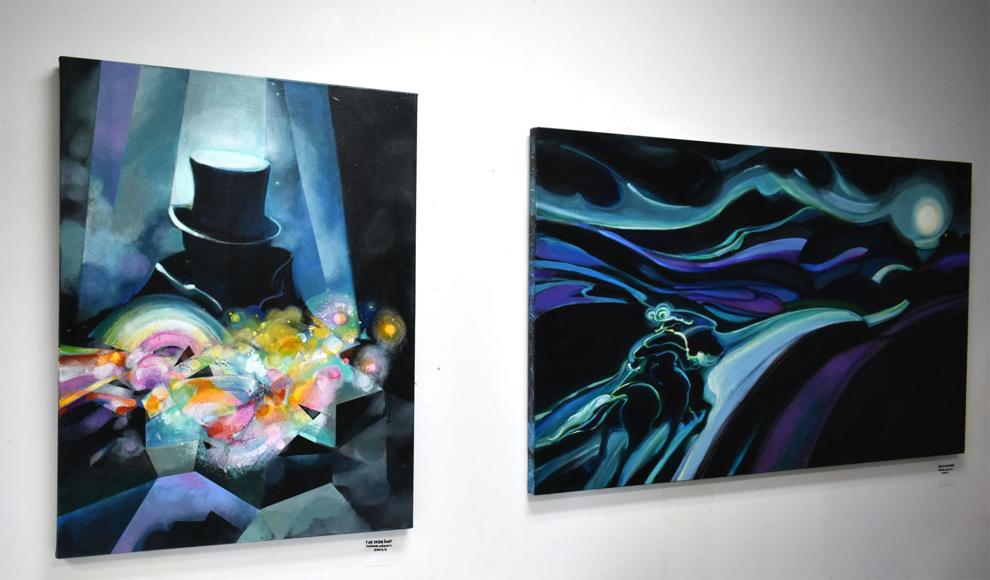 Vigano – a painter, watercolorist and wood carver – said he "works in a distinctive impressionistic style that emphasizes movement and expression." He studied fine arts in his native Argentina, and started his career illustrating and writing for comic books at age 17. Upon moving to New York in 1962, he illustrated and produced slide presentations for film studios. Later that decade, he worked as a consultant for IBM, "establishing the world's first computer animation studio that produced the first-ever computer-generated commercial cartoons,"he said.
After Vigano began exhibiting and selling his art in 2012 in northern Virginia, he received four People's Choice Awards at the Old Town Hall Gallery. He has served as president of the Fairfax Art League and curator for the City of Fairfax's Stacy C. Sherwood Rotary Gallery.
The new Artcofair gallery is a work in progress, with Vigano still working on the final strategy."I am preparing surveys to see if I can develop the exhibits in accordance with audience preferences -- and if I should have solo shows,"he said.
With this new gallery, Vigano and Artcofair have taken the first step toward realizing a vision for the future: "being able to bring to our community a variety of cultural experiences emphasizing and embracing the arts as a whole."