"Things That Don't Have Names," the current Stephanie J. Williams exhibition at the Greater Reston Arts Center (GRACE), is deeply metaphorical and introspective but not at first glance. The site-specific sculptural assemblage is also cheerful, vividly colorful and quirky, rendering it fun and highly accessible, too. How much viewers take in depends on their own experiences and predilections and whether or not they are inclined to probe deeper.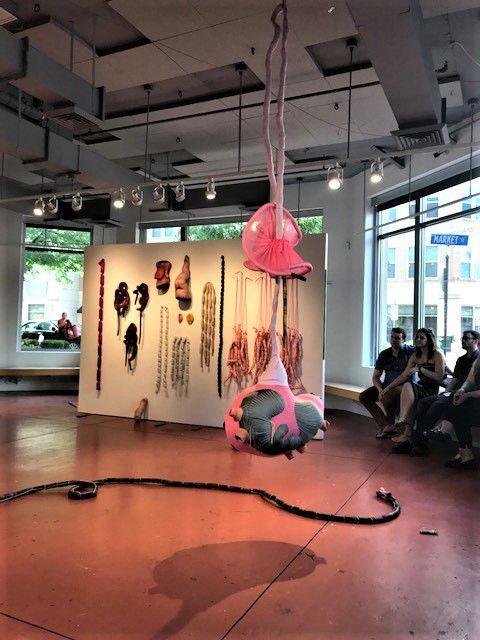 Arranged on gallery walls and hanging from the ceiling are a soft, stuffed and alluringly touchable (but don't, says Lily Siegel, GRACE's executive director) biomorphic forms in a kaleidoscope of intentionally "artificial" colors—fleshy pinks, reds, oranges and yellows and even some blacks and whites that are decidedly and whimsically reminiscent of disassembled body parts.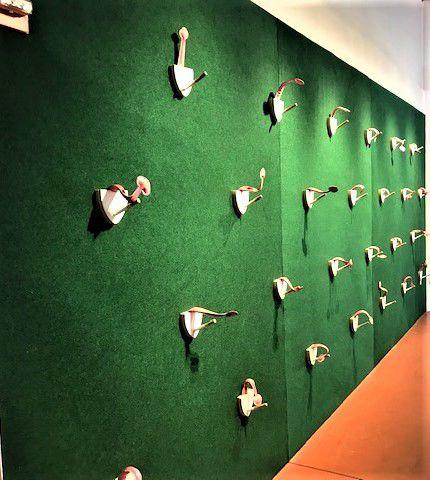 There also are two full facing walls set up like the "rarified space" of a country club trophy room; a grouping of carved wood, undulating forms that are painted on top to resemble athletic tube socks; and another work, possibly made of wrapped wire accompanied by an animated film. All white except for one black strand, this work spikes in a somewhat helter-skelter mass out of an equally white wall. There are lots of possible interpretations—perhaps it's the visualization of anxiety or a full-on panic attack?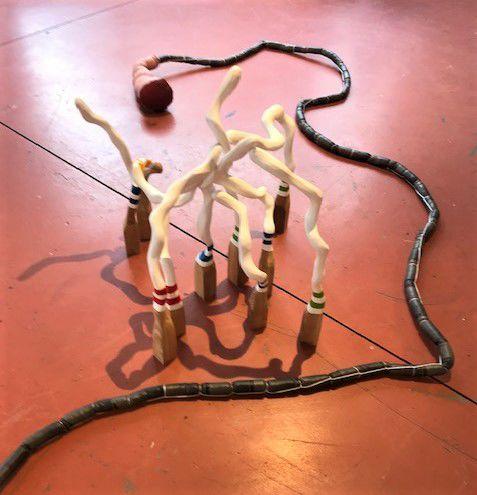 Recently, Williams, also a skilled drawer and painter and teacher of animation at the Maryland Institute College of Arts, sat down at the GRACE gallery for a conversation with Siegel. During this lively and open-ended exchange, Williams and Siegel delved into the underlining stimuli that drive Williams' works, whose central question, they submitted, is "what are you?" It is a question that she is frequently asked by people who are not sure of her origins, said Williams, who is of Filipino and African-American descent. It also is a question that "fascinates" her.
Readily admitting to a dislike of blank walls, William, 38, who grew up in Northern Virginia and Washington, D.C., and now resides in Baltimore, lives creatively surrounded by the miscellaneous stuff of her art—lots of fabric remnants, ephemera and other cast-offs that are regularly reconfigured physically and symbolically for new site-specific spaces. As a child, she recalled, her extremely devout parents packed their home with Catholic iconography, including year-round Nativity scenes. Contributing to her comfort with myriad materials, this family background of "piles of experiences," she noted, is "an important element in my creative decisions."
"By collecting a pile of things and mixing and matching them … they take on specific meanings but then take on other meanings," Siegel suggested.
Williams, who like her artwork is proudly made up of multiethnic and other assorted "parts," agreed. "You take something [originally] pretty bland and leave your mark on it," she explained. "You make them body-like …give them a presence … changes the narrative."
She added, "I like to take something useful, practical and cut it apart and make it weird, take something and flip it … make it more dynamic. … You get combinations that you're never able to predict. … The whimsy is the doorway in."
Describing the "generosity" of Williams work, Siegel further offered, "In your work, you are making yourself vulnerable, like [exposing] our bodies and our identities."
For example, there are thought-provoking implications embedded in Williams' colorful and whimsical sausage- and intestine-like stuffed sculptural forms. Taking her cue from the expression "you are what you eat," Williams, who once contemplated becoming a butcher, suggested that we are much more than the food we ingest—although it is a delicious access point to our own and other cultures. Rather, our identities are shaped and continue to be informed by all the "parts" we assimilate over a lifetime—family background, relationships, experiences and learning of all kinds.
One of the most provocative installations in the exhibition, "Petitionary Prayer," is a sort-of humanoid appendage (possibly a body from the waist down) projecting out of a wall in a bent position and dressed in a plaid, pleated mini-skirt, the kind typically worn by Catholic school girls. The interpretations by conversation attendees ranged from vulnerable innocence to libidinous behavior.
Siegel suggested that the uniform might be seen as a "corrective tactic used by the marginalized to perform within a specific cultural context and to cover bodies that may be seen as different."
The two "trophy" walls, according to Williams, although "playful," also represent the idea of "belonging" as much as "winning." She suggested, "If I have a trophy, it's legitimation."
The tube sock imagery in several of the works, likewise, represents vulnerability, Williams observed. "Gyms," she said, "are really vulnerable places, crosses between glory and crushed dreams."
When planning her works, Williams explained, she likes to play with the tension of "the in-between space." She creates "situations where things can happen."
"Things That Don't Have Names" is on exhibit at GRACE through June 22. A soundtrack of Siegel's complete conversation with Williams can be accessed on GRACE's website, https://restonarts.org.