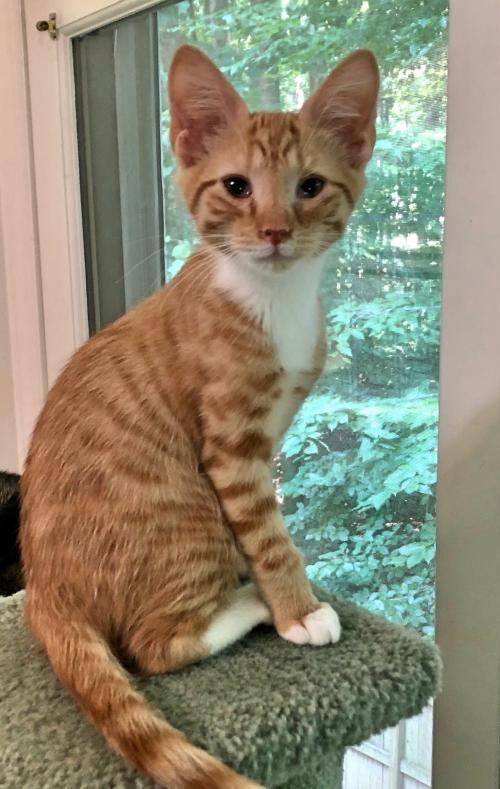 ARAGORN
Breed: DSH
Age: 2 months
Gender: Male Neutered
Aragorn is a very confident kitty. He loves to play with plastic spring toys, and carries them around in his mouth. Aragorn LOVES adult cats. He leaps on them, wrestles with them, plays with them and snuggles with them. Aragorn acts like a child on Christmas morning when he sees an adult cat!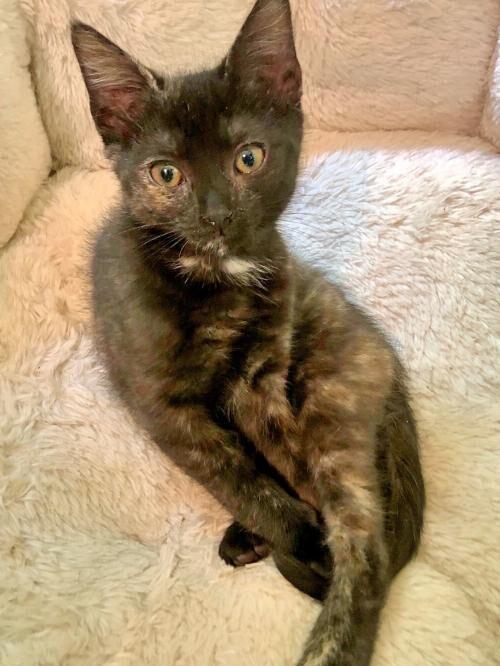 ARWEN
Breed: DSH
Age: 2 months
Gender: Female Spayed
Arwen is crazy for "ball in track toys" of any shape or size, she has several in her foster home and is frequently hanging out at them, giving the balls a run for their money as she bats them around the tracks. Arwen loves wrestling with her brother Aragorn and makes him think he is in charge but gives him a run for his money!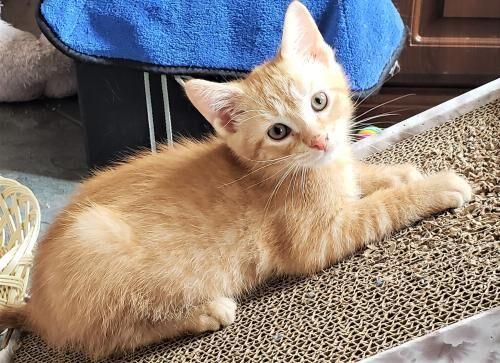 RUSTY
Breed: DSH
Age: 2 months
Gender: Male Neutered
Rusty lives up to his name! This handsome redhead bundle of fun is ready for a new home. He is the leader of the pack amongst his siblings. They like to race around and chase each other and then collapse in a pile to nap together.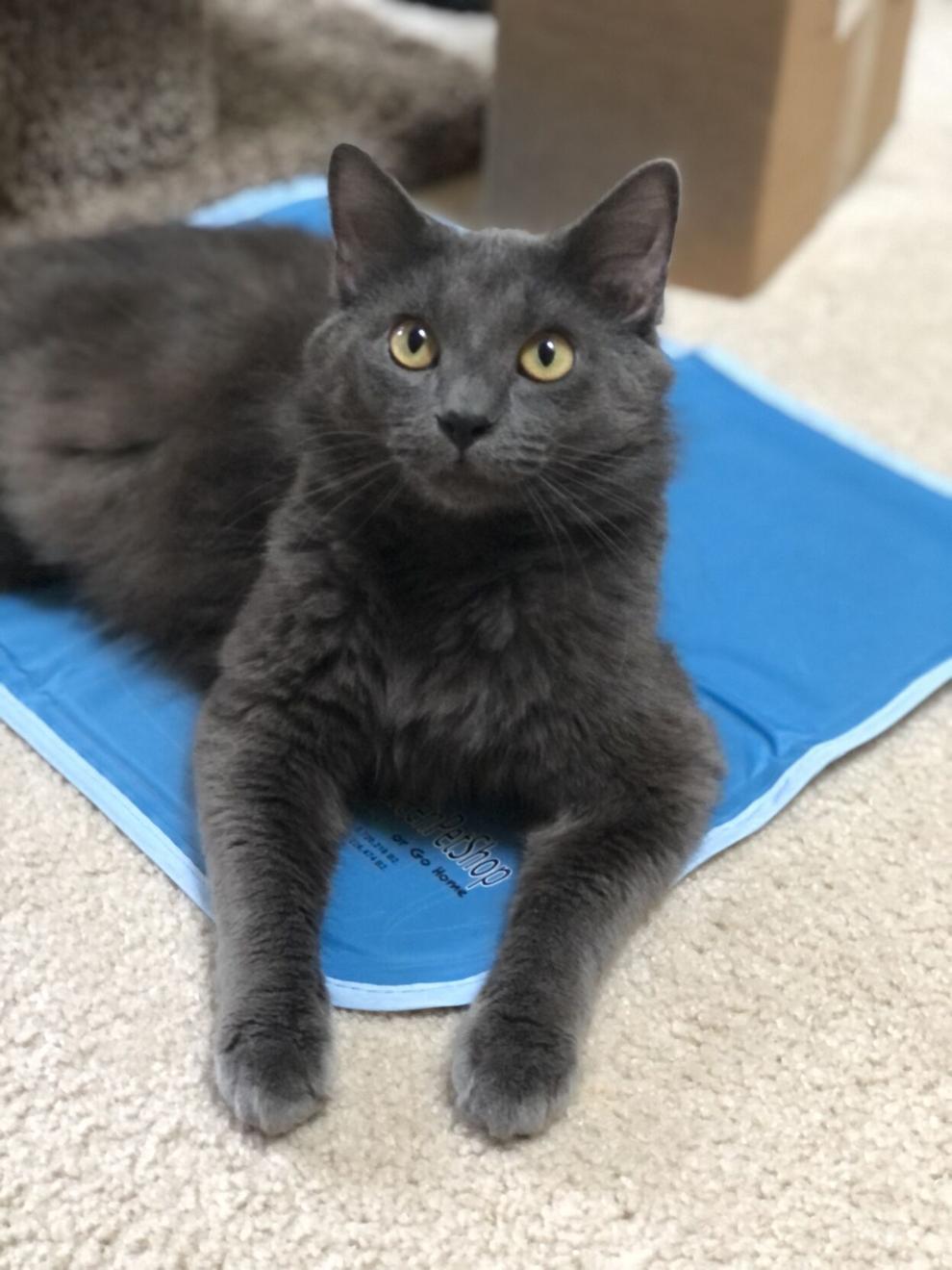 KRUEGER
Breed: DMH
Age: 1 year
Gender: Male Neutered
This stunning gray beauty with amber eyes and medium-length fur is one of the most funny, playful and sweet cats we have met. Krueger is very interactive, and loves to leap high into the air to chase a feather toy or laser pointer. He loves to greet you by twining around your legs and, once he is done leaping and playing, loves to snuggle up next to you and relax. One of the sweetest things is that Krueger likes to suckle on soft, fuzzy blankets, purring like a motorboat the whole time!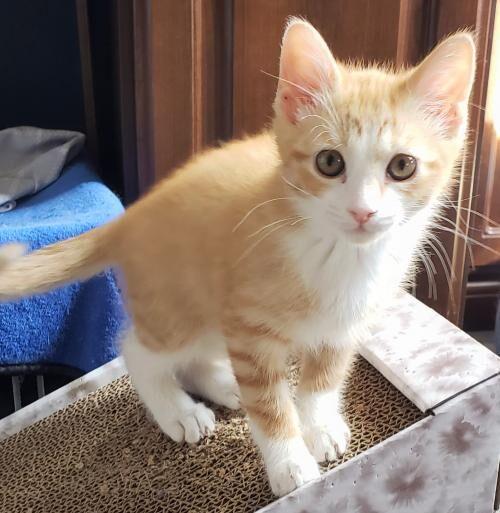 MITTENS
Breed: DSH
Age: 2 months
Gender: Female Spayed
Mittens is an adorable sweet girl with silky fur and four perfect white mitten paws. She purrs up a storm to let you know she's content. Her favorite toys are little plastic springs she can bounce around and chase. She enjoys playtime with her siblings and is looking for a home with one of her brothers or sisters.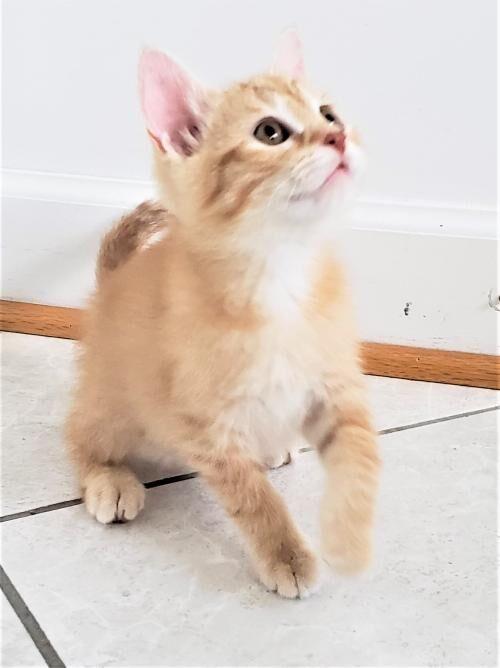 LUCY
Breed: DSH
Age: 2 months
Gender: Female Spayed
Lucy is one of 5 in a litter of orange tabbies. She likes to follow her brothers around as they chase lasers and bat their toy mice. She's a spunky playful gal who loves people and other cats. She is looking for a home with one of her siblings to keep her company.