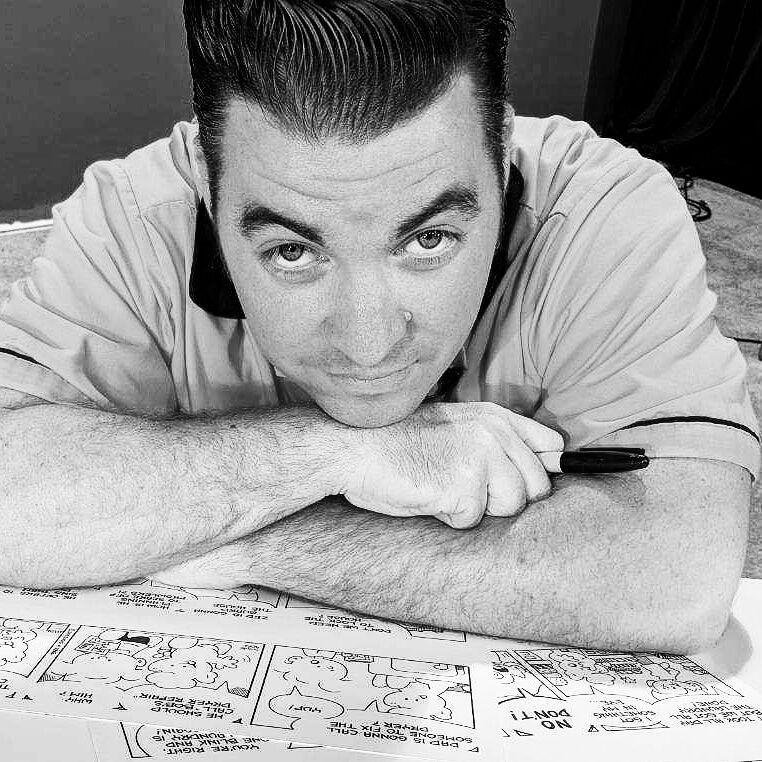 Twenty five years ago, in a small Ohio farm town in Carroll County, a young Duane Abel looked at a piece of dryer lint, and thought--what if it came to life? In 2021, that piece of dryer lint will find a new home at the Fairfax Times, but the man behind the comic has had his own journey as well.
From the age of ten, Abel became interested in creating his own cartoons as well as learning everything there was to know about the craft.
"I began to write letters to every newspaper comic strip cartoonist in the United States seeking their wisdom and advice," he says.
His foundational education in cartooning came from learning from the 'greats', as well as copying the cartoons on cereal boxes and comic books, while he waited for his major inspiration to hit. And when he was fifteen, it did.
"When I was younger my parents put my studio in the basement, complete with a drawing board I still use today, so I was surrounded by laundry hampers, washing machines...and dryer lint. Then one day while doodling I thought,"what if some dryer lint came to life, what would it look like? ZED was born."
From there, he pitched it to the local newspaper, and started running new instalments each week. After graduating high school, he was offered a book deal for ZED, although the company would soon go out of business.
Since then, ZED has appeared in weekly newspapers nationwide and Abel has been able to travel to over 1,000 schools presenting a motivational assembly.
Artistically, Abel is influenced by Charles Schultz, Jim Davis, Brane Crane, Tom Wilson, and "a million more!" As a member of the National Cartoonist society, Abel has had the opportunity to connect with the biggest names in cartoons, earning the recognition and praise of his heroes.
"ZED is a comic strip hug according to PICKLES cartoonist Brian Crane. Whoops did I name drop? Jim Davis (GARFIELD) has called ZED a "great comic strip with a ton of heart". Whoops, I did it again. Marcus Hamilton (DENNIS the MENACE) has said that "ZED is a warm and inviting comic strip," Abel said.
In addition to drawing ZED for the last 25 years, Abel also wrote a children's book called BOWLERS, to be released this June. He hopes to continue drawing ZED for eighty five more years, in a plan he calls "THRIVE THRU 85!"