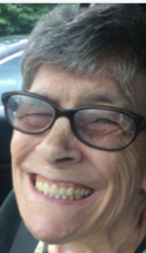 Patricia Whritenhour who was also known as Patricia Anne Sauve born on July 26, 1946 in Ottawa, Canada, gained her angel wings on May 25th, 2020. She was married to James John Whritenhour in November of 1990. 
Patricia was the oldest daughter of 8 siblings born to Albert Francis Sauve of Arnprior, Ontario and Alice Theresa Killarn of Ottawa, Canada. 
She became a naturalized US Citizen on December 13, 2001.  
Patricia had been a member of Floris Methodist Church in Herndon, Virginia since 2008. She attended bible study regularly and she was an advocate for those with disabilities in this local community.  
She loved taking strolls on the bike trail with family, enjoyed going into the city for parades, viewing the beautiful monuments and museums and seeing the cherry blossoms. Patricia also loved the beach and spent a lot of time in Ocean City, Maryland and Solomon's Island.  
Patricia had cerebral palsy, a disorder of the central nervous system. 
During her life she maintained various jobs including: house keeper, mail clerk at the Environmental Protection Agency and volunteering for daycare facilities.  
When she was interviewed in 1996 in an article for the Washington post, titled "Disabled Becoming A Work Force To Be Reckoned With", Patricia quoted "People need to look at what people with disabilities can do, not what they can't do". Patricia also quoted, "It's very important to me to be independent. That's the way I was raised to be." And that she was! 
Patricia loved spending time with her nieces and nephews including their children (her grand's): Tiffany Raynor (Hailli Woo, Morgan Bateman, Gavin Raynor and Liam Maldonado), Megan Eckert, Harris Patterson, Jerry Surbaugh, Allison Kirchner (Dillon Cales and Keleigh Kirchner), Cortney Bristow (Brooklynn Bristow and Colten Bristow), Shannon Ryan, Ryan Sauve, Kristin Sauve, Melissa Sauve, Kelsey Sauve and Justin Sauve.  
Even though Patricia was extremely independent she did need some assistance later in life, when she was not as mobile. Patricia immediately became friends with her case workers, aids, bus drivers and anyone who was supporting her everyday life.  
Patricia had a special place in her heart for Lisa Jackson-Wardlaw who started as her case worker and then became family, along with her daughter Jordyn Smith.  
After her husband passed she needed additional support for daily activities. Patricia then met her best friend; Aminata Labor-Koroma. Aminata and her daughters (Fatimah and Kadijah Labor-Koroma) supported Patricia on a daily basis and treated her as their own.  
Patricia is survived by her siblings: Judy Fantaski, Robert Sauve, Deborah Patterson, Barbara Harris, Patrick Sauve, Mark Sauve. 
She is now with her brother, Steven Sauve in heaven. 
In lieu of flowers, please feel free to donate to: Cerebral Palsy Alliance Research Foundation in Patricia Whritenour's name: https://cparf.salsalabs.org/donate/index.html
Born July 26, 1946 | At rest May 25, 2020