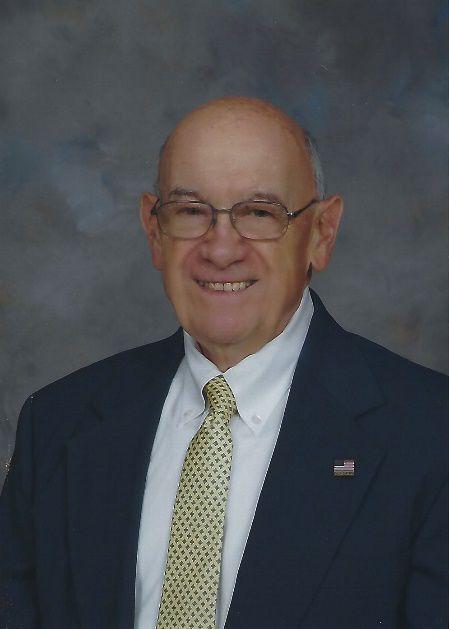 Kenneth "Ken" Anthony Frassa, 88, of Fairfax Station, VA passed quietly on May 21, 2018 at Westminster Heath Center after a brief stay. He was a past resident of Westminster Assisted Living Community in Lake Ridge, VA.  Born in Hackensack, NJ, Ken grew up and attended school in Hudson, NY. He graduated from Renssalear Polytechnic Institute in 1952 with a Bachelor of Science degree in Chemical Engineering. After graduating Rensselaer, Ken married his high school sweetheart Janet Bernice Hermance, of Hudson N.Y. Ken and Jan put down roots in Woodbury N.J. where he started his 35-year career with Mobil Oil Corporation in Paulsboro N.J. They began raising a family and had four children: Deborah, Chris, Douglas and Elizabeth. In 1963, his job lead to a transfer to Mobil's New York City Headquarters and the family relocated to Northport, Long Island N.Y. In 1974 Ken lost Jan after her courageous four-year battle with cancer.
Love doesn't always find you a second time in life, but Ken met and fell in love with Corinne Hanley West of Northport. After a respected courtship they married and started life together with a blended family, adding Sean, Timothy, Patricia, Michael and Danny West. Change came again in 1980 when Mobil relocated Ken and Corinne to Fairfax, VA. Here they lead an active life with friends, neighbors, civic organizations and their respective churches. They loved to travel and visited Alaska, Australia, Ireland, Italy and took a cruise through the Panama Canal, which was a lifetime dream of Ken's.
Ken retired from corporate life in 1987 and was not ready to sit in the rocking chair, so he started a home inspection business and then a petroleum consulting business, working with Lubrizol Corporation. He traveled along the East Coast going to small airports, testing aviation fuel and to railroad yards testing fuel on locomotive engines.
Over the course of his life, he enjoyed fishing, boating, target shooting, working on cars, working in the yard, wood working and fixing anything that needed it; he was an all-around handyman. He enjoyed many trips far and wide with the Mobil Potomac Annuitants Club of which he was a longtime member. He was also a Mason and long-time member of the Clarksboro Lodge #87 in Clarskboro, NJ. His membership in the National Bluebird Society prompted participation in bluebird nest monitoring. Each spring for over 10 years, he would faithfully tend to bluebird boxes every week at the Country Club of Fairfax. In later years, he became a docent at the Smithsonian's Udvar-Hazy Center in Chantilly, VA and enjoyed sharing information with visitors about the history of the many planes on display. Lastly, Ken was a long-time member of Clifton Presbyterian Church, Clifton VA, serving an Elder, chair of the Administration and Finance Committee, member of the Building and Grounds Committee, an usher and head egg-cook for the Men's Club Saturday breakfast meetings.
He leaves behind his supportive and loving wife of 42 years, Corinne Hanley (West) Frassa. Also surviving are his children Deborah (Scott) Griffith, Chris (Kathy) Frassa, Doug (Donna) Frassa, Liz (Aaron) Gilland, Tim (Vicki) West, Patty (Peter) Lorenzen, Mike (Ginny) West, Dan (Christine) West, 16 grandchildren, 8 great grandchildren as well as his sister Jean (Frank) Starkes of Claverack, NY and 4 nieces. Ken is predeceased by his first wife, Janet Hermance Frassa of Northport, NY, his parents Mike and Mary Frassa of Claverack, NY and step-son Sean West of Northport, NY.
The family gratefully acknowledges George Staples for his dedicated and loyal friendship, Reverend Lynn Stanton-Hoyle for her spiritual support and guidance and Helen Hipps for her medical support and guidance.
A memorial service will be held on June 23, 2018 at 2:00 P.M. at Clifton Presbyterian Church, 12748 Richards Lane, Clifton VA 20124. The family will receive friends immediately following the ceremony. Condolences may be sent to "The Frassa Family" c/o Liz Gilland, 79 Oak Ridge Drive, Lugoff, SC 29078. In lieu of flowers, contributions may be sent in his name to Heifer International (www.heifer.org) or Clifton Presbyterian Church.