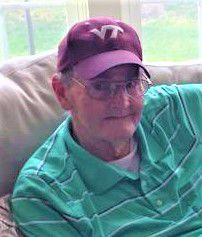 John H. Merold of Oak Hill, VA passed away peacefully at home on Wednesday, May 16, 2018, at the age of 77 after his courageous battle with cancer.  He was the son of the late Harry Merold and Ruth (Freeman) Merold.
He is survived by his loving wife of 36 years, Beth; children Doug (Kathy), Anita (Mike), Daniel (Heather), and Joshua; grandchildren, Alina, Nicholas, Dylan, Ethan, Jace and Harper; sisters, Larrie Maines (Harry) and Maggie Lynn (Rocky) and numerous nieces and nephews.  John was preceded in death by sisters Diane Merold and Patricia McLean.
Raised in Arlington, VA, John graduated from Wakefield High School in 1958 and Virginia Tech in 1962.  He worked as a mechanical engineer (civilian) and retired from the US Navy, Naval Sea Systems Command in 1997.
John enjoyed playing bridge, bowling, playing the slots, working on cars and air conditioners and watching his Virginia Tech Hokies and various other sports, working crossword puzzles and Sudoku.
Stop by and say goodbye to our beloved John, Johnny or JMFB at the Fairfax Station Train Museum on Wednesday, June 20, 2018 between 1 and 3 PM.  Address is 11200 Fairfax Station Road, Fairfax Station, VA 22039. Refreshments will be served.
In lieu of flowers, donations in John's memory can be made to The Prostate Cancer Foundation at www.manyvscancer.org/johnmerold.