The American Ballet Theatre (ABT) will be performing "Swan Lake" at Wolf Trap July 11-13, and McLean's own Ingrid Thoms will be returning home to be part of the performance.
"I am most looking forward to sharing my company with the northern Virginia community, especially with such an iconic ballet," Thoms said. "Performing 'Swan Lake' in an outdoor theater will also be special, and I hope it will add to the ambiance of the show for dancers and audience members alike."
Thoms began her training at the Kintz Mejia Academy of Ballet in McLean and continued her ballet training at the Harid Conservatory in Boca Raton, Fla., from 2013 until 2016. In September of that year, she started studying at the American Ballet Theatre Jacqueline Kennedy Onassis School under the direction of Cynthia Harvey.
She joined ABT Studio Company in September 2017, joined the main company as an apprentice in December 2018 and became a member of the corps de ballet this past June.
Growing up, Thoms just knew that there was no other path in life that she wanted to take and was always especially interested in joining ABT. She attended Spring Hill Road and Churchill Road Elementary Schools, and Longfellow Middle School before leaving Virginia for the boarding high school for ballet in Florida.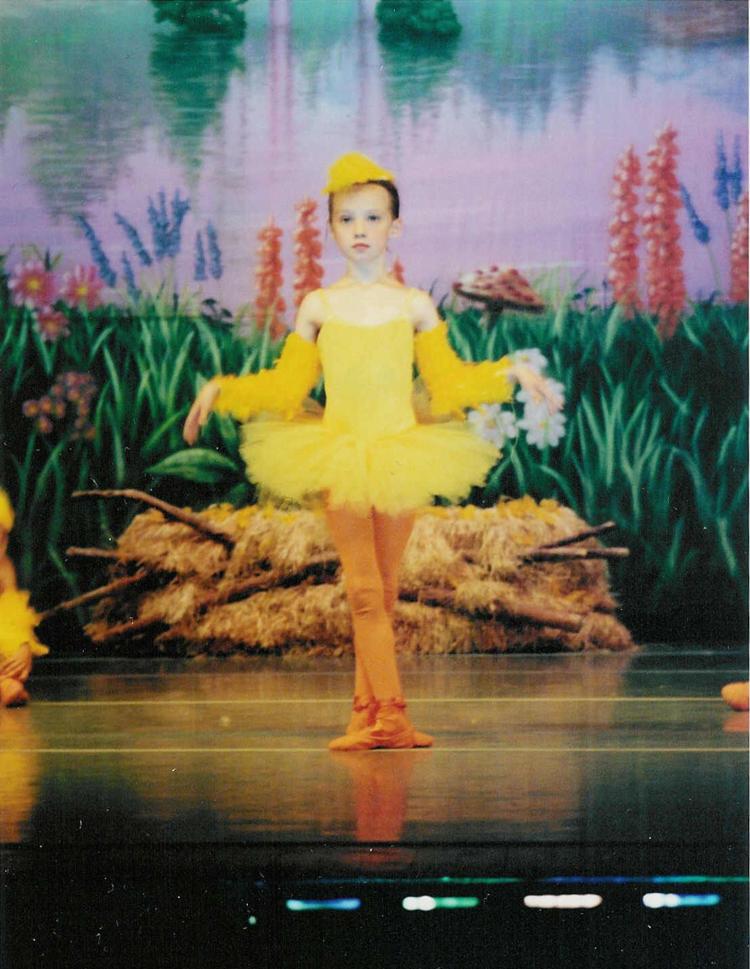 "I began dancing when I was three years old at the local rec center. The classes stopped being offered so my parents decided to find a more serious studio since I clearly enjoyed it," she said. "During my time at the Kintz Mejia Academy of Ballet, I developed the foundation that carried me through the remainder of my training and now into my professional career. I learned just how detail-oriented this art form is and how I would have to completely dedicate myself in order to succeed."
She calls dancing in this company as "truly a dream come true" and is excited to be coming back home to show what she's been learning.
"Wolf Trap being so close to home is exciting because I will be able to dance for many friends and family during these performances," Thoms said. "I also get to drive my car to work this week—which is not something I would ever do in New York City."
In the ballet, Thoms will be performing as a swan, as well as a peasant in the mazurka, a classic folk dance.
"The swans in 'Swan Lake' are one of the most iconic corps de ballet roles in classical ballet," she said. "Many of the steps we perform as swans are done in perfect unison, which is one of the biggest challenges of being in the corps. There are so many details that have to be considered, such as the tilt of the head or the shape of the arms and fingers."
As she did when she was younger, she hopes there will be many children coming out to see the ballet and be mesmerized by the production.
"I hope that audiences will enjoy being brought into the world that we are creating for them," Thoms said. "ABT is special because we really value the artistic and story-telling elements of ballet as well as the technique—both of which are showcased in 'Swan Lake.'"
She has thoroughly enjoyed her time with ABT and being part of this production.
"There is a magical feeling on stage when you are a swan, which I get excited for every show," she said. "The dancing we do is very demanding and we all rely on breathing together and moving as one body to get us through. There is nothing like the feeling of gratitude and accomplishment that this ballet provides."
Courtney Lavine, who was raised in Fairfax, and attended Laurel Ridge Elementary School and Robinson for middle school and part of high school, will also be dancing in the production.
"I grew up watching performances at Wolf Trap and I can remember my mom and I eating a picnic on the grassy hill while watching Riverdance," she said. "It's a surreal feeling to be able to perform at a venue that has holds such special memories for me."
As a student at Washington Ballet School, Lavine performed at the Kennedy Center with the Washington Ballet corps de ballet as a Willi in "Giselle" and in Septime Webre's "Cinderella." She joined ABT as an apprentice in February 2010 and the corps de ballet in August that same year.