By the time Helenia Bragg was 15, she had a full-blown heroin habit. "I was raised in a 'liquor house' in 1960s and 1970s Alexandria," Helenia explained. "My mom was a bootlegger. My father was a drug dealer."
She first went to prison at 17 for drug possession, then cycled in and out of prison for the next 30 years. When she was released the first time, she returned to a home that was riddled with crime and drugs. When she was released the second time, her parents had died and extended family members wanted nothing to do with her. Without a secure place to go, she returned to friends who enabled her drug habit, returned to crime to support it and returned to prison again. Then again.
Helenia was in the middle of her fourth prison sentence and about to turn 50 at Fluvanna Correctional Center in Troy, Va., when she came to the realization that changed her life:
"If I don't use drugs, I don't commit crimes. If I don't commit crimes, I don't go to prison."
She started taking self-help classes and college classes offered at the correctional facility by Piedmont Virginia Community College. She applied for a scholarship for women who wanted to turn their lives around. She was one of 20 women chosen to participate in entrepreneurship classes focused on building a business plan to support herself upon her upcoming release–her fourth from prison.
Yet, as her release date approached, she faced the same challenge as she had after releases one, two and three: finding a "clean" place to live. Inside, Helenia had been focused on changing her life. Outside, "my people were still doing drugs and committing crime."
Overall, Helenia spent more than 20 years in prison over four separate sentences. Between each, she struggled to find a stable place to live. "I never slept on a bench, but I never had my own key or my own lease. I went from couch to couch, from one addict's house to another's. Some people would let me stay if I brought them drugs. Sometimes I would offer to clean drug houses in exchange for a place to sleep."
That fourth release from prison was her final. She broke the cycle and found her path forward with the help of Friends of Guest House, a nonprofit that helps women successfully reenter the community from incarceration. Coming full circle back to Alexandria, Helenia moved into a six-month residential re-entry program that included job training and other support services.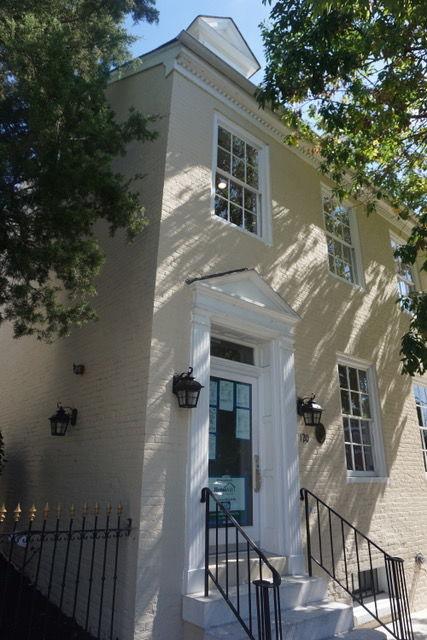 "When I was given a house key, I felt like the Fresh Prince of Bel Air. It made me feel I was worthy of living outside of drugs and crime and prison and poverty," said Helenia. "If I had not had Guest House when I was released, I would be back in jail."
That was nearly three years ago. Today, at 62, Helenia has a degree in social work from Marymount University, a steady job, a secure place to live, and a personal mission of helping other women coming out of prison find stability. Helenia is now one of Guest House's most active volunteers, mentors and advocates.
This past October, Helenia celebrated with Guest House when the program expanded into a historic Old Town Alexandria office building that was recently converted to a 10-bedroom, 6-bathroom residential property with the help of a local nonprofit that builds solutions to homelessness: HomeAid Northern Virginia (HANV).
HANV renovates homeless shelters and supportive housing facilities via the donated expertise, labor and resources of local homebuilders—enabling organizations such as Friends of Guest House to focus budgets and resources on supportive programs and services rather than construction expenses. For this renovation, HANV and its project leader Craftmark Homes collaborated with 30 subcontractors (who also donated expertise and materials) to fix significant structural issues, transform office space to living space, complete permitting and coding and deliver a fully updated move-in ready space.
With this coming together of homebuilders with nonprofits, the historic (circa 1811) building now has a new life, as do the women living in it. "For the women in our program, living in newly renovated residence like this reinforces that they are in the next chapter of their story, and that they deserve to be here. It reinforces their responsibilities to themselves as individuals who are rebuilding and restarting their lives. When you live in a space that is beautiful, you have to maintain it. You have to put in the work— both in this house and in their lives," said Guest House's executive director Kari Galloway.
The property enabled Guest House to expand the number of slots in its program by 15 percent— a meaningful difference, and yet still not enough. With the rotation of women in and out of the 6 month residential program, Guest House can now house 60 women per year. For those 60 slots, the organization receives more than 400 applications. Helenia was one of the lucky ones.
"Guest House saved my life," said Helenia. "You are doomed to failure if you don't have a safe place to go when you get out. You return to a violent relationship, or to a 'sugar daddy' relationship, or move back with friends who are doing drugs and committing crimes."
"Reentry programs for adults coming out of detention centers or prison are important components of solutions to prevent homelessness," said Kristyn Burr, executive director & CEO of HomeAid Northern Virginia. "That's why we're so proud to partner with Friends of Guest House and empower them with the expertise and project management they needed to make this complex renovation possible."
Guest House's mantra is "Your past does not define your future." This was true for Helenia, for the more than 4,000 women Guest House has served over the past 45 years, and for the historic Old Town Alexandria property that HomeAid Northern Virginia transformed from a neglected, unused office building to a launchpad for new beginnings.
Building Connections & Solutions To Homelessness:
HomeAid Northern Virginia brings together disparate groups – local homeless shelters/ transitional housing providers with the local home builder business community – to build/renovate homeless shelters and supportive housing facilities. These collaborative partnerships enable homebuilders to do what they do best (build) and service providers to do what they do best (provide supportive programs and wrap-around services). This series shines a light on the individuals and organizations that benefit from these collaborative solutions to homelessness in northern Virginia.