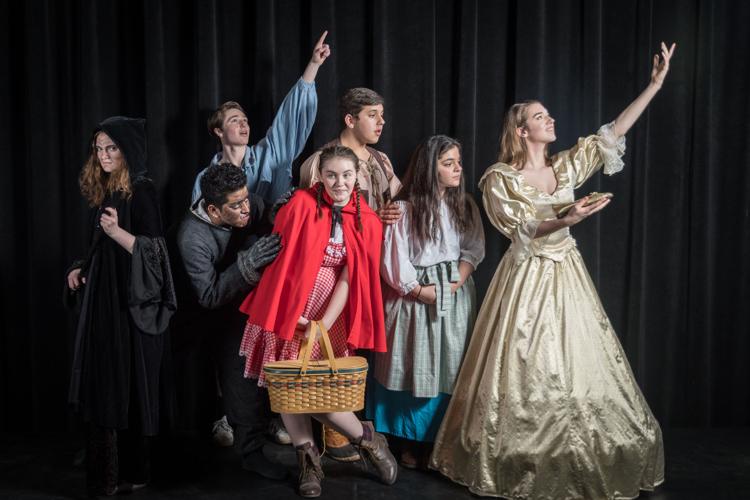 Watch your step. Anything can happen "Into the Woods."
Spring is the perfect time for Herndon High School Theater to present this Tony Award- winning musical comedy "Into the Woods" with music by Stephen Sondheim and book by James Lapine.
Herndon High School invites the public: "Walk through the forest with the baker and his wife on their wishful quest to break the witch's curse. Along the way, see their lives turn topsy-turvy as their story becomes intertwined with those of Jack and Little Red as well as Cinderella, Rapunzel and their princes,"
"As a director, I gravitate to the classics because I learn so much from them. That said, I do like to put my own accent on them. In this production, I've double casted it and added a forest ensemble that gives the set a level of complexity that flats and fabrics can't achieve. Such ensemble work gives actors a lot of room for interpretation, and I'm so pleased to see the students really bring themselves into their roles," said Raphael Schklowsky, the director at Herndon High School Theatre.
Trace Hollenbeck, an 11th grader at Herndon High School and a member of International Thespian Society and the Herndon High Improv team, played the wolf. "Into the Woods" is his ninth Herndon High production, "the theatre production process is always so much fun. You get to work with so many people and make wonderful new friends. Our performances really showcase the best talent here at Herndon High. When I portray the Wolf, I try to put myself into his threatening persona. I find myself lifting my chest, while, at the same time, walking stealthily. My favorite thing to do, however, is howl."
As promised in the title, there is something for everyone: There are enchanting pre-show behind-the-scenes activities for young children, family-friendly shows for families with children under thirteen and full-length performances for more mature audiences. Additionally, Herndon High Theatre is offering free tickets to the area's Head Start families as well as collecting gently used children's books for the Herndon Elementary Bookmobile.