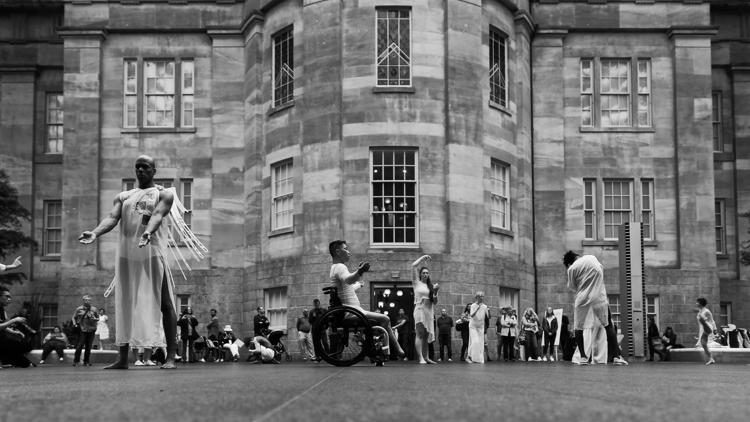 Yes, on May 19 you have permission to gaze at a human sculpture installation in which a cast of diverse and extreme bodies are the sculptures. You can come face to face with the performers, who are trained to be very still, and engage with them through looking. This installation, called "ON DISPLAY/RESTON" by Heidi Latsky, the artistic director, choreographer, performer and founder of Heidi Latsky Dance (HLD), is a commentary on the body as a spectacle and society's obsession with body image. The installation confronts the gaze and disability culture. "People either stare at them or avoid them," Latsky says.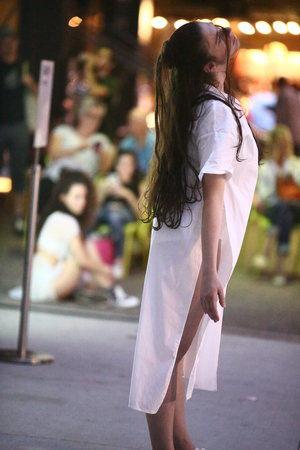 "What about the performers/sculptures? Will they be comfortable if I get too close?" I hear you ask.
"The objective of 'ON DISPLAY' is to be very, very still, and when you're still, your eyes are open … They'll be looking right at an audience member, and it's up to them whether they engage with that audience member just by--they can't smile at them, they can't talk to them, but they can keep looking at them or they can close their eyes--they can't look away. So, they have the power. They decide when their eyes are open and when their eyes are closed," says Latsky.
Think about it: when you have permission to gaze, you are given a chance to connect. This is one of the goals that Latsky wants to achieve through the installation. She also wants to redefine ideas about what beauty is and who can dance.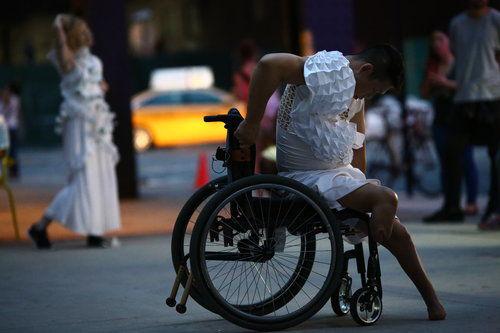 You will notice that the performers are diverse and include people with visible and invisible disabilities.
Latsky is not new to disability: "I actually grew up with my mother, who was debilitated from the age I was 11. So it was a gradual thing, but it was definitely something that I grew up with, but I never thought of her as disabled," said Latsky, who has a psychology degree and started dancing when she was 20. She had a "traditional understanding" of dance until working with the Bill T. Jones/Arnie Zane Dance Company. "I realized that dance could be very sociopolitical, that it wasn't just about being athletic and beautiful and fun, you could really convey deep meaning through the work."
Latsky's world turned around when she met Lisa Bufano, a visual artist who was a bilateral amputee with no fingers and no lower legs. Lisa was looking for a choreographer in New York to help her create her solo. "She had everything I wanted in a dancer, even though she had no dance training. She was both serious and vulnerable, and that's what I was looking for, so I started exploring the idea of a physically integrated company…I became somewhat of an activist through my work," explains Latsky. This was the moment when including performers with disabilities became part of Latsky's mission.
As a viewer of "ON DISPLAY/RESTON," can the experience of looking at human sculptures/performers change you?
Latsky shares this story about an 8-year-old boy who has been exposed to a lot of her work: "The first formal 'ON DISPLAY' that we did was at the Lincoln Center. And it was at the [David Rubenstein] Atrium, and I had an eight-year-old, [son of] one of my board of directors, and he's been exposed to a lot of my work. I have a [performer] who has Jarcho Levin Syndrome. [This] is like a very truncated torso. So she's very short. And he didn't know what to make of her and so his mother said, 'Just go there, and just watch her.' You know, because this whole thing is about looking. It's about maybe staying with one person and watching how they move and who they are.
At the end of the installation he went up to his mother and said, 'She's now my favorite dancer, because she's gorgeous.' She's a gorgeous mover. And so he stuck with her, and got beyond. You know, she's a very different looking person, but she's beautiful.
I had a videographer who, you know he was filming my work for the last few years and he'd never been exposed to disability. He went to a doctor's office and he said, 'The receptionist was talking to me, and then she walked. She had to go somewhere, and I noticed that she had a disability and my first thought was, 'Oh my god, she should contact Heidi and dance with her.'
That's a shift. That's a shift because it's not seeing a person with a disability like, 'Oh, what's wrong with them.' It's like, 'Wow, she should dance…There's a place for her.' There's a place in the world. It's beyond just being something that people, you know, shy away from."
Shu Chen Cuff of Gin Dance Company and Suzanne Richard of Open Circle Theatre are collaborating with Heidi Latsky Dance.
"Working on 'ON DISPLAY/RESTON' has helped me find my inner peace and use that calmness to understand my body, my energy and my feelings more...I am finding my new self. I'm an artist and always on the edge of learning and discovering new things to inspire me to create. Heidi's project has just broadened my horizons," shares Cuff. "It will be such an incredible experience for the patrons of the festival to take a moment to enjoy and appreciate the human installations."
"ON DIPLAY/RESTON" is part of the 28th Annual Northern Virginia Fine Arts Festival. This project will be open to the public on Sunday, May 19 at 11 a.m. and 2:30 p.m. It is commissioned by Reston Community Center, which is sponsoring the festival.