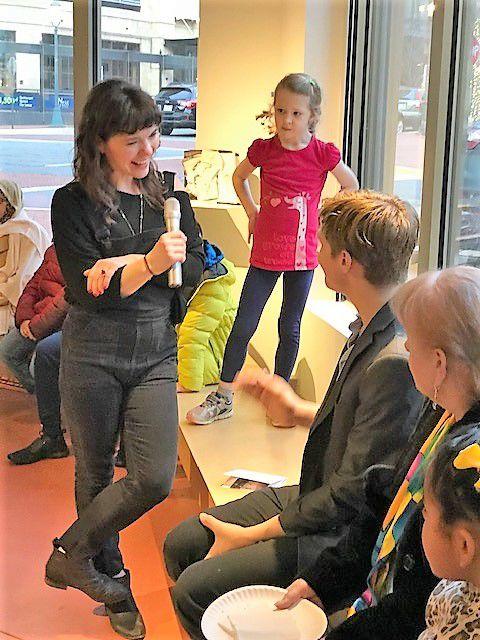 Becoming a working artist and/or an art enthusiast often starts at a young age. Proof of that premise is now vividly exhibited on the walls of the Greater Reston Arts Center (GRACE).
On view through March 30, the "Emerging Visions" exhibition of student art at GRACE annually creates opportunities for students to engage with contemporary art in their own classrooms and then have that work exhibited in a real gallery setting. Working directly with Fairfax County Public Schools arts educators, this is the first year that the Youth Art Month "Emerging Visions" exhibition consists of artworks by students from all grade levels, elementary to high school. Participating schools include: South Lakes, Herndon and Oakton high schools; Rachel Carson Middle School; and Dogwood, Hunters Woods and Hutchinson elementary schools.
As in past years, however, the works of the student artists were inspired by a previous GRACE exhibition. This year inspiration came from the fall 2018 exhibition "Green Is the Secret Color to Make Gold," which featured new works by D.C. photographer Caitlin Teal Price that portrayed arrangements of objects found by her young sons on regular walks.
Three fourth graders from Hunters Woods Elementary School for the Arts and Sciences, likewise, used arrangements of found objects in their photographs exhibited at GRACE.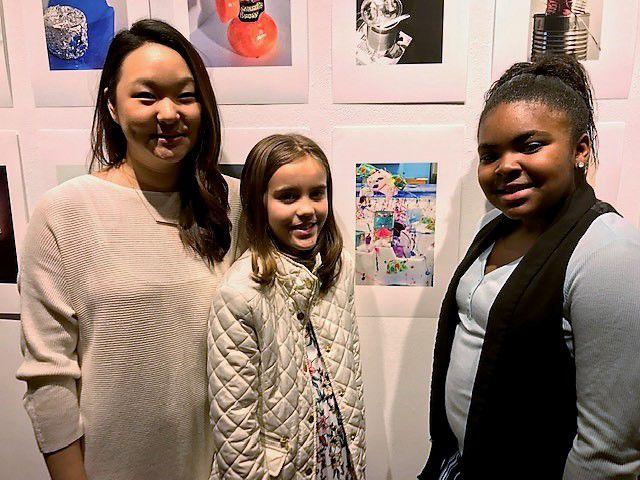 Bailey Baltimore and Maisie Roxbury, both 9, worked together. Speaking for her team, Bailey described putting together the various objects they found—Styrofoam, paper cupcake holders, miniature paper drink umbrellas, tin cans and colorful string—as "really fun to take things you wouldn't necessarily put into art and make it your own. … It was a new experience. … It opened a door."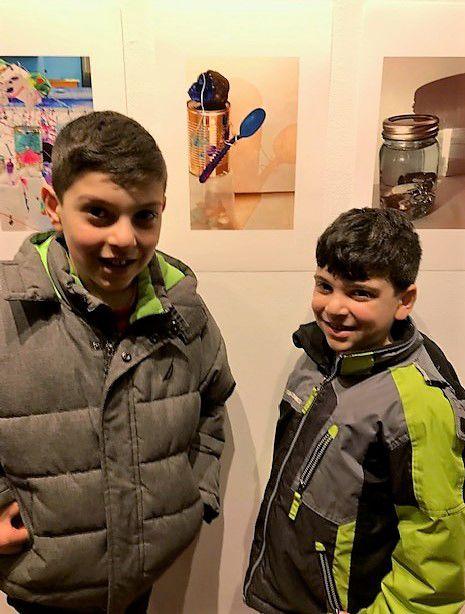 Karim Makarem, also 9, was so captivated by the experience that he made sure to attend every preparatory class. Karim, who worked with two other students, proudly pointed out the various objects he contributed to their arrangement, including polished rocks and a bright blue spoon. Saying he "always liked art," Karim admitted, however, that "putting together something, this is new."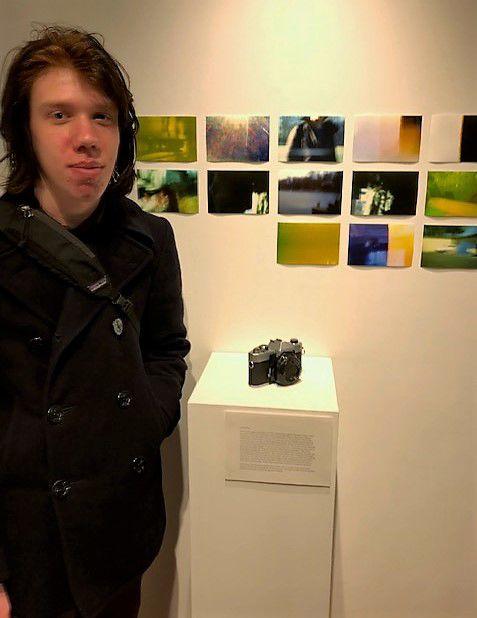 South Lakes senior, James Bailey, 18, created his photographic contributions using a pinhole camera, created from the body of an old 35mm camera. Noting that he went through two whole rolls of film over two days before selecting the 13 photographs that he grouped, he explained that he was drawn by the abstract quality of the ones selected, by how they were "infused with colorful texture" and "a kind of painterly approach." From a family of photographers, James acknowledged that he couldn't imagine his life without it, further suggesting "it's great to have the ability to capture what you see … and then manipulate it."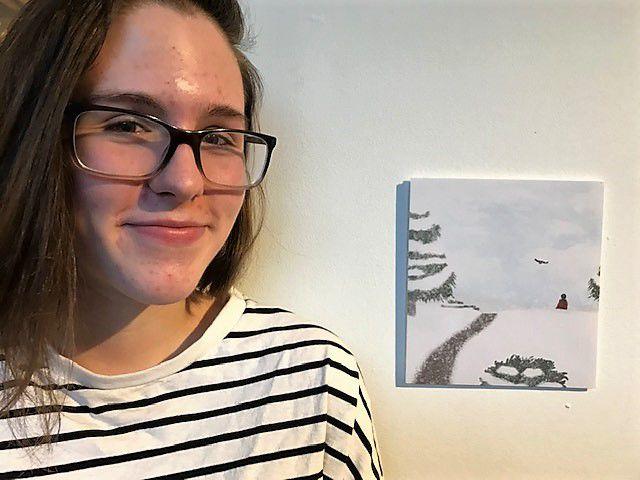 Herndon sophomore Grace Horner, 16, created what looks strikingly like a hand-crafted painting using Adobe Photoshop. Explaining her process, she said the small, evocative all-digital work, titled "Winter Wanderer," was sketched and colored in Photoshop. Inspired by this winter's snowfalls, except for a solitary girl's red cape, the work is a harmony of muted blues, greens and whites. She explained that she wanted to "explore someone alone in a world, free to go wherever … a girl alone with the world at her fingertips"—someone somewhat like herself. Saying that she would probably keep the work as a remembrance of the art-making experience, Grace allowed, "Definitely, wherever I go, art will always be a part of my life."
Oakton senior, Kenan Murray, 17, is anticipating studying economics and public policy in college. But, art, especially photography, he likewise said, would always be a large part of his identity. His two digitally photographed still lifes are extremely reminiscent of Teal Price's photographs. They similarly are carefully composed and employ the use of crisp, intensely present light and shade. The everyday objects that he chose to juxtapose and shoot in fine art style are far from random too. The glass of water and banana in one and the batteries and light bulb in the other, he explained, were selected to showcase and raise consciousness about the luxuries that are now in short supply in hurricane-ravaged Puerto Rico.
Observing how exciting it is to view his own work side-by-side with all the others in the gallery, Kenan further mused, "It's really interesting to see everyone else's different takes."