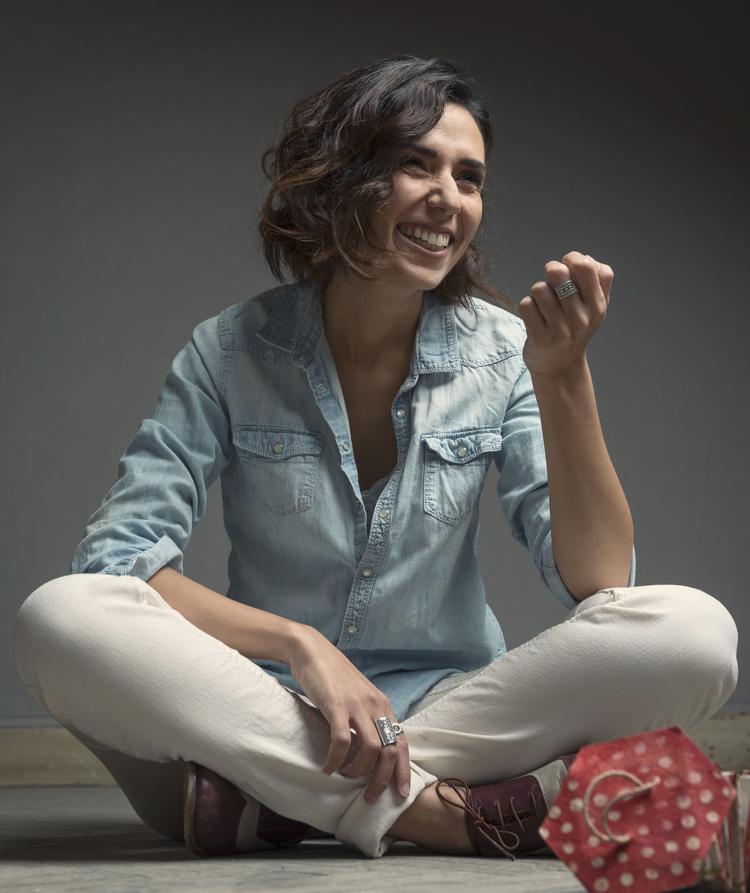 Two young musicians are coming to DC this weekend from Egypt!
If the arts mirror society, then what does Youssra El Hawary and Dina El Wedidi's music tells us about Egypt today?
"I hope I can give them [the audience] an honest image of what a girl my age, living in Cairo at this time, could be going through or dreaming of. What I hate and what I love about Cairo and the world, and what I could be sharing with them despite the distance," writes El Hawary.
Yousrra El Hawary and Dina El Wedidi are coming to D.C., on Sept. 15 at Tropicalia and on Sept. 16 at the Kennedy Center Millennium Stage, as part of the Center Stage cultural exchange program that is administered by the New England Foundation for the Arts: "Both Dina El Wedidi and Youssra El Hawary draw on their Egyptian heritage and identity to create original music that captivates audiences and gives a glimpse of the vibrancy and complexity of music and life in Cairo today. Their participation in Center Stage brings important new voices into our national cultural dialogue, enlarging our world, and sharing diverse, global perspectives directly with communities in the U.S.," explains Adrienne Petrillo, the program director at Center Stage.
The Fairfax Times was able to interview El Hawary, who arrived earlier in DC.
According to Center Stage's website, El Hawary began to experiment on her own. Schooled in general music studies and piano as a child, she searched for an instrument suited to playing on the streets. Things came together when she stumbled across her old accordion one day, the one she had played during morning assemblies at school. She found her (musical) partner and muse, and went on to formally study the instrument in France at the National and International Centre of Music and Accordion, founded by prominent musician Jacques Mornet.
The accordion's natural brashness fits the times and the ideas El Hawary shares. "It's loud and can be rich without any other instruments. It's the instrument of the streets, of traveling."
El Hawary's music comes from different influences, " From my childhood between Cairo and Kuwait. Going through rock bands I liked in my teenage years, and still admire, to jazz and blues. And of course other accordion styles I got to learn better while studying in France," shares El Hawary. "Also, we as a band work on the arrangements of the songs together; each one of us has his or her influence and style that are combined to create this mix."
Inspired by Egypt's outspoken musical legend, Sheikh Imam (known for his songs chronicling the lives of the working class and poor), El Hawary's lyrics talk about political and social things that are happening now. She writes some of her songs and sings for other songwriters as well. One of her songs that caught my attention is called "Jessica." The use of a Western name within the song made me wonder whether it could be key to starting a dialogue between the East and the West.
"'Jessica is a very beautiful charming girl; who wouldn't fall for Jessica?' that is what the lyrics say," notes El Hawary. "It is a personal story about Jessica, a French girl living in Cairo, who stole the heart of my fiancé."
Although El Hawary performed several times in Europe, this is her first tour in the U.S. and she will be performing in Arabic. I asked how she would communicate with a foreign crowd. "I recently had a long tour all over Germany with the ( Akkordeonale ). At first I used to think a lot about this issue, and ask myself questions like, 'Should I translate each song? Or have subtitles somewhere on stage?' But then I realized that I could listen to and love a Spanish song without knowing the translation of the words. In music, feelings can illustrate details better than words. I decided then to go with the flow," writes El Hawary. "I have no expectations for how the American audience will perceive our music. But I have no plans either; I will leave it to the magic of the stage."
You can learn more by visiting http://www.centerstageUS.org.