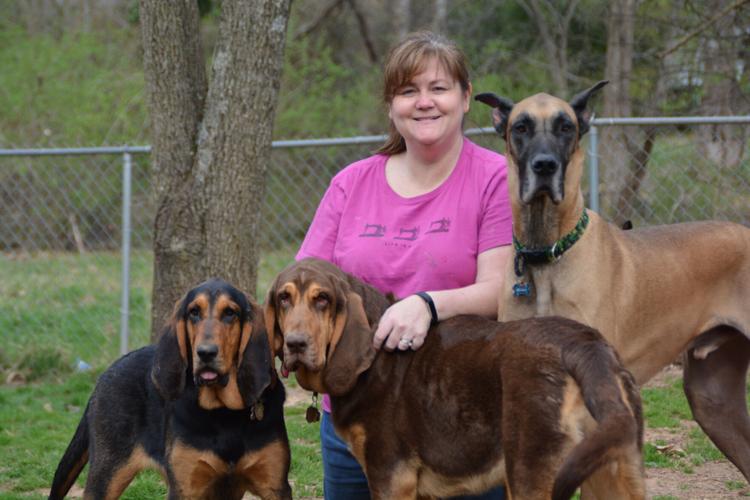 WOOF! Barks! A few months ago, I asked the "Great Dane Dame" of the Mid-Atlantic Great Dane Rescue League (MAGDRL) the question, "What Do You Wish Every New Pet Parent Knew?" I had a pawsome time barking, woofing, and pawing with her this week and would like to share about her and the rescue!  
The "Great Dane Dame (GDD)" is the Virginia Coordinator for the Mid-Atlantic Great Dane Rescue League. She is responsible for the administrative stuff, coordinating phone screening with adopters, Veterinarian checks, reference checks, home visits, volunteers, adoptions, fundraisers, and rescue events. With volunteers' help, she coordinates the incoming dogs providing transport, foster home, Veterinarian care, and shelter calls about a Great Dane in need. She has been volunteering with MAGDRL since May of 2006, becoming a Chapter Coordinator in 2014. Barkingly, she volunteers for AMMAR Hounds rescue (www.appalachianhounds.com). She has two Great Danes and two Bloodhounds in her family! 
"WOOF, GDD, have you always rescued dogs or have you rescued cats too? Or maybe other pets? 
"Noah, I have always rescued dogs but did rescue my two previous cats in 2002. They lived to be 16 and 18; we lost George at 18 in April of this year. Starting to get the itch to get another cat."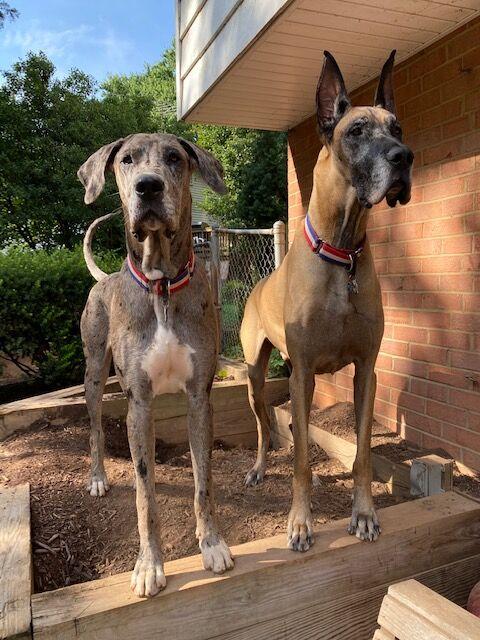 "Woof! GDD, barkingly, what is your favorite rescue story?"
"Noah, I went to evaluate a dog someone wanted to surrender many years ago. We went into the house and the lights were off and I could not tell what color the dog was. I asked if we could go outside and eval her further. Once we got outside, I realized quickly I couldn't tell what color she was because she was basically bald from a severe case of mange. She was emaciated and clearly was kept outside 100% of the time. The family had two fat, happy, healthy labs too. I called the coordinator at the time and said 'I am not leaving this dog behind, so we need to find a place for her ASAP.'  After months of treatment, the mange was finally gone and she was adopted by one of our volunteers. Bubbles lived a wonderful life, not wanting for anything, and lived to close to 10 years old. Thankfully her spirit had not been broken by the sheer neglect. I was happy as she lived in my neighborhood and I could see her a lot and watch her grow and thrive. I think Bubble's story stuck with me because it was one of the very first really bad cases I had been involved with, and I was able to watch her progress and move past it." 
"Paws, GDD, What is one thing you wished every pet parent knew before they adopted?"
 "Noah, that no dog is perfect. There is no such thing as a unicorn. All dogs, regardless of their backstory, will have some kind of quirk to them, just like people. No one is perfect and to expect an animal to be is not fair to them. I say roll with the quirks and find a good way to manage them. Some don't like other dogs, some don't like having their feet touched, some get old and incontinent and poop on the floor, whatever the issue, figure out a way to handle it and move on. Some people don't want to make the effort and would rather give the dog back because it's not perfect.  Would you give your kids away if they did something that wasn't considered perfect? If the answer is no, then the same should hold true for the dog."
WOOFS! Barkingly, GDD, Is there anything else you'd like to share?  
"Rescuing saves lives. Foster homes save lives. Without volunteers and foster homes, rescues could not do what they do to help the dogs in need. With our volunteers, we can help LOTS of dogs every year find wonderful, loving new forever homes.  Many volunteers and fosters have children who grow up seeing how volunteering helps and get a great appreciation for giving back and helping animals. They grow up to be volunteers as well. It's a wonderful cycle."
View adoptable Great Danes at Mid-Atlantic Great Dane Rescue League www.magdrl.org, (703) 644-8009, email coordinators@va-magdrl.org.
About us! Barks! Meows! Using humor with facts, Samson and I write about dog/cat adoption, humor, pet care tips and entertaining stories about life with pets! Enjoy our articles? Pawlease follow us at fromthedogspaw.com by email. Samson is Cat-in-Charge, I am Noah, Dog to our human, Allen Pearson Dog Photographer and Writer, www.allenpearsonphotography.com, www.allenpearsonphotographyjournal.com, www.facebook.com/AllenPearsonPhotography, www.instagram.com/allen_pearson_photography, www.instagram.com/fromthedogspaw, www.facebook.com/fromthedogspaw.